30 Impressive Wedding Decor Ideas To Fall In Love With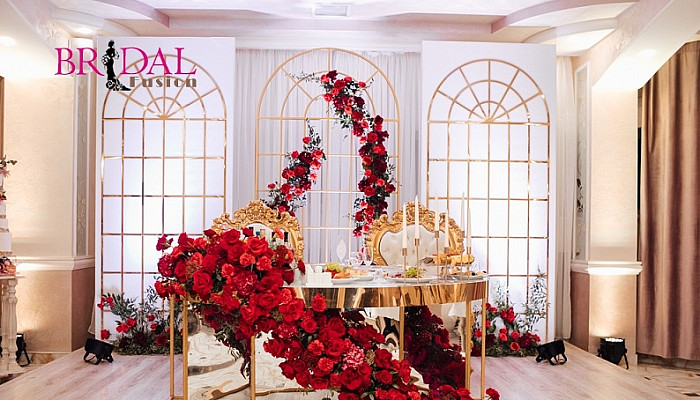 In this post, you will find many options, from beautiful chandeliers to old rustic crates. Whether you select a blank canvas, a characterful conversion, or a stately house, these thirty impressive wedding reception décor ideas will leave you and your guests in a magic spell! In this article, we're talking about flower arrangements, table runners, centerpieces you can make yourself, string lights, stage decorations and ceilings, outdoor and indoor reception ideas, and much more.
Indoor wedding reception decor Ideas
1. Fairytale chandeliers for an indoor wedding celebration
A chandelier composed of small, flashing fairy lights is the perfect way to highlight a golden stone barn. This shimmering statement lighting makes weddings completely unique, as close to a fairytale as they are to reality.
2. Cherry blossoms
When you marry in a country house, you usually have lofty ceilings, beautiful décor, and plenty of room. By integrating towering cherry blossom trees, leading the eye upwards, and giving a lovely, fairytale final touch, you can make the most of both the ceremony and reception rooms.
3. Stacked Rustic Crates
Create a crate display with ideas from rustic decor retailers! Stack mismatched wooden boxes and fill them with personal touches such as handmade storybooks, notes, flowers, and signs. Why not examine whether your barn venue has some original boxes from its agricultural background that you might use?
4. False ceilings
Having fancy ceilings is one of our favorite wedding décor ideas, especially for winter weddings. Since your festivities may go on into the wee hours, the venue needs to be equally impressive during the night as it is during the day.
Drapes are a simple method to shower luxury air onto any room, whether your location is ultra-modern like the Cavalli Wine and Stud Farm in South Africa or a blank canvas back in London. Lighter-colored materials keep everything light, but a striking chandelier adds a touch of elegance.
5. Embrace the greenery
Use your venue's qualities to your advantage. For a country-side wedding reception, you can clothe the cartwheel lights with trailing flowers and greenery wreaths to create creative hanging centerpieces. These decorations work exceptionally well when the same venue is utilized for both the ceremony and the reception, allowing you the whole day to enjoy them.
6. Extra-large letters
Over-sized letters are incredibly adaptable, looking equally at home in a city center, a posh location, or a rustic setting. Select wooden finishes for a more rustic appeal of aged metal with exposed Edison lights for a more industrial effect. They're also fantastic for adorning the dance floor, defining the area, and urging people to join in the fun.
7. Flower walls
How about channeling your inner Kim Kardashian with a floral wall as an alternative to highlight flowers? However, it doesn't necessarily have to be densely packed petals or exterior feature walls. Allow vines, rose stems, and trailing delphiniums to provide a beautiful backdrop for your top table.
8. Fairy lights
Fairy lights are one of the simplest yet most effective wedding décor ideas. Wrap gently twinkling fairy lights around the beams of your venue, or drape them from the rafters above. Try clustering fairy lights around the fireplace or hanging nets behind the dance floor in country homes. Nothing beats their beautiful glow, slightly out of focus, as a backdrop for your first dance photographs.
9 Boutonniere Bundles
If you can tie a wedding bouquet, you can certainly put together a boutonniere or two. After all, they are only small posies. Use the same mix as in the bouquets, but with a somewhat more masculine twist, and bind together with ribbon or twine. A combination of lavender sprigs and olive leaves is perfect for a French châteaux wedding.
10. Dog collars
While you're at it, why not make something special for your furry family member? Weave a collar similar to a flowery crown, but knot off the ends with ribbon so it may be sized to your pet and easily removed. Provide a ring cushion if they also serve as bearers for the day.

Ideas for DIY wedding reception décor
11. Canopies for wedding receptions
Make the ceiling a colorful kaleidoscope to highlight your venue's light and airy interiors. You can also string as many lanterns and honeycombs from the vaulted ceiling and hanging pom poms to create a DIY background for their dessert table. These would also look wonderful in marquees.
12 Inventive frames
How many brides haven't pinned a flower arch to their wedding Pinterest board? Whether you tie the knot inside or outside, surround the occasion with flowers for a dreamlike effect. You may use artificial blossoms for a less expensive option or repurpose the archway as a DIY photo booth later in the evening.
Ideas for an outdoor wedding reception
13. For a wedding reception outside
Use the stone urns and pedestals already at your location. They'll become a floral statement feature, bursting with fragrant roses, that you may replicate in miniature on your reception tables for show-stopping splendor. Glass tabletop urns provide a contrastingly contemporary appearance.
14. Photo exhibits
Repurpose panels from old room dividers to create personalized picture displays on the lawn. You might use them to organize your seating arrangement or tell the narrative of your romance and relationship thus far. The soft rural colors at the farm are wonderfully complemented by photo displays, finished with fabric curtains.
15 Decorative ladders
Ladders may be decked up in various ways to give an emotional and charming touch to your reception, whether as a seating plan, a pretty spot for your bridesmaids' poses, or even the frame for your very personal tale.
16. Signposts
Signposts are a valuable and attractive wedding decorating concept. Tall signposts with several directions work well outside to guide people around your facility, but they also have a purpose inside. You can use the same typeface and colors as the painted wine bottles and subdued flowers.
17. Comfort stations
Consider your visitors' requirements to be the excellent hostess that you are. A comfort station is ideal to ensure they have everything they need to enjoy the celebrations to the fullest. Visualize your wedding plans to comprehend better how the day will unfold, and select a few items that you feel will help reduce tension, such as parasols, blankets, flip flops, etc. Then collect objects such as baskets, barrels, and trunks to artistically display those goods in a magnificent picture.

Ideas for wedding reception tables
18. Use textured plates
Consider your plates one of the most acceptable methods to improve a place setting. For a stunning look, avoid flat, basic plates in favor of anything with a lot of texture.
19 Ingenious table runners
While silk, sequins, and hessian are viable options for table runners, why not embrace the greenery and create one out of foliage? Most florists would gladly build them, with eucalyptus or ferns being popular plant options. Florists may also utilize an abundance of blossoms to create a table runner, but it will cost more.
20. Present a candle
A lovely table, with plenty of eucalyptus flowing end to end, adorned with a simple white chair and table, custom candles, and a delightful bouquet of flowers on each chair, can be a heartwarming welcome to your guests.
21. Go for a rustic look
If you're planning a rustic-themed wedding, you should keep things simple. Put together a table that has an organic table runner and matching color settings. A torn napkin, brown-handled cutlery, and a few wood sprigs linked together can provide the feel.
22. The color scheme in gold
Every aspect of your reception tables, including your plates and glasses, can be dressed up with this color! Gold rimmed glasses with elegant cloth for your plates--the combined impact of these small details creates an ultra-glam image, ideal for a wedding on a prominent site in Seattle or New York.
23. Trestle tables
Many venues may provide trestle tables as an alternative to round tables. They're great for more casual weddings and look great with silk or hessian table runners and an eclectic array of flower centerpieces.

Ideas for wedding reception stages
24. Use vivid colors
Why settle for anything mundane when you can go glam with the colors? A fantastic flash of color and some white and pastel flowers to break up the monotony provide a simple yet stunning wedding décor. Perfect for the couple that wants a splash of color but not too much!
25. Night sky decoration
If you are a fan of Vincent Van Gogh's "Starry Night," just like me, then it's unclear why you'd want to go elsewhere for wedding decorations. The most impressive is a stage design that incorporates stars and constellations and looks perfect for special couples.
26. Candlelight stage
Everything appears lovely when dimmed lights and a few candles are lit. No, we're not discussing a romantic dinner date but the décor for your wedding reception. If you like candles, you'll fall in love with this reception stage décor the moment you see it. The simplicity of white flowers, white drapery, and a shelf backdrop with candles all over makes for stunning wedding photography!
Ideas for low-cost wedding reception décor
27. Have some fun with the ring bearer cushion
Begin your party in style by picking a ring bearer cushion that corresponds to your theme. A burlap cushion will keep your rings safe and secure on the big day. What's the best part? You may personalize the tag with your initials or wedding date to make it a special remembrance.
28. Mason jars
Upcycled décor is your best friend when looking for wedding centerpieces on a budget. Consider using wine bottles as candle holders or mason jars as vases. We adore these since they come with a cute jute ribbon.
29. A chalkboard frame
This antique white frame chalkboard will add a touch of retro elegance to your wedding. This wedding decoration concept serves two functions: Display whatever message you choose during the ceremony and the reception. Your bank account will appreciate you!
30. Donut walls
Donut walls are the on-trend wedding decor that never fails to impress—and you can easily find one that fits your budget. Make your own doughnuts to save even more money (and spend quality time with your other half!).
Conclusion
If you're planning a wedding reception, BridalFusion.com can help you think of some very spectacular ways to impress your guests and make you happy. You can choose from the many ideas and you may personalize your reception décor to reflect your wedding taste, whether you want to keep things simple, go glam, embody a bohemian mood, or any other aesthetic. There are several ways to integrate unique elements and make your visitors' dining experience more memorable.