Unique Wedding Trends That Are Going To Be Popular In 2022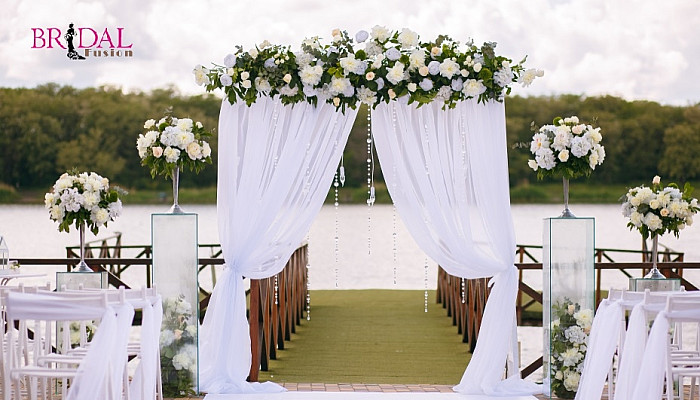 After experiencing tight lockdown restrictions, engaged couples are looking forward to 2022 to celebrate their big day. They are dreaming of throwing parties for their loved ones, dancing their hearts out, and getting photos to document for a lifetime of memories. They are excited to enjoy all the things that were denied in the past year. As life comes back to normalcy and wedding season is on, Covid has left an indelible effect on the trends. Even though couples are yearning for human connection and striving to make their weddings more special than ever before, they want to keep their day highly personal, creative, and full of fun. They want it to be more meaningful with their own traditions without neglecting what's in trend.
In 2022, couples have moved their focus from old wedding rituals and instead choose to host their big day with the latest trends. If you, too, are considering a wedding in 2022, here is a look at the biggest wedding trends. These are some of the trends that are going to fly over the coming months and maybe for years. We have curated the list of ten trends that you'll definitely see more this year.
Wedding Trends At A Glance:
- Unique Transportation
- Destination Elopements
- Personalized Details
- Bold Colorful Décor
- Smaller Guest Counts
- Champagne Towers
- Cold Sparks
- Unusual Interactive Entertainment
- Digital Wedding Invitations
- Weekday Weddings
This is our list of wedding trends that we believe will be huge in the coming months. To learn more about these trends, scroll down!
Wedding Trends That Are Expected To Be Huge In 2022
Digital Wedding Invitations
Given the uncertainty of planning a wedding during a pandemic, it is not surprising that virtual save-the-dates grew in popularity. Most couples opt to send a digital invitation rather than sending a whole suite of printed stationery. Such an invitation is not only convenient in reaching around the globe but also offers a lot more versatility in designing and innovation. They are also inexpensive and more sustainable than physical wedding invitation cards and can easily accommodate last-minute changes if required. With so many advantages, we are certain virtual save-the-dates are here to stay.
Unique Transportation
Arriving and departing in style on your wedding day is a new trend. Couples are opting for unique transportation options: a Vespa, classic rolls, or even a vintage Beetle. Other than that, they also consider horse-drawn carriage, party buses, charter shuttle, and more. All these are the unique getaway to flair your style and have fun. Other than this, these one-of-the-kind transportation options are also great for taking perfect photos with your significant other.
Destination Elopements
With the relaxed travel restrictions, destination weddings are back on the table for couples. It is one of the exciting wedding trends that sheds light on efficiency and experience. Such weddings focus on gathering just close friends and family members and indulging yourself in relaxation and tourist activities during the big day. This is one of the trends that will help you execute the perfect celebration and create lifetime memories.

Champagne Towers
Champagne Towers have definitely made a comeback this year. It is a fun cocktail trend that couples love to embrace on their big day. Since champagne is the favorite drink of many, involving its tower will inject some flair into your celebration and make it little luxe. This trend happens to be a whole lot of fun and also perfect for getting some great pics. To bring a glamorous yet traditional twist to your party, you must incorporate this trend into your wedding. Trust us; it is an engaging way of making a toast.
Personalized Details
Customized details are more likely to replace the standard traditions in the coming months. Couples are aiming to reflect their personality, style, and love story throughout the wedding by giving everything a personalized touch. This can be anything, right from your favorite music to gift hampers to wedding attire. You can add your touch anywhere and make it just yours.
Unusual Interactive Entertainment
In 2022, entertainment has gone much beyond just dancing. This year, couples are looking forward to rewriting the rule book on entertainment by incorporating some unusual ways of fun on the big day. Since it is a central focus point on the wedding, people want to do it differently with a pop-up boy band performance, silent disco, adult yard games, hookah lounges, karaoke, and more. The offbeat entertainment is an excellent way of surprising your guests and making your day fun.
Cold Sparks
Want to make your event more glam and glitz? Well, Cold Sparks is a brilliant idea. It is a perfect way to wow your guest and adds an edge to your wedding celebration. You can use it throughout your celebration – at the time of grand entry, cutting the cake, or while having your first dance. Having it makes the whole experience more pleasant and lavish. This wedding trend for 2022 will definitely stimulate the senses of your guests and take your celebration to the next level.
Bold Colorful Décor
While white weddings are still popular, people in 2022 are more likely to see bold, vibrant hues. With pastel color palettes being popular for the last few years, couples are now more delighted to see more bold colors in their party. In the coming months, you are going to see a lot of mixing and matching of textures and colors while being fun, fresh, and pleasing to the eyes. So, it's time to say goodbye to white and welcome a bright pop of color.
Smaller Guest Counts
It comes as no surprise that micro-weddings and elopements are a part of wedding trends 2022. Even though the COVID restrictions are relaxed and couples can have huge events with gatherings of hundreds, they are taking a deliberate decision to embrace a micro-wedding. Couples also want to host a small, intimate wedding where they can spend time with every single guest, enjoy a laid-back vibe, and host everything on a budget.
Weekday Weddings
Last on the list of wedding trends for 2022, we have Weekday Weddings. After dealing with a massive backlog of weddings due to COVID restrictions, this is one trend that we just can't ignore. It is predicted that weekday weddings will rise immensely in 2022 because of the great benefits that couples can reap from them. While it requires a little more effort by the guests for scheduling time off work, such weddings come with much lower prices and higher availability of venues and vendors. For these reasons, get ready to see a surge in weekday weddings.
Make Your Wedding A Memorable Event: The Bottom Line
When it comes to "wedding trends for 2022," it looks more like throwing a rule book and ignoring what everyone else is doing. However, it is to focus on what you actually want to feel and experience at their wedding. The above-mentioned are some of the biggest trends that will help you reimagine the way you can celebrate your wedding day. Pin this article and follow in the trendy footsteps!