Smart Wedding Tips To Save Money On Your Big Day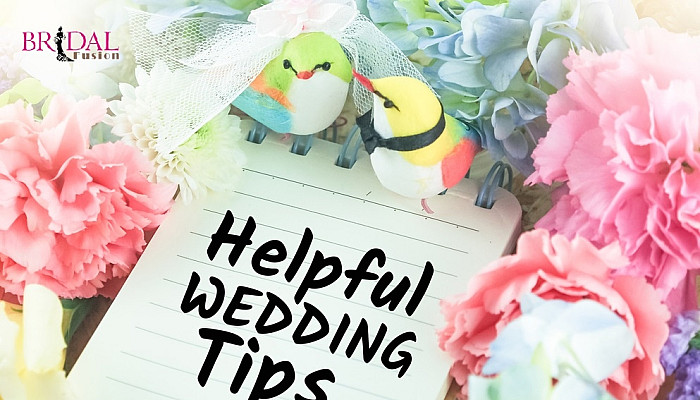 Indeed, a wedding is one of the most beautiful moments in our life. A lot goes into a wedding – effort, time, and money. While everyone yearns for a dream wedding with eye-pleasing decor, a lavish reception, exquisite food, and outstanding ambiance, it may cost you a fortune. But this doesn't mean you can't have the wedding of your dreams.
If you are worried about burning a hole in your pocket on your big day, we are here to help you. Our experts will walk you through some incredible wedding tips. These tips are catered to pare down your wedding budget without even anyone noticing. From wedding list and decor to food, here is how you can cut costs on your wedding.
Here Are 10 Genius Wedding Tips To Save Money
1. Embrace The Off-Season
The wedding off-season spans from November to March and is considered the best time to host the wedding without breaking the bank. During this time, you can get the most bang for your buck. In the off-season, weather might not be as optimal; but it will totally be worth it as you can save on venue, decor, catering, and more. You will be surprised to see how much your expenses will shave off the regular fee. This is one of the best wedding tips to save money.
2. Trim Your Guest List
It goes without saying that the smaller the guest list, the more money you will save on your wedding. While this is one of the most challenging wedding tips to save money, whittling your list down is the quickest way to reduce your wedding cost. You have to be ruthless with the headcount, and this can be easily done by omitting coworkers and acquaintances. So, chop down the list, save money and make things easily manageable.
3. Go Paperless With Your Invitation
Having an invitation card might match your desired theme, but it can increase your wedding price tag. This is why it is recommended to go paperless and save money on stationery and postage. By doing so, you can add more creativity while cutting down your budget in half. Believe us, this expert wedding tip to save money will help you stick to your budget without settling for less. However, if you still don't want a digital invitation, you can save money by using free calligraphy and less expensive card material.
4. Hire An Expert and Give Them A Budget
While most people forgo a wedding planner to save money, trust us…hiring a wedding planner will be your best bet to have a memorable wedding on a budget. They have years of experience and excellent working relationships with vendors that will not just help you save money but also save you from stress. Make sure you follow this one of the best wedding tips to save money, and you will be surprised how easy and budget-friendly the entire process will become.
5. Swap Out Expensive Blooms
Next on the list of wedding tips to save money, we suggest you think outside the "traditional wedding flowers" box. The glamorous details you are indifferent about come with a great price and won't add any value to the day. Hence, you must free yourself from the pressure of upgrading and allowing yourself to make decisions based on what you actually desire and can afford. Two words can lower your floral expense: season and local. So, make sure you pick what is in the season and befriend farmers to get the best blooms in your budget. It's a win-win situation.
6. Simplify Your Bar Options
It's perfectly ok to limit the bar offerings and stick to the specialties. To scale back the cost, instead of stocking up everything from wine to champagne and cocktails to whiskey, you can stick to just beer and wine. These are budget-friendly options that will keep your guests happy while saving money. However, if you want to add cocktails to the menu, you can serve them during cocktail hours or even have the bartender pour them in smaller glasses. This is a savvy way of offering a great alcohol experience to your guests without spending too much.
7. Pare Down The Cake Embellishments
If you think that your wedding won't be complete without a traditional cake cutting, you can get one. But remember, you can save a lot by limiting your spending on lavish embellishments. This is one of the best wedding tips to save money without sacrificing your dreams. You can ornate your cake with fresh flowers, colorful fruits, customized toppers, and more. Trust us; there are endless possibilities to save yourself from jacking up the price even while enjoying a beautiful, delicious cake.
8. Skip Saturdays For Your Big Day
There are some seasons and days of the week that are in high demand and are more expensive for obvious reasons. Saturday is one such day of the week. It is the most popular day for weddings, and hence, it is also the most expensive. This is why picking a different day is one of the best wedding tips to save money.
9. Host It All Together
Having everything in one place will help you save money from the extra expense of transporting things and asking people to go from one venue to another. You can pick one venue and book it for multiple events. Bundling up everything under one roof will let you enjoy the wedding at a great value without sacrificing your needs. This will also make it less hectic to manage all the events and your loved ones.
10. Be Smart With Your Wedding Attire
Wedding dress is one of the major expenses that should be done the right way to save money. This is one of the best wedding tips to get your dream dress without worrying much about the high prices. There are amazing designers and shops specializing in wedding attires that offer budget-friendly options. You can look for a white gown in the prom or party section or even once-worn dresses that will help you get your dream dress without spending a fortune.
Conclusion
There you go! This is how you can budget your wedding the right way. Remember– "Whether you are living large or feeling frugal, when it comes to wedding expenditure, every cent counts." Now that we have shared all our best wedding tips to save money, it's your turn to take action. Follow these genius tips and stay within your budget.