Wedding Planning Tips - 15 Fresh Spring Menu Ideas For 2022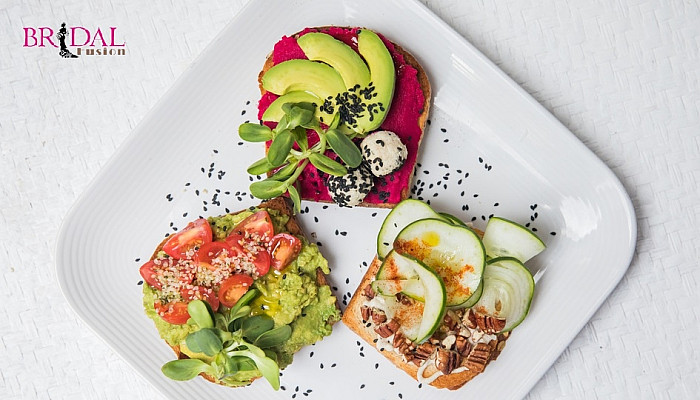 Every spring wedding comes with beautiful opportunities to experiment. You can experiment with pastel hues, the garden vibes, and the food. With all kinds of dates for spring weddings ranging from late March through late June, it is one of the best times to experiment with and embrace the temperate weather and some amazingly fresh food.
Yes! Our spring wedding planning tips are catered to making the best of abundantly available fresh produce that pops up right now during winters. When used freshly in your spring wedding menu, these flavors enrich everything! Spring is the perfect time for creation, blossoming, and rebirth. Our little planet comes alive during the season, celebrating the sun and scrumptious flavors!
With these wedding tips, ensure your wedding has the best of what spring has to offer too.
Here are 15 fresh spring menu ideas for 2022 weddings.
1. Spring Pea Bruschetta
The first one on our wedding planning tips list is Spring Pea Bruschetta. Why? Well, the ideal season for English peas begins early spring every year. They make for vibrant vegetables that are totally ideal for incorporating into your menu. Consider spring pea bruschettas, and on their side, serve up a delectable side spring salad with peas and other beautiful vegetables.
2. Grilled Asparagus
Celebrate your love during the peak asparagus season! Asparagus is a versatile ingredient and can be enjoyed in any way possible. Consider serving up some fresh asparagus, wrapped around in bacon, along with your main dish. You can also serve up some grilled asparagus with first press olive oil and Meyer lemon zest.
3. Peach Crostinis
The right season for peaches usually begins in May. But, you can certainly incorporate peaches in your wedding if you are getting married around May or June. At BridalFusion, our wedding planning tips for your menu veto for toasted sliced baguette paired with peaches and goat cheese, all for that flavorful bite!
4. Burrata Salad
Burrata is a soft cheese freshly made from cow's milk. The outer casing of this cheese resembles that of mozzarella, with its curd-like, creamy interior, making burrata an interesting addition to your salads. You can feature this unique, creamy cheese with prosciutto, tomatoes, spring arugula, with a slight drizzle of balsamic vinegar to make a wonderfully flavorful dish.
5. Spring Puff Pastry Appetizers
Are you looking for a heartier appetizer? Well, our wedding planning tips for your spring menu have just the right dish for you!
Choose some delicate, buttery, puff pastries that allow you to keep things simple and light for your guests. Puff pastries offer some extremely great texture, providing the perfect base for other sides, like asiago cheese, asparagus, artichoke puff, or even spinach!
6. Fresh Oyster Bar
Oysters are an amazing addition to your spring wedding menu spread. You can put them together in an oyster bar, with all kinds of accouterments, or make your wedding caterers work a little further to make a passed appetizer option, especially for your special day!
7. Pan-Seared Salmon
Salmon is a crowd favorite. It has always been the perfect, light, delicate, and easy-to-eat dish. You can top it up with a lush garnish of arugula for some extra flavor and texture.
8. Melon and Heirloom Tomato Salad
The perfectly juicy watermelon season begins right in the middle of spring. With watermelons coming out in their best shape from May, try incorporating them into your spring wedding. Feature them by pairing with heirloom tomatoes for an extremely flavorful and refreshing taste to your salads!
9. Shrimp Skewers
Another great light appetizer option that is a fan-favorite all across the globe, shrimp skewers should definitely be a part of your wedding! Our expert wedding planning tips suggest featuring shrimps seasoned beautifully with rosemary as a part of your appetizers.
10. Deviled Eggs
Are you hosting an intimate wedding during Covid-19, right in the backyard of your home? It cannot get better than deviled eggs. Deviled eggs make for the perfect homestyle meal! Serve them up during lunch, as appetizers, or during the evening. They are perfect for all kinds of occasions! Choose these classic twists on boiled eggs and dress them up with unique flavors.
11. Caprese Skewers
Celebrate your love for each other with Caprese skewers. They are soothing, romantic, and perfect for a spring-summer wedding. They will add a refreshing touch to your wedding. Cherry tomatoes with fresh mozzarella are always a crowd-pleaser and make for a beautifully vibrant cocktail snack.
12. Beet Salad
While one can easily find beets all around the year, they are splendid as a part of any spring wedding, in our opinion. So, our Spring wedding planning tips for your menu would be to serve up a small portion of baked beet salad with feta cheese and a sprinkling of shoots of young peas. Their color will add vibrancy to your dinner table.
13. Fried Popcorn Chicken
Others might suggest you stay away from fried, messy food for your spring wedding, but if you are a risk-taker, fried popcorn chicken is a great option to serve during your spring wedding. They are perfect, flavorful, and bite-sized. The dish is amazingly popular among guests and offers the right amount of deliciousness for your cocktail hour.
14. Sushi Bar
Who doesn't love sushi? It is safe to say sushi is a hit for all seasons! We love the idea of a fun and eccentric sushi bar for your spring wedding. Whether you plan on serving the same during your cocktail hour or let your guests feast away during dinner! It will be a deal-breaker for your spring wedding. It is light, juicy, flavorful, and enjoyable and will be a hit as per our spring wedding planning tips!
15. Beef Tenderloin
If you want to amaze your guests with an amazingly scrumptious entree, serve them up some beef tenderloins. Beef is something you can never go wrong with! It is hearty, flavorful, and spicy in the right ways. Offer the dish in small servings, with a garnish of microgreens, parmesan, macaire potato, and glazed heirloom carrots to fit the season.
So, there you go! We are going to grab our knives and forks! You better start planning to serve up these dishes for your 2022 wedding. People will fall in love!