Top Wedding Invitation Tips To Know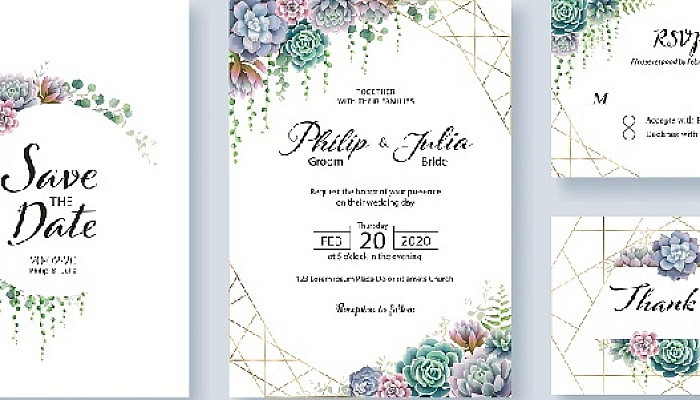 While planning a wedding, most of the couples get baffled when it comes to deciding the wedding invitations. There are many couples who want to design their wedding invites on their own; however, not all go can do it since it is not as easy as it seems. Majorly wedding invitations are handled by the designers who give a clear idea of the design, pattern, colors, and what not. However, this article will offer you some significant wedding invitation tips on the things that should be considered while designing your own wedding invites. So read on to get some insightful of the perfect invitation that will surprise your guests with its beauty and style. Before we move further, it is recommended to not to get confused between designing of your card and DIY project of making your card with stationeries.
Wedding Invitation Tips To Include
Here is the list of tips that needs to be considered while deciding the design of wedding invitation. If you are looking out for some significant wedding tips for invites, do read this post carefully to get a clear idea of things that will make your wedding invites special.
Color Theme Is Classic
Always keep in mind that color theme plays quite an important role when it comes to wedding invitations. Although, there is an array of the color theme is available in the market so make sure to choose your theme that suits your personality and choice. If you want to have a subtle look of your wedding invite, gold with white or ivory base is perfect for your invitation. Just in case, subtleness is not your cup of tea, you can choose any dark color base with a light color to make it look striking and stunning. This contrast theme is a versatile design that is chosen by most of the couples.
Do Not Dare To Play Design
When it comes to designing of the invitations, you have to be precise about the design and pattern of the wedding invitation so that it could meet your desired requirements and, of course, your style. These invites are the best way to flaunt your wedding event plan among your guests, thus, you have no other option but to finalize the best design that goes straight to your guests' heart as they have a first glance at it.
Don't Put Too Much Into Wedding Cards
There are some couples who believe in stuffing their wedding cards with a lot of matter into it which is not a good practice. Instead, the wedding cards should have minimal content to it that can make it crisp and precise when the guests open it.
Wrapping Up
We would like to wrap this by giving away one classic tip that hasn't been mentioned above which is the cost of the wedding invitation. This is something that one can't skip from the wedding budgeting, so without fail, do include these aforementioned tips to get a fruitful result. Do not skip to put your thoughts here in our comment section below.