Unique Wedding Reception Ideas To Leave Your Guests in Awe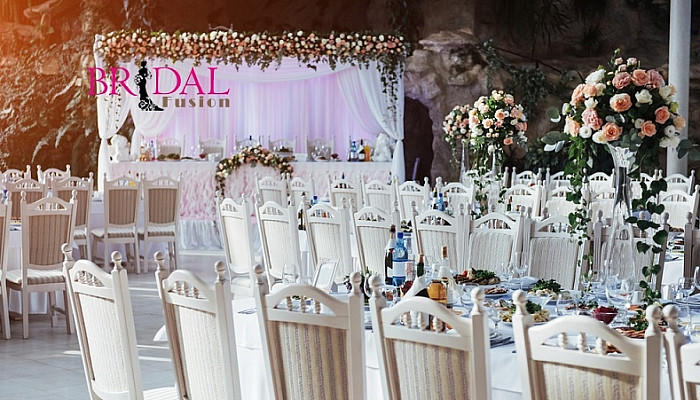 Planning a wedding reception is indeed an arduous task. It includes a lot of preparation, and creative thinking, thus requiring a lot of your efforts and time. The reception is the ideal setting for including items that will display the newlywed couple's individuality and where relatives and friends can fully engage in the celebration. We've gathered a plethora of unique wedding ideas so that you may get inspiration quickly and easily. You may create unforgettable moments for you and your guests by picking the wedding reception music, finding an affordable venue, and nailing that wedding reception dress.
Wedding reception party ideas
How do you pick on the details which showcase your love and tell your story? "The greatest way to make a wedding unique is to personalize it. Look at your own story rather than other people's weddings," says Allison Jackson, owner and lead event coordinator at Pineapple Productions. Think about the things that represent your relationship. "My approach to wedding design has always included borrowing inspiration from the couple's story to create something unique, personal, and different," Jackson explains. "I prefer to ask couples how they met, how they got engaged, and how they spent their time to start brainstorming ideas for distinctive wedding touches."
"Shared hobbies, vacations, and family history are all great sources of inspiration," she says. Second, don't forget about your visitors! Your wedding is not only about celebrating your legal union with your love. Still, it is also about your guests' comfort and happiness. Here are some quirky ideas that will get you started:
Keep the locations in mind.
Incorporate elements of the state you fell in love with into your décor or meals. We love how these tropical-inspired Florida-shaped cookies provide a whimsical touch. If your state has a slogan (for example, "Virginia Is For Lovers"), that might also be a source of inspiration. A couple who met in Virginia might incorporate LOVE signs into their wedding decor.
Have some fun with cake toppings.
Traditional bridal and groom cake toppers are a thing of the past. Finish your cake with an accent that fits the mood and theme of your wedding. While this rustic-chic light bulb topper is ideal for an industrial-style wedding, a flamingo topper may be a beach-themed homage. You can have custom-made cake toppers with the faces of your pets, it's a trend that many people are finding cute.
Improve your sitting situation.
Instead of benches or chairs, pick creative seating that fits your wedding style for your ceremonies, such as floor cushions or these casual tree stumps painted with tribal design. While getting caught up in the beauty is tempting, ensure your seating is comfy. If you want to emulate a particular atmosphere, bales of hay, poufs, and ottomans are all worth looking into.
Display family dessert recipes
Any family dishes you're providing should have a background. Explain them to the point, and include them on the printed menu. For example, "Aunt Martine's French Onion Soup/Grandma Betty's Peach Pie."
Set up a picture booth.
Set up a tiny photo studio for guests to pose for photos during the reception. Send their pictures together with your thank you notes for a delightful surprise. GIF photo booths are popular these days—just remember to include your wedding hashtag to encourage guests to spread the #love.

Wedding reception decor Ideas
Magical Lights
Lights for the evening and outdoor gatherings are essential. Consider combining delicate light strings with giant hanging bulbs to create a fantastic effect that everyone will like.
Set up a romantic table
A romantic table setting is great for couples that want romance but want a more modern look. Flowers in blush tones, pink tablecloths, and stunning customized candles combined with contemporary white chairs will do the trick.
Children's entertainment
Take into account the kids who will be attending the wedding celebration. Print up amusing wedding coloring sheets and set crayons at the children's table to keep them entertained. You may also have fun activities or swings for children to enjoy if the area allows.
Beautiful wedding cakes
Whether traditional or unusual, cakes may be an excellent reflection of the couple's personalities. Choosing the cake décor may be enjoyable for the bride and groom. A one-of-a-kind cake topper, such as two love birds, can provide an appealing touch to the event.
Wedding reception dresses Ideas.
When a lengthy train, voluminous skirt, or other heavy design is preventing you from lighting up the dance floor during your reception (or after-party). In that case, a short or streamlined second dress is the way to go. And if you're looking for a sassy reception gown, you're in luck. Here's a look at the most incredible designer reception dresses to make a statement in 2022.
Feather-Trimmed Mini Dress by Catherine
While short dresses are trendy for wedding receptions, you don't have to forgo length to get a comfortable design. This stretch-knit mermaid maxi dress is comfortable to wear. Sheer lace cuts provide a VA VA Voom touch.
Watters Lynette gown
When it comes to a second reception gown, there is no such thing as too much glitz. This glittery shift dress features a high neckline and voluminous sleeves for a retro-glam look.
Aubrielle sequined chiffon little dress by RETROFETE
Choose a reception dress with striking elements, like this midi dress with an off-the-shoulder neckline and a huge ruffle trim, to channel the maximalism of the '80s (in a tasteful manner, of course).
GALVAN Mykonos gold sequined tulle midi dress
A silky gown with a lace bodice has the sex appeal of a slinky silhouette but the extra covering of a lower neckline.
Luxe little dress from Asos
After the reception, change into something blue and bright. This bejeweled wedding ensemble is a true stunner, from the shimmering metallic decorations and plunge neckline to the fake feather straps. Even better, this plus-size wedding after-party gown is available in sizes 12 to 26.
Wedding reception venues that are affordable
Choosing the correct location is critical to the overall appearance and feel of your wedding. It may frequently cost up to half of your entire wedding expenditure. Don't be alarmed if the prospect of writing a huge check makes you ponder eloping. Several low-cost wedding locations do not lose elegance or personality.
"Begin by thinking of sites in your neighborhood that are naturally gorgeous or have special importance to you and your fiancé," Amy Nichols suggests (California-based wedding planner). "This might include public parks, beaches, breath-taking views, or other open spaces."
"Generally, such sites will have cheaper site fees than, say, a hotel or resort." It's also vital to consider what additional wedding needs will be included in your rental as part of a package deal. According to Nichols, there are a few crucial considerations to remember when hiring a venue on a budget to avoid adding extra stress to the big day:
Asking your wedding planner for a list of budget-friendly locations will save you many hours browsing on Google and Instagram.
Check to see if the price includes tables, chairs, décor or games, or even catering.
When choosing a public location as your site, ensure it is necessary to remain available to the public during the event.
If your date is changeable, collaborate with the venue to identify the perfect day for your budget, even if it's a Friday or Sunday.

National Parks
Are you dreaming of having a lavish outdoor wedding in a park or garden? Some of the most popular (for example, the Beaulieu Garden in Napa Valley, California, or the Phipps Conservatory in Pittsburgh) can have year-long waitlists and high costs. On the other hand, national parks provide special usage licenses for a fraction of the price, allowing you to tie the knot amid nature. Visit the National Park Service's website to learn about permission requirements for your chosen park, which will cost you roughly $100.
Community Halls
While most are intended for smaller audiences, you can still say "I do" in front of close friends and family. Because many are situated in ancient houses, the post-ceremony photographs on the front steps will be even more charming. Aside from that, having a ceremony at the city hall is relatively inexpensive. For example, Atlanta City Hall and St. Louis City Hall are world-renowned for their beauty and grandeur. They are unquestionably excellent venues for wedding receptions.
Have a spectacular backyard wedding reception
While a backyard wedding isn't free, the money you save on a location means you'll save more money which can be spent on other needs (such as furniture rentals, décor, and food). It also offers a pleasant and comfortable space to get ready, and it ensures that you will always be able to return to your wedding location. Of course, there are a few things to consider here as well. Check with your municipality and county regarding permits and insurance, and consider hiring luxury portable restrooms (to avoid overloading your home's system).
Allison Aronne, a wedding producer at Fête NY, has years of experience arranging weddings, but planning her wedding to Ryan Beauchamp was a particularly special task. And because of her professional contacts, Aronne was able to secure the ideal venue for their wedding: her employer, Jung Lee's, magnificent property in Kent, Connecticut.
This backyard wedding left no detail unturned, with a lovely background for their ceremony and the most beautiful tent on the grass for dinner.
Wedding reception songs
Some songs are always included in the final mix. From party anthems to rock ballads and oldies to country standards, these timeless hits will get people on the dance floor. Invitees should write their favorite song on the RSVP card or email it to you instead. Make a playlist of all the song requests and offer it to your DJ for a range of songs your guests will like.
Below are a few of the most popular wedding reception songs:
"Can't Stop the Feeling!" by Justin Timberlake
"I Gotta Feeling" by Black Eyed Peas
Beyoncé's "Crazy in Love"
Jay-Z Cha Cha Slide" by DJ Casper
LMFAO's "Party Rock Anthem" with Lauren Bennett
GoonRock's "Rock Moves Like Jagger" with Christina Aguilera
House of Pain's "Jump Around"
Colbie Caillat's "I Do"
"This Is What You Came For," by Calvin Harris featuring Rihanna,
"24K Magic," by Bruno Mars.
Conclusion
Unique (lesser done) wedding ideas, from Pinterest-worthy photo booths to the unique table setting ideas, create a lasting impact. BridalFusion.com has you covered in every way. We are confident that you will like this post and make excellent use of the suggestions presented. Continue reading our blog for more wedding and bride-related inspiration.