Your Complete Guide To Choose The Best Wedding Music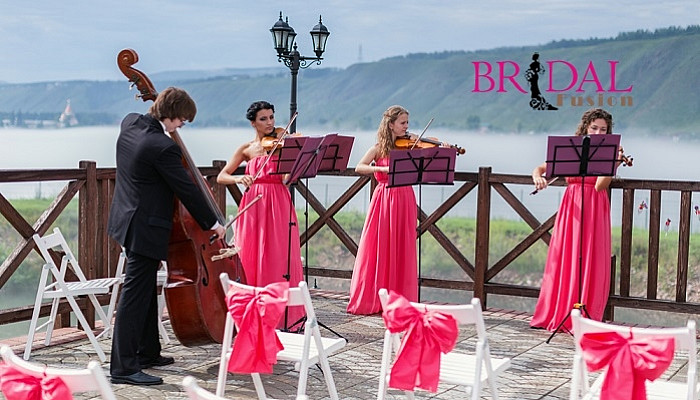 What are the greatest wedding hits of 2022? We chatted with numerous married and engaged couples and professional wedding musicians. We learned that the music at a modern wedding is as distinct as the couple enjoying their special day. Walking down the aisle, timeless classics are given new covers. The dance you do with your parents may bring back memories of your youth. Even old-school rituals, like cutting the cake, are given a lovingly matched song.
From Adele to Lizzo, these are twelve cheerful, trendy wedding music you'll hear more of in 2022 for the modern and sophisticated marriage.
1. "Can't Help Falling in Love" by Haley Reinhart
Alissa Musto, a professional pianist and performer, says Haley Reinhart's contemporary rendition of this Elvis Presley classic is one of her favorite wedding song requests. Musto, based in Boston, Massachusetts, plays at wedding ceremonies and parties all around New England and beyond. Because it is so distinctive, this cover is a favorite of brides confidently heading down the aisle.
The song's lyrics have a timeless beauty that, musically and poetically, avoids trends, Musto says.
2. Ed Sheeran's - Perfect
Many times throughout a modern wedding, we see the bride's entry with a song by Ed Sheeran. From the bride's trip down the aisle through the couple's first dance, everything was perfect. In recent years, Mella Barnes, a singer-songwriter, has called Sheeran "the wedding song king."
"Perfect, and the other song by Sheeran-"Thinking Out Loud," is the best go-to for slow dances," Barnes says, adding that up-tempo songs like "Shape of You" are great for wedding receptions.
3. A Thousand Years by Christina Perry
Christina Perri's "A Thousand Years" is one of the most popular tunes wedding photographer Logan Weston has heard during wedding ceremonies. Couples will sometimes play it with Perri's voice or as an instrumental. Both versions will have your visitors in tears. "It's the perfect calm, contemporary music that tugs at your heartstrings as you go down the aisle to view your future spouse," Weston explains.
4. The Beatles' "Here Comes the Sun."
Looking for the ideal music for parents and wedding party members to go down the aisle during the processional? Add this famous Beatles track to your wedding's Spotify playlist for your wedding processional song.
5. The Golden Hour by Kacey Musgraves
"I do!" is said, and it's time for guests to mingle and sip cocktails during the ceremony's recessional. Request Kacey Musgraves' "Golden Hour" to get everyone in a joyful mood before meeting the newlywed couple for the first time. Other romantic songs for a love prelude are Norah Jones' emotional "Come Away With Me" and Coldplay's lively "Strawberry Swing."

6. City of Stars by Emma Stone
The use of music from movies is a growing trend in wedding playlists. A modern wedding may benefit from almost any tune, from a popular Disney song to a sweeping orchestral soundtrack set to a period-piece film. Even Game of Thrones' primary title is appropriate when performed live by a skilled pianist! The couple might have their favorite romantic film soundtrack or instrumental played as their entrance song or to end the ceremony. This lovely melody from the La La Land soundtrack will inspire you.
7. Marry You by Bruno Mars
It's time to show the world the newlywed pair! Set the big entrance dance to Bruno Mars' lighthearted and flirtatious "Marry You."
8. Lizzo's song "Juice."
Brei Olivier, a wedding and elopement photographer, believes Lizzo's discography, which includes hit singles "Juice" and "Good as Hell," can be played throughout the couple's wedding day, from beauty prep with the bridal party through the reception.
9. Make You Feel My Love by Adele
Every couple's first dance is extraordinarily memorable and significant. Sway to Adele's deep, slow ballad "Make You Feel My Love," a current (and soon-to-be classic).
10. Count on Me by Bruno Mars
"What is the ideal music for the bride and groom and their parents to dance to?" This may range from Bruno Mars' upbeat "Count on Me" to oldies like The Beach Boys' "God Only Knows" and Stevie Wonder's "Isn't She Lovely."
Finally, the couple will select the song with the most significant personal meaning. If the bride grew up loving Star Wars, prepare a pair of lightsabers so her father may choose John Williams' "The Imperial March" theme for their father-daughter dance.
When in doubt, consult with your parent(s). They'll be overjoyed and may select an unexpected, heartfelt song that will surprise and pleasure you.

11. "Everlasting Love" by Natalie Cole
"This Will Be (An Everlasting Love)" by Natalie Cole is absolute refinement. This song should be at the top of any modern wedding music playlist.
"The lovely thing about this song is that it can be played at various points during the wedding day and fit perfectly," Weston explains. "It's a tune for all ages and the ideal classy leaving song since it has that joyous and poppy couple vibe."
12. "Happy" by Pharell Williams
Wedding playlists include a variety of current music that appeal to different generations. For every Stevie Wonder's romantic "Signed, Sealed, Delivered," there's a Sir Mix-A-"Baby Lot's Got Back" or Cardi B's "I Like It." Some age groups may run to the dance floor for these tunes, while others will remain seated.
When guests RSVP to your wedding, encourage them to submit music selections, such as Pharrell Williams' crowd-pleasing smash "Happy."
"Your 90-year-old grandmother might not like that Cardi B song," Barnes adds, "but your 14-year-old niece does." "I always advise couples to think about their guests as well. Of course, your day is about you, but you also want everyone to have a wonderful time and dance."
Wedding Music: FAQs
Q. Wedding DJ vs. live band- which is better?
Instruments and musicians consistently outperform a person with a laptop, but live scheduling talent is more expensive. Also, bands are like restaurant menus—if they have 50 pages of alternatives, they'll all be mediocre. Check if the band can perform the songs that are most essential to you.
DJs have access to all the greats, and hiring one is less expensive than hiring a band. String quartets and Jimi Hendrix cover bands require more room and a larger power supply than a DJ, which might limit your venue selections. However, with so many "DJs" in the game, there is a greater chance of hiring a total vibe-killer.
Q. What is wedding montage music?
Montage is a cinematic editing method that combines a number of brief images or clips into a single sequence, sometimes set to music. Montage is a French term that means "assembling" or "editing." Montage sequences frequently indicate the passage of time or several simultaneous occurrences and are used to deliver a large amount of information to the viewer at once.
Q. Can we have royalty-free wedding music?
It can be easily obtained from various online marketplaces such as Envato Elements or Audio jungle.
Q. How many songs can be played in the wedding ceremony?
There are four main songs for each of the following:
Prelude – These are the tunes played as visitors take their seats.
The song(s) played as the wedding party makes its way from the back of the venue to the altar.
Ceremony Song - The song played at the formal union of two people, such as when the unity candle or sand ceremony is lit.
The song(s) played while the wedding party makes its way from the altar to the back of the venue.
Q. What comes first? First Dance or cutting the cake?
Cake cutting should come right after the meal because it is considered dessert. Furthermore, once the dancing begins, you want to keep the mood light and the guests on the dance floor. Having the cake sliced after the dancing starts draws the attention away from the dance floor.
Conclusion
Whether you're like soda-pop 50's nostalgia or sticky 70's funk, BridalFusion.com's wedding song selections are here to create the proper tone and get your guests in the mood to celebrate.