12 Unique Wedding Cake Types And Shapes Trending In 2022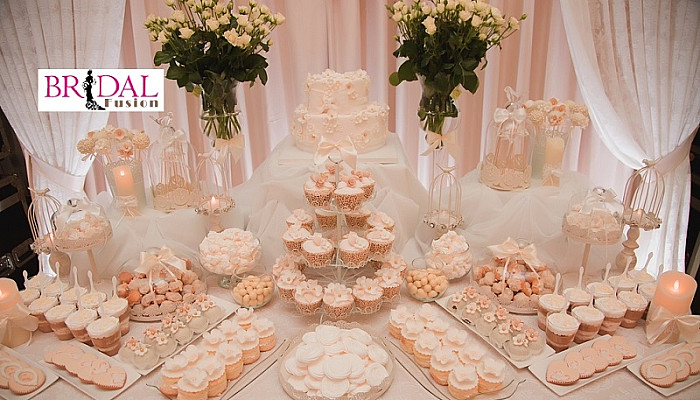 This is a good time if you're planning a wedding for 2022. After a sumptuous supper, it's only fitting to end things off with a stunning wedding cake. While white wedding cakes will always be an attractive choice, the alternatives for wedding cakes and other delights are continually growing. Bakers are pleased to give their customers a variety of magnificent designs and novel techniques that have been having a moment for the past few years. Here are the top 12 unique wedding cake types, giving you another reason to say "I DO."
1. Pressed Floral Cake
This wedding cake type has been increasingly popular in recent years because of its beautiful, natural-looking cherry blossoms, lively color combinations, and versatility. It is an excellent choice for a fantasy garden wedding or a bohemian wedding; plus, many alternatives are available with the many flower varieties.
Janderyn Makris (the owner of a prestigious cake studio- "Earth & Sugar") feels that this trend will last for years. She exclaims, "I'm in love with the variety of colors." There are unique pieces in demand this year, and it doesn't have to match the wedding décor. A buttercream cake is a perfect canvas for this sort of ethereal beauty, and it can be done in a matter of minutes.
One of the most traditional approaches in wedding cake design is using fresh or elaborate sugar flowers to design your cake. Additionally, Tiffany MacIsaac (Owner of DC's hottest bakery shop, "Buttercream Bakeshop") advises couples who have difficulty deciding on a cake design approach to take inspiration from their flower design ideas. "If you're looking for new design ideas, the internet is a gold mine," she exclaims!
"We frequently request that a customer provide us with their floral design invitation suite and any other custom-designed things for their wedding in addition to the main order of business documents. As a result, we may get a feel of their style and design aspects that we can use to make the cake match the décor," advises MacIsaac.
2. Small cutting cake
If you still want to conduct a cake-cutting ceremony without a large cake, this is the best wedding cake type. This fad debuted in 2021 when couples navigated the pandemic and planned micro-weddings, but it's not going away. Couples are selecting one or two-tiered cakes, but Smith says that the designs will still deliver an impact even if they are tiny.
With the increase of mini-weddings, micro-weddings, and elopements, many couples can't justify purchasing a cake that serves 200 people. However, don't let it keep you from having an exquisite wedding cake. Couples don't need to serve tiered wedding cakes to create an impression. They can serve a small cake to each guest and still make them feel special.
3. Bold color cake
Couples take a long time to succumb to planning their dream wedding. Heather Leavitt, the owner of Sweet Heather Anne, says, "Many of our couples are eager to have a high-scale celebration." A lot of cakes are getting bolder and brighter to represent the joyful nature of the occasion. With this, the size of the cakes is also in keeping with their dramatic patterns. Four- and five-tier cakes have become increasingly popular among couples, and the trend will be around as long as there are weddings.
4. Multi-Tier cake
Are you trying to find something truly unique? The year 2022 will be dominated by this style. We're using acrylic circles or squares and raised metal dividers to create the illusion of a floating level.
What a daring approach to get people's attention! Nicole Redd-McIntosh (recognized pastry chef and cake designer) recommends that this element elevates the design to a new level. It's possible to fill these glass layers with flowers and chocolates or even leave them empty to create an extra "wow effect" with your cake. It's also possible to combine two desserts into one presentation by employing this strategy.
5. Metallic designer black cake
Do you want to make a statement? For a black-themed wedding, black cakes can be made in any style. According to Redd-McIntosh, a black cake has become more popular with couples because of its "dark and somber emotions." A black cake with a splash of color or metallic icing is one of the best cakes we have ever had!
6. Artistic cakes
Couples eager to make a mark in 2022 are developing increasingly innovative concepts for their weddings. Tiffany MacIsaac, the proprietor of Buttercream Bakeshop, says she's getting design boards with abstract or modern art influence and layers of texture. For the most part, it has contemporary art and a minimalist tone. Tall, slim cakes with unusual proportions are predicted by MacIsaac, giving them an impressively regal appearance.
7. Citrus cakes
According to Redd-McIntosh, couples are following in the footsteps of outdoor festivities. Many couples choose a cake made with citrus or other fresh fruits for an outdoor event. To make it picture-perfect, cakes can be garnished with pieces of sliced fresh fruit and blossoms.
8. Pet Portrait cakes
It's a great way to make your wedding cake even more unique. It's time to show off your fuzzy pet! The most frequent portrait that couples place on their cakes, according to Leavitt (Owner of the famous Leavitt's bakery in the United States), is a picture of their pet. Guests like the pleasant surprise of seeing a pet image hidden under the cake, so we often do it.
9. Pearly cakes
Are you trying to make your cake look like something right out of a fairy tale? White sugar pearls are a good choice for patterns. Go for a metallic color like burned gold or rose gold for a more glamorous effect. Add a dash of elegance to your desserts by using edible glitters.
10. Fault line cakes
When it comes to wedding cake types, this is the one that never goes out of style and never ceases to amaze the wedding guests. Buttercream is commonly used to embellish faultline cakes. The cake has a visible underlayer peeping out of the middle in contrasting colors. Fill it in and color it with the fault line. It's also possible to use a different color for the fault line. Stripes, sprinkles, and even gold leaf adorn several of these cakes.
11. Textured Buttercream cakes
There are a variety of intriguing textures to be found in buttercream, and everyone enjoys a smooth-lined buttercream finish on a cake. There are roughed-up finishes that can be difficult to accomplish, but they can look stunning. A ruffle or a scalloped finish, for example, will charm everyone at the party when done correctly. They're a tremendous treat to look at.
12. Isomalt décor cake
Isomalt toppers are a wedding cake type that will give a dramatic "wow" factor to your wedding cakes, making them stand out. What if you're looking for a dessert that would leave your guests awe-struck? The moment they lay eyes on this, they'll know you've thought of them. Massive isomalt cake decorations are a great option if you're looking for something to make a mouth-watering effect on your guests.
Conclusion
Wedding cakes can be considered no less than a piece of art in which the cake serves as a canvas. You can request your cake designer to make the wedding cake into a multifaceted, eye-catching treat that will be the highlight of your D-day celebration. After all, if you employ a pro, you must trust that they will use their skills to create a masterpiece. "Hire a bakery you enjoy and leave the rest to them. We've discovered that when a couple gives up space to make, they get more than they bargained for," Tiffany MacIsaac recommends.
Couples may now choose from various cakes to make this occasion even more special. Choosing a wedding cake that is appealing to both partners isn't an easy task. We understand your dilemma, and that is why BridalFusion.com has produced a list of the top 12 wedding cake types, designs, and flavors to make it a cakewalk for you to decide.