Types Of Chocolate Wedding Cakes For Your Special Day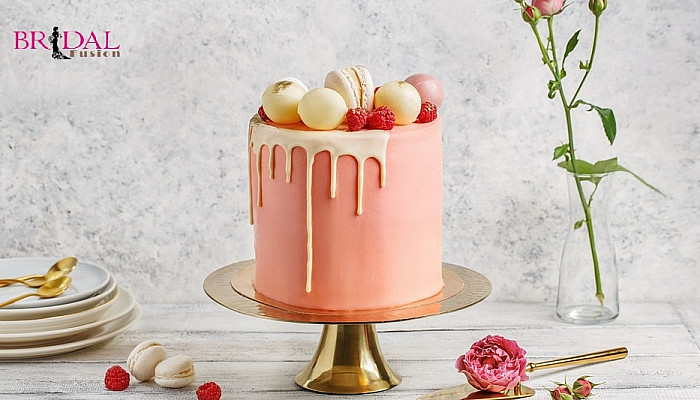 Planning a wedding is hard, and so is picking the right cake. A delicious wedding cake is something that everyone appreciates both in terms of taste and visual appearance. Over the years, various dessert trends have come and gone, but nothing beats a delicious chocolate cake. It is a kind of dessert that satisfies more than one of your senses, and hence, a couple can make a statement by adding the right cake to their wedding. When we talk about wedding cakes, classic vanilla or fruit is often the traditional choice. However, it's high time to switch it up and go for something you love. And if it means a bold, rich, and seriously tempting chocolate cake, then think no more. It is one of the most delicious options for all your festivities.
Chocolate is an enticing flavor for cakes, and hence, it is becoming more and more popular for celebrating a couple's nuptials. If you think a chocolate cake is a perfect fit for your big day, you will be surprised to see the number of inventive options you can choose from to build a one-of-a-kind and spectacular wedding cake. To help you make a statement on your wedding day and blow your guest's mind, we are here with a list of unique cake ideas. This article will provide you with the mind-boggling options to enrich your wedding ceremony and "wow" your guests. So scroll down through our selection of scrumptious, beautiful chocolate wedding cake designs.
1. Sweet And Simple Cake
A chocolate cake is far from dull and boring, and hence, you can easily get away with a basic design. There's nothing wrong with keeping it simple and totally owning it. You can get yourself a basic two-tier chocolate ganache wedding cake and top it off with colorful, fresh flowers and a cake topper. You can also pair a few berries with the blossoms. Believe us, such kinds of cakes look effortless yet beautiful.
2. Design A Cake With Macaroons
For all the sweet tooth couples who think chocolate isn't enough to curb their craving, they can top it off with a few pretty pastel macaroons. Adding macaroons will heighten the visual experience of the cake and make it more pleasing to the eyes. So, if you want to get yourself a show-stopper on your big day, then design your chocolate cake with colored macaroons.
3. Add Fun Topper
Now making a bold statement is way easier with an over-the-top cake topper. Today there are fun, elegant, and eye-pleasing cake toppers for every style, theme, and budget. You can pick any toppers that match your wedding theme and go with your budget. Adding a different topper than usual 'Mr. & Mrs.' toppers will take your cake a step ahead in making a statement. Without a doubt, a fun topper on the cake is nothing short of show-stopping.
4. Go For A Hand Painted Masterpiece
A chocolate cake with handpainted detailing is one of the best ways to turn your cake into a beautiful statement. There are plenty of handprinted designs that add elegance to cocoa creation and make it look pleasing to the crowd. For a hand-painted masterpiece, you can go for a floral design, pretty crests, punchy fruit details, or even full-blown portraits. Having such a cake on your wedding day will surely impress the guests.
5. Top Your Cake With Plenty Of Fruits
Nothing can be better than adding fresh fruits to your chocolate wedding cake. While a simple cake is certainly not boring, adding fruits will take it to another level. Whether you opt for a simple cake or dripping chocolate, you can never go wrong with fruits on it. You can either get fruits decorated on the top of the cake or ask your baker to add fruit extract to the cake and icing to give it more flavors.
6. Go For Caramel Or Chocolate Drip
Drip cakes are a popular fad that isn't going anywhere. Incorporating a drip into your wedding cake is another way of making your cake look outstanding and taste delicious at the same time. For a drip, you can either go for a chocolate version or pair your chocolate cake with another flavor like caramel. This will not just embrace the look of your cake but will also make it taste better.
7. Build With Classy Colors
While everyone thinks of a chocolate cake as a brown-colored cake, in reality, it can be of any color of your interest. Yes, you can definitely ask the baker to bake your chocolate wedding cake with any color in mind. Now that you are planning to go out-of-the-box with chocolate-flavored cake on your D-day, then why not go over the top by embracing colors. Playing with colors will not just make your cake look captivating but will also surprise your guests with chocolate inside when you cut it.
8. Get A Tall Cake Or Mini Version
If going with a chocolate flavor is not enough, you can make a statement by designing your cake tall with more than five tiers or picking a mini version of the cake. Tall cakes look more romantic but are a bit heavy on the budget. On the other hand, mini cakes are perfect for smaller weddings and couples who don't want to spend their fortune on a wedding cake.
9. Go For Fondant Cake
Fondant cakes are a relatively new addition to the market but have managed to capture a significant share. Such chocolate cakes are a complete surprise when you cut them into slices. You can ask the baker to cover your cake with your choice of fondant and ask them to make designs to the next level. You can add bold, beautiful designs and make your wedding cake a topic for discussion for everyone.
10. Serve Multiple Flavors
While chocolate is an excellent flavor for a wedding cake, it is not liked by all. It is not a universal flavor, and hence, you must stay conscious while choosing this rich dessert as your wedding day cake flavor. To make everyone fall in love with the cake, you can pick different flavors. If you add one tier of chocolate, you can have another classic vanilla flavor or other. This will ensure that everyone will enjoy the sweet treat at your wedding.
Final Words:
We know that this list is pretty long, and by seeing all these chocolate wedding cake ideas, you might feel a little overwhelmed. With so many incredible options, selecting one design for your D-day is difficult, but trust us, you can do it. Sit down, read the list once again and figure out which chocolate cake design will suit your wedding. It's time to turn your guilty pleasure into a wedding cake!