Wedding Planning Guide - Top 11 Places To Elope Around The World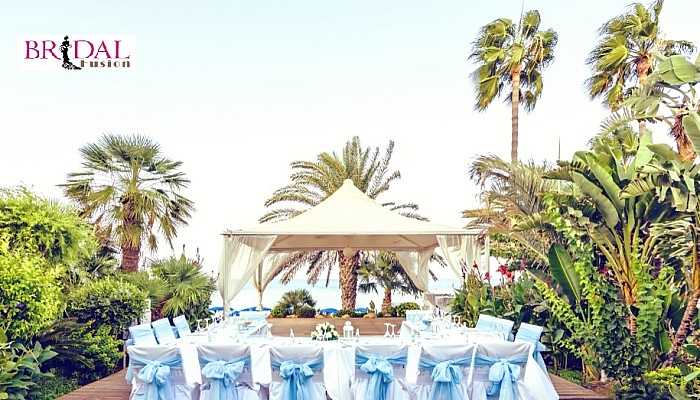 Just say "I Do," just the two of you!
For some people, weddings can mean exchanging vows in a grand ceremony, surrounded by the people on their elaborate guest list. For others, weddings are pretty simple and scaled-down in an entirely different destination. While what it means to elope has changed in meaning over the past few decades, these days, people use this term to describe the latter. A small marriage ceremony, with only the couple and nobody else, usually happening away from where the couple lives!
That being said, a small ceremony does not usually mean it will not be exceptional. From donning a spectacular elopement wedding dress to incorporating multiple unique elopement ideas, there are plenty of ways to make the day a memorable one, and it all starts with the destination you choose for the elopement. Your destination usually sets the tone for the rest of your celebrations. Without any grand wedding to think about or running after wedding planning guide experts to get everything right, the whole world is your aisle!
So, get ready to start exploring beautiful destinations you can elope to in this wedding planning guide. From secluded waterfalls to eccentric desert towns, here's our pick on the top 11 places to elope around the world.
01/11
Las Vegas
If you believe that our very own Sin City is a quick place to get married easily, think again! It is incredibly easy to obtain and use a marriage license from Nevada. You will be welcomed by Elvis officiants and drive-through wedding chapels, where you can have the time of your life while marrying your one and only. It is only fitting that Ross and Rachel got married in one of these Chapels, so should you! The city is also full of some amazing dining options with exciting outdoorsy stuff to do beyond the Strip. Elope to Las Vegas, the first destination on this wedding planning guide! You will not regret it.
02/11
Washington, D.C.
With some of the best museums around the globe and alleyways covered in colorful street art, Washington D.C. offers plenty of picturesque locations where you can get married. The places here are historically rich and vibrant, making them perfect for eloping and getting married. If you genuinely want an elopement experience that speaks "just us two," this is the place. The place is also one of the few places that legally recognize self-uniting marriages, so you do not even require an officiant to be present. You can get married on your own, make some beautiful memories, and hit the nearest romantic resort for some TLC.
03/11
Bora Bora
Located deep in the South Pacific, between South America and Australia, is French Polynesia. Newlywed couples have flocked to this remote island to enjoy its white sand beaches and bungalows near crystal clear waters. As per our wedding planning guide, the location is fantastic if you are looking forward to eloping with your one and only. Not only will you get the ultimate romantic experience but also unforgettable tropical vibes your life is missing. Make this location your place to elope and have a private beach ceremony in typical Polynesian traditions.
04/11
Palm Springs
If you love medieval times, mid-century designs, great hotels, and hot, comfortable weather conditions, there is nothing better than Palm Springs to elope for getting married. The desert town is impressive for fun-loving couples who want to add color to their little wedding ceremony or maybe even jump into the pool in their wedding tuxedos and dresses post-ceremony.
05/11
Promise Ridge
For the city-dwellers from the likes of New York City and Philadelphia, Promise Ridge is an amazing elopement spot, taking you straight into the middle of the woods without traveling too far away from home. The location is near Stroudsburg in the Pocono Mountains in Pennsylvania. Have a wedding in front of the foliage-filled walls that will add much-needed freshness and warmth to your elopement.
06/11
Chugach Mountains
Everyone's favorite vacation spot, Alaska, is terrific for elopements as well. Its wilderness and raw, untamed atmosphere make up for what we are missing from our city life. The favorite way couples love to get married here is by taking a helicopter or a ski plane and getting out onto the Chugach Mountains, landing on beautiful white glaciers with the most beautiful scenery one can ever see in their lifetime. Glaciers here change with every season here, sometimes even on a weekly basis. So what you will experience will always be new and unique at the exact same place. This adds meaning and depth to your wedding.
07/11
New River Gorge National Park
The latest addition to the series of national parks in the country, New River Gorge, West Virginia, is a fantastic place to get married. The location is adventurous, and sports enthusiasts have always been in love with this location because it offers water rafting and rock climbing facilities while you are getting married. The backdrop of the New River Gorge Bridge, which is also the third-highest bridge in the US, is a mesmerizing place to exchange vows. After you are done exchanging your vows, go for a bridge walk and capture some beautiful memories. You will also find some highly charming accommodations around the national park to spend your wedding night.
08/11
Collective Vail
The State of Colorado recognizes self-solemnization, which means you will not require the help of an officiant to legally get married within the borders of the state. This legal loophole makes escaping to the mountains to elope worth it. Collective Vail is infinitely enjoyable to have an onsite ceremony where you can wander the ranch and click some magical portraits. After the ceremony, you can stay the night in luxurious accommodation available around the region.
09/11
Dunluce Castle
Can it get any better than eloping and getting married in a castle with rolling green hills, ancient ruins, and rocky cliffs? If this is what you love, elope to the Dunluce Castle and have the ultimate romantic dream wedding you have always wanted. Escape to Ireland on the Causeway Coast that will make up for an amazing medieval backdrop for your wedding as per our wedding planning guide experts.
10/11
San Francisco City Hall
When you typically think of a courthouse wedding, you might picture a dull, monotonous, and drab civic building, asking for completely non-romantic wedding nuptials. However, San Francisco City Hall is far from all of this. For almost a $100 fee to the city, you can get married in a fantastic Beaux Arts-style building, along a grand staircase, rotunda, and beautifully gilded architectural features. With features like that, it is no surprise that even a Government building can be a beautiful elopement location for people away from the region.
11/11
Iceland
The remote Nordic island is almost five and a half hours flight away from New York. Iceland is rich in black sand beaches, phenomenal topography, beautiful waterfalls, glaciers, hot springs, gurgling lava, and rolling green hills. The remoteness of this place is what makes it extremely special for a wedding elopement plan with your significant other. The natural beauty of Iceland will also serve to amplify the overall spiritual aspect of your bond. Have an elopement planning service or wedding planning guide experts help you coordinate a beautiful wedding ceremony for just the two of you here. After you are done with the ceremony, you can relax and enjoy yourself at one of the retreats in Iceland, which guarantees you private access to the most famous tourist destination.
Final Words
So, there you go! These are the top 11 places to elope around the world and get married. You will fall in love with the charm of each of these places. Our wedding planning guide experts have carefully curated them just for you to have a safe and intimate wedding experience!
Have a beautiful journey together, just the two of you!