Wish To Plan Your Wedding Photos Just Like a Pro? Here Are The Tips!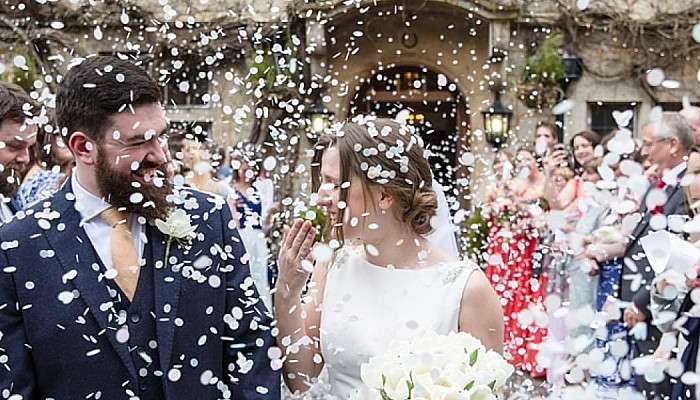 Your wedding is going to be a once-in-lifetime event. It is something that needs to be celebrated with full enthusiasm and cherished forever! Planning it, however, feels like you are preparing for some war - deciding a budget for everything, seating arrangements, food choice and much more And then there is this one thing you don't wish to cut down on - memories! This is why spending time and efforts on your wedding photos is going to be the biggest decision that you will make. To help you in getting the most romantic photos that seem like straight out of a fairytale for your special day, we have created this special guide on wedding photos tips for you. Check it out...
Hire a photographer who is a real pro:
Make sure that you hire someone who has experience taking the style of photos you wish, liability insurance, backup equipment and also a plan for when things go south. Ideally, he or she should be a PPA photographer. PPA photographers are the ones who do more than just click pictures. They carry the technical expertise and artistry in order to make you look your best and bring out your vision to life. They also follow a strict code of ethics that really makes a difference.
Book well in advance:
Keep this is in your mind that the best photographers often get booked quickly, sometimes even a year in advance! So, it is crucial that you don't wait until the last minute and book your photographer far in advance.
Express yourself:
What style of photos do you wish? Are they more of journalistic or is your style more classical, whimsical, or romantic? Whatever your style is, it is important to be utmost clear with your photographer so that he/she can capture your real personality.
Say yes to your dream dress:
We all have this iconic garment that we always dream of wearing on our special day. This dress makes you feel like the bride that you have always dreamed of being! Is it a formal gown complete with train and veil, or a flowing sundress? Or perhaps your objective is more modern and a strapless dress, in a color other than white. Whatever your viewpoint is, dare to wear your dream dress!
Shoes dont matter:
Do you wish to walk down the aisle in kitten heels or stilettos? Maybe cowboy boots are your style? Couldnt decide? Then just drop the shoes, and feel free to walk barefoot.
Celebrate in style:
Know that your D-day isn't just a ceremony, it's a celebration bringing all your family and friends together. Thus, photographs of this memorable day are an amazing way to impart your own sense of style. Be it a tailgate at your favorite stadium, a backyard BBQ, or a formal dinner, pictures of this celebration are a must-have.
Ask to see a complete gallery of real weddings:
Request your photographer to show you full wedding coverage and not just a small selection of various wedding's best moments. This would give you a sense of the photographer's true style and know how he/she might tell your "tale". Do you prefer more traditional or artistic poses? Would you rather prefer to have a photojournalist approach or a blend of all styles?
Choose your ride:
Some people wish to be swept away by horse and carriage as if they are a Cinderella themselves! Others prefer luxury cars and limos as their modern counterpart. Or perhaps a motorcycle is more like your thing for the distinctive free-spirits of the world. Anyway, a great photo app is always there as you finish your wedding.
Work with your photographer and create an elaborate shot list:
PPA wedding photographers can also assist you in creating that shot list, as they clearly know what critical moments tell a perfect wedding story and can prepare for those. But you should also talk about your must-haves with the photographer, and walk through the whole program with him/her ahead of time. Share your expectations beforehand so as to ensure that the photographer captures the critical shots while also remaining attentive and available throughout to snap the best candid moments.
Minimize your locations:
If you wish to maximize photo time on your D-day, it is recommended that you minimize the number of photoshoot locations. You dont wish to spend much time traveling between various locations than actually capturing pictures. A great photographer should be capable of making almost any location work. Even if you dont really like the background options of your venue, have faith in the creative abilities of your photographer.
Plan enough time for each section of the day:
It is important that you create a timeline for your wedding day, taking the assistance of your wedding planner in organizing. There should be an estimated time period for makeup, hair, reception setup, etc. Within this timeline should include all of your photo sessions such as the first look, couples session, and bridal party photos.
Plan your post-wedding photo strategy:
As soon as the festivities of your wedding day are over, you'll be eager to have a look at the photos so as to relive your special day over and over again. Request your photographer for a "sneak peek" or teasers as well as a timeline for when the rest of the pictures will be available. Will they provide you with an online gallery for family and friends to select the images they wish?
Again, knowing all these things well in advance will make things smooth on the back end, sparing you any last-moment heartache.

Planning your dream wedding means putting extensive thought and effort into each and every minor detail. After all, it is going to be the most special day to remember for the rest of your life. But years from the wedding, all that remains are the emotions, moments, and memories that are captured by your photo and video team. And so, apart from hiring a quality photographer, there are plenty of steps you can take so as to guarantee incredible wedding photos.