Things You Must Know Before Planning a Destination Wedding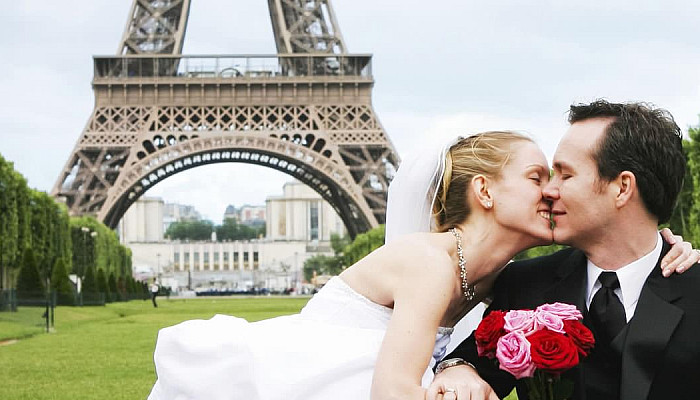 There is something tremendously romantic about saying 'I do' to the love of your life against a backdrop of magnificent mountains or with white sand in between your toes on a tropical beach! But, before you decide to finally fly off and tie the knot, know that planning a destination wedding comes with a lot of work and efforts. So, whether you've decided on an island fête in Bali, a tropical celebration in the Bahamas, or a romantic getaway in Tuscany, Italy, we have combined together here with the perfect destination wedding tips from choosing the perfect location to coordinating every last detail on the D-day. Regardless of where in the world you decide to get hitched, this guide will surely prove to be a great help for you.
1. Choose the Perfect Venue
The venue you choose should reflect yours as well as your partner's personalities. If you're really not a beach person, then getting married on a tropical island just might not be for you. Considering your guests is also important while picking a location as they have to make travel arrangements and save ahead. Moreover, try to choose a destination that is not too remote and perhaps where your guests could go on for a holiday out of the trip. Keep in mind that your location must have all of the resources that you need. That pleasant beach town where you spent your childhood summers wouldn't work in case it only has one hotel that can't really accommodate all of your guests. In case you're working with a tight budget, picking a destination closer to home or in a place where the ceremony will be more affordable would be the best idea.
2. Be Sure to Visit the Location Beforehand
"All that glitters is not gold". The resort that you have selected on the Internet may turn out to be a disappointment when it comes out to real life. And thus, it is crucial that you do enough research and if possible, plan a trip to the location beforehand so as to make sure that the accommodation and the facilities meet your expectations before you make a final reservation. Ideally, you should see your wedding venue once before booking and again 5 to 6 months before the wedding date in order to finalize details. In case a second trip doesn't seem possible, make sure to at least arrive four days early to make the decisions and also do a makeup and hair trial.
3. Look Out For an Ideal Time
Perfect wedding weather is like a gamble, but planning a tropical beach wedding during the rainy season wouldn't be a wise idea. Choosing a wedding date that harmonizes with good weather is really very crucial! Unfortunately, good weather implies high season and higher rates. In case you are planning a destination wedding during the peak tourist season, make sure to book as far in advance as possible so as to secure the best rate, the location that you wish and enough accommodation for your guests.
Opting for a date in between the peak and off-season may save you and your guests some money. Also, there will be fewer crowds.
4. Notify Your Guests Well In Advance
This is surely one of the most significant destination wedding tips. It is always kind and important to give your nearest and dearest ones plenty of time to analyze if they can actually afford the cost of traveling to your wedding ceremony and reception.
5. Lookout for Help
A number of wedding venues and hotels recommend a wedding planner in their packages. A wedding planner can really take off the burden of planning a wedding from your shoulder. If you have enough budget for it, then asking for one would be a good idea as he/she can help you deal with logistics, secure local vendors, and put out last-minute chaos! Make sure to however find a planner that specializes in destination weddings. This way, instead of making executive decisions about ceremony site and flowers from miles away or spending hours on phone trying to overcome a language barrier, you have an expert to finally take care of it all for you. In case a wedding planner isn't in your budget, you can look for a resort with a good on-site coordinator.
6. Save Big by Embracing the Setting
Reduce your decor budget by including more of local blooms such as grape leaves and olive branches in Tuscany or outlandish flowers and plants in the tropics. Also, serving local specialties at the reception, such as carnitas in Cabo or conch fritters in the Bahamas cut down catering costs.
7. Choose Vendors in Person
Set up meetings with the well-known rental companies and florists in your destination before you make your first site visit. You can also ask for referrals from your venue on the ground and might uncover local talent that you didn't know about.
8. Keep a Budget for Vendors
If you decide to bring specialists and vendors from home, expect to cover their lodging and travel costs - a clean and safe hotel in close proximity of your venue is a must. So, it is important to negotiate these expenses up front so that things don't get out of control later on.
9. Choose Your Dress as per the Destination
When setting the dress code for your wedding, it is important you consider the climate. For instance, heavy, formal wear does not work best in tropical humidity. Instead, breathable fabrics go well with hot, humid locations. An embellished ball gown at a villa in France is stunning, as is a lightweight lace in Mexico. Hence, choose your wedding dress accordingly, and make sure to give your guests a heads up, too!
A destination wedding truly has the ability to turn up as your dream vacation if you keep in mind all the essential things beforehand and act accordingly. Hope this guide will help you clear all your doubts and help you in planning your perfect destination wedding. Have fun getting hitched!