Wedding Planning Guide - Things To Know About A Wedding Registry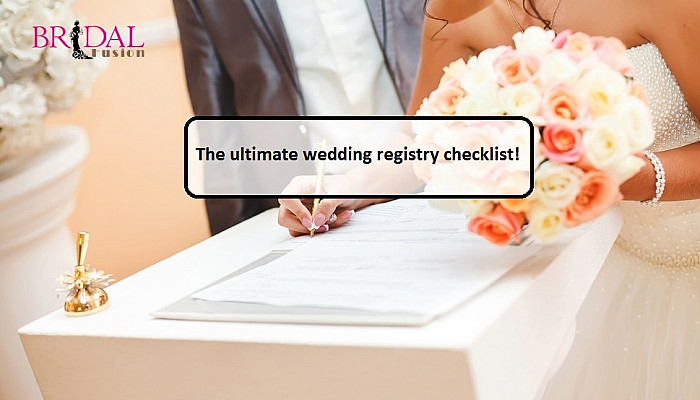 Dress shopping, stationery, invites, and cake tasting might be thrilling in their own way, but the wedding registry rules them all. It brings a sense of cheer and joy to your wedding planning. After all, who doesn't love to create a shoppable wedding wish list, the one that helps you and your partner start your new life on the right foot?
At Bridalfusion, our ultimate wedding planning guide covers all the fundamentals of a wedding registry. It covers all bases - from the must-haves to things that are fun to do. This wedding planning guide covers everything.
What is a wedding registry?
A wedding registry is a simple list of items/gifts that an engaged couple curates together to make the wedding gift experience easy for their guests. The process of gifting becomes simple and guided with a wedding registry list, especially for the guests.
Before you start building your wedding registry, you might have a few questions bothering you. This wedding planning guide aims to give you solutions to those questions.
How many wedding registries can you have?
Usually, couples have 1-3 wedding registries. Couples can take the help of some versatile websites to make their wedding registries by registering all the things they need in one place. They can also build a wedding registry at websites of any departmental store like Macy's or Bloomingdale's or any big-box store like Bed, Bath & Beyond, or Target.
Couples also have some niche goals for their lives after the wedding, like art purchases, home renovations, honeymoon adventures, or as noble as supporting a charitable cause. Wedding registry websites also exist for these options.
Couples can always combine these items, as it is the best way to cover it all.
How do you share your wedding registry information?
You can easily integrate your wedding registry into your wedding website; that is one way of sharing it with your guests. You can simply share the link to your wedding website on all communication channels to your guests. This also includes sharing your wedding invitations, save-the-dates, and more.
You can also share the link to your wedding website or your wedding registry on social media platforms.
Our wedding planning guide experts state sharing your wedding registry with people is subjective, depending on your personal preferences. Some might be okay with sharing it at large with the public, like on social media. Some are okay with sharing their wedding registry with only a handful of people in their community, even if they are not a part of your wedding.
You can do as you please. If you think you are okay with sharing your registry on your social media platforms, do so!
Can you ask for money instead of gifts?
Yes, it is entirely okay and perfectly acceptable if you register for cash. You can create specific cash funds and get something tangible as a gift. Couples use this opportunity to cover honeymoon expenses with the money they receive, which has led to the honeymoon registry's popularity.
You can use the funds for a round-trip airline fare, theater tickets, dinner at a fancy restaurant, or anything else you want to do!
Should you be worried about the cost?
No, you should not be getting worried about the cost of your potential wedding gifts. Instead, you should be versatile with the prices of the items you choose. This gives the guests an option they will feel comfortable with.
Every guest of yours will approach your wedding registry list with a different price point. Some guests who want to spend more will bundle the items together to reach a goal. It will be great to have a mix of things, like some under $50, some between $50 and $100, and some over $100.
Some people can join together to get you a great gift, so do not feel wrong about registering a few items that cost extra.
Can you add more items to the registry?
Sure! A wedding registry is constantly evolving. The best way to start with your registry is to look around your house and think about missing items. Look at things that need an upgrade as well. It is natural to think of more and more ideas daily and continue to add them to your registry. Nobody thinks there are too many gifts.
Are there any inappropriate items?
Everything on your registry is okay as long as you are willing to create a comfortable lifestyle for your future. Ensure your registry is balanced. It should be a mix of items you and your soon-to-be spouse need. So, if your future bride is willing to add a beauty/grooming item, you could add soft towels or a bathrobe, or even cookbooks.
The ideal wedding registry checklist
Our wedding planning guide experts carefully curated this ideal wedding registry checklist to help you give a breakdown of things to consider before adding to your list.
Kitchen Wedding Registry
- Cookware items like a saute pan, pasta pot, saucepan, nonstick skillet, etc.
- Baking items like a casserole dish, baking sheets, loaf pans, roasting pan, etc.
- Knives like a chef's knife, serrated knife, paring knife, etc.
- Cutting/chopping boards
- A dutch oven
- Cast iron skillet
- Food processor
- Stand mixer
- Juicer
- Measuring cups, spoons, and bowls
- Whisks and spatulas
- Wooden spoons
- Salad spinner
- Meat thermometer
- Meat tenderizer
- Oven mitts
- Salt and pepper shakers
- Colander
- Rice cooker
- Pizza stone
- Immersion blender
- Toaster oven
- Instant pots
- Air-fryers
- Coffee/espresso machines
- Electric kettle
- Blenders
- Carbonated water maker
- Mandolin
- Grill pan
- Barware like a cocktail shaker, jigger, bar spoons, specialty ice trays, ice makers, muddler, Hawthorne strainer, etc.
- Motion sensor garbage bins
- Compost bins
Dining Wedding Registry
- Everyday china, for 8-12 settings, including dinner plates, salad plates, bowls, and dessert plates
- Everyday drinking glass
- Coffee mugs
- Flatware
- Steak knives
- Wine glasses
- Champagne flutes
- Serving utensils
- Additional serveware
- Sugar holders and coffee creamers
- Butter dish
- Gravy boat
- A pitcher
- Teapot
- Cheese and charcuterie boards
- Cheese knives and forks
- Specialty glassware
- Colored stemware
- Bar cart
- Wine decanter
- Cake stand
- Decorative trivet
Linen Wedding Registry
- Everyday sheets
- Flannel/cold-weather sheets
- Duvet and duvet covers
- Down comforter
- Sleeping pillows
- Mattress topper
- Bath towel sets, including a bath towel, hand towel, and a washcloth
- Additional hand towels and washcloths
- Shower/bath mats
- Bathing robes
- Linen napkins
- Placemats
- Clothes hampers
- Clothes drying rack
- Silk pillowcases
- Sleeping masks
- Makeup removal towels
- Hair towels
Home decor wedding registry
- Picture frames
- Throw blankets
- Bookends
- Grilling gear
- Candles and candlesticks
- Flower vases
- Storage baskets and bins and organizers
- Home improvement store gift cards
- Patio furniture
- Indoor plants and pots
- Patio heat lamps
- Cash funds for original art pieces
- Home office essentials like desk accessories, desk lamps, computer monitors, etc.
Miscellaneous wedding registry gift ideas
- Luggage
- Personalized stationery
- Camping equipment
- Sporting equipment
- At-home workout gift cards
- Meal service subscription
- Online store gift cards
- Airbnb gift cards
- Newspaper/magazine subscriptions
- Yoga mats
- Grocery store/farmer's market tote bags
- Insulated tumblers
- Portable coffee mugs
- Bath caddy
Final Words:
Registering for wedding gifts is probably the most exciting part of planning a wedding. While making a wedding registry might seem tedious at a certain point, it should be the first wedding planning task you should accomplish after getting engaged.
Lucky for you, our wedding planning guide experts have curated a list of ideas that will help you through the task without any hindrance. These are some of the items you should register for, as they will be everything you need for your new life together with your beloved.