Your Guide To Online Wedding Invitation: Dos and Don'ts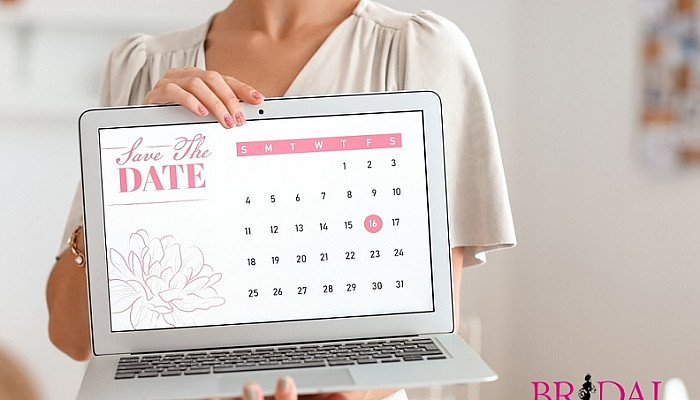 We've probably received an 'evite' many times for a house party, a family gathering, or a friend's get-together, but have you received one for a wedding yet? Online wedding invitations or Evites are an excellent way to save money and are just as beautiful as their paper counterparts. With the appropriate strategy and attention to detail, you can make a classic invitation with all the flair at a far lesser cost. The online wedding invitations are a sneak peek of "what to expect" for your wedding guests. "They completely set the tone for your wedding and what your guests may anticipate," explains wedding planner Julia Pavlovski.
If your thoughts are on the same line, but you don't know where to start, we have you covered, from helping you decide on the right platform to choosing the appropriate font for the invite. Follow the Dos and Don'ts list from this ultimate online wedding invitation guide for a hassle-free process of sending your wedding invitation.
Dos:
Choose the right platform.
There are several ways to send wedding invitations online on the internet. There are platforms with a wide range of services and designs. Some of the examples are Paperless, Evite, etc.
When you've decided to go digital with your wedding invites, the next step is to choose the best platform for creating and sending your evites.
To help you limit your selections, we recommend making a list of "must-have" characteristics. For example, are you satisfied with a predefined template, or would you want the ability to customize it or even submit your design? Do you want to be able to track RSVPs and deliver group updates to your guest list via the platform? Do you want a wedding website to match? Are you looking for an entirely free alternative, or are you willing to invest a little extra to obtain all of the bells and whistles?
Digital wedding invitations can be formatted the same way as conventional paper invites. You should include:
Your and your partner's name
An invitation to your wedding
The wedding date, time, and place
The specifics of the reception
The RSVP method and date
The link to your wedding website
Getting RSVPs for your wedding may be incredibly tricky, so choose the appropriate RSVP deadline.
RSVPs are generally best received 3-4 weeks before your event. It will provide you ample time to establish a final headcount with your venue and develop a seating arrangement for the day and enough wiggle space to track down any last-minute visitors.
Think design: Keep the font in mind while selecting the design and color. You must choose a color that is in contrast with the text. It will allow the font to stand out and convey your words of invitation more effectively.
When it comes to children, use discretion. You should add a brief and concise statement on your wedding invitations or website to inform your guests that you are arranging a child-free ceremony. For example, "We love children; however, please remember that our wedding reception will be an adults-only event."
If you are not providing a "plus-one" in the invites, ensure that your invitations are addressed solely to the intended recipient.
When feasible, use the names of every one of your visitors. Using the exact names of individuals who will join your visitors on invites instead of "and guest" is considerably warmer and more welcome.
Use proper titles. It's gratifying when invites are correctly addressed. It includes utilizing acceptable titles and appropriately spelling names. If you are unsure, inquire before addressing.
Time your invites: If your wedding venue is closer to home or far away will significantly impact this decision. You'll need to offer them more advance notice for your guests to properly plan and pay for their travel to your wedding location.
Generally, save-the-dates should be sent at least nine months before the wedding, and formal invitations at least four months.
Having a destination wedding doesn't necessitate a lengthy wedding preparation process. Sending out invites too early might cause guests to put off their RSVPs. If it's a local wedding, save the dates, and official invitations are generally issued six months in advance.
Don'ts:
Include any necessary inserts, such as maps, instructions, or lodging information for out-of-town guests. This information should only be available on the wedding website.
Include no registry or gift information on your invitation. Inserting a list of places where the bride and groom are registered or a checklist of the items they want and don't want is impolite.
Don't utilize a waiting list. Invite your whole guest list at once if feasible, rather than waiting to see how many people accept before sending out the second round of invites. Considering that 10-20% of guests often submit regrets when the guest list is well designed, this strategy is significantly more straightforward than having a standby list.
Don't choose an overly busy design. Also, while selecting the color and style of the invitation, ensure that it is consistent with the general concept of your wedding.
Do not experiment with a DIY: DIYs can be very time-consuming, considering the soon-to-be couple already have their hands full of tasks to make their D-day special. Therefore, opting for professional online wedding platforms for this task is beneficial, especially if there is less time.
Conclusion
Many millennials are choosing to send their wedding invites through ecards or online wedding invitations instead of mailing them. You may now send your wedding invites online, and your guests may even prefer it! — in today's digital world. Sending out wedding invitations through the internet is an easy and convenient alternative for you and your guests. Envelopes are taken care of for you. Your guests don't have to worry about losing or forgetting their invitations or going to the post office for an RSVP. It will be a beautiful, coherent experience when you use the same design for your save-the-dates, wedding invitations, and wedding website.