The 10 Commandments Of Bridesmaid Dresses That Work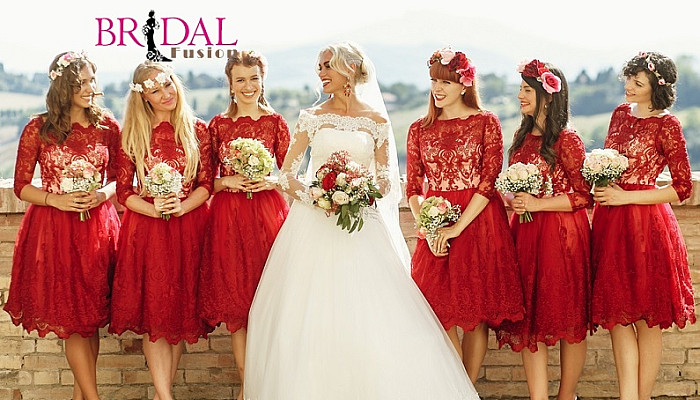 The brides and the bridesmaids need to give some thought to the bridesmaids' attire on the big day. The bride and groom are traditionally responsible for selecting the bridesmaids' dresses' style, color, and fabric. If the ensemble is predetermined, the bridesmaids will likely get fabric or premade garments in the mail. If the bride-to-be is gifting the material, she can include a message or guide with specifics on the attire or theme she has in mind. This strategy is preferred over providing ready-made garments. The potential bridesmaids will appreciate the freedom to express their individuality via dress design if you send them the fabric in advance.
If you're in the running to be a bridesmaid, you should probably consider the style of dress you'd like to make out of the fabric the bride and groom provided you. Even if you buy a ready-made dress, you still need to consider other elements of personal style. Here are our top ten commandments when selecting the perfect bridesmaid dress.
1. Cool Toned Dresses
While we are true fans of white, this year, yellow and gold, a new color family, is destined to steal the show. Additionally, "Greens and blues, colors of sage and moss provide the perfect alternative for all seasons," says Lori Conley, general merchandising manager at BHLDN.
We can only assume that frigid tones will be more popular in 2022, with a periwinkle-like tint of etherealness. This light purple tone looks just as fresh when paired with other pastels like lilac and dusty blue as it does when paired with more vibrant colors like violet or amethyst.
Cool green tones are especially popular for bridesmaid dresses and are among the year's most favored wedding colors. Mint, olive, and eucalyptus tones will also be favored. Pair a variety of bridesmaid dresses in cool tones with silver jewelry and other accessories to obtain a contemporary, breezy aesthetic.
2. Romantic Sleek long bridesmaid dresses
If you enjoy all things that are English garden-inspired, this is the 2022 bridesmaid dress style that will win your heart and the heart of many others. "I adore pattern combining with a harmonizing color narrative for prints…it seems like a collection of nicely picked teacups," says Conley. To up your bridesmaid wedding dress game, put chintzy floral designs side-by-side with flowing shapes and frilly accessories for a mix-and-match effect. Choose a few coherent features, like an overall color palette or dress length, but don't stress about getting it too flawless.
Ultra-whimsical and feminine trends are expected to be big this year, emphasizing maximalist embellishments, such as giant flower patterns, ruffles, flutter sleeves, allover embroidery, and bows. And if you can't select just one sort of adornment, you've got our permission to choose all of them. This style is about generating a sense of romanticism as it is about making a statement.
As an extra plus, your bridesmaids have a more incredible opportunity to select styles that genuinely express their own taste (while still matching your wedding design, of course). Expect to see this style for spring bridesmaid gowns in 2022 and beyond, featuring magnificent garden soirées and outdoor summer wedding banquets.

3. 90's Inspired Bridal dress
Shopping for this next trend in bridesmaid dresses will feel like home for millennials. "Sleek '90s vibes rule supreme as evidenced in charmeuse and crepe slip dresses, square necklines, asymmetrical hemlines, cutouts, and slender strappy backs," notes Conley.
Cowl necklines, bias-cut midi skirts, and silky satin fabrics are more confirmation that the '90s are still very much alive and well in wedding design. If you prefer a minimalist design, this nostalgia-fueled look is one of the best bridesmaid dress trends—throw on a curve-hugging slip dress, and you really don't need much else to complete your bridesmaid costume. Quintessential '90s colors, such as chocolate brown, hunter green, teal, and burgundy, lend themselves wonderfully to fall bridesmaid dresses, or you might pick for a basic look stylish in any season.
To cap it off, embrace the je ne sais quoi vibes of off-duty models in the '90s by putting your hair into a ponytail, accessorizing with hoop earrings, and wearing a strappy pair of heeled sandals.

4. Neutral hues
Gone are the days when white was primarily designated for bridal dresses. Bridal parties in 2022 will be loaded with gowns in neutral tones that are suitable for attaining an unfussy, fashion-forward image.
"Colored neutrals like taupe will remain popular," says Grace Lee (Founder and CEO at Birdy Grey). "These hues toe the line between traditional and fashionable depending on the fabric of choice. We'll continue to see various versions of neutrals far beyond 2023."
5. Crepe Chiffon dresses
After chiffon, velvet, and satin, crepe has emerged as the next must-have fabric for your bridesmaid party. Depending on your specific appearance, this 2022 bridesmaid dress trend is one of the most adaptable, fitting itself to practically all wedding dress codes, seasons, and themes. "One of our bestsellers is a traditional crepe dress with a slinky cowl neck, but we're also seeing bridesmaids go for a more modern square neckline, which has had a great fashion moment on the aisle as well," adds Lee.
A floor-length crepe gown looks beautiful and classic for a black-tie wedding—keep it seductive and modern with a high split on the skirt to (tastefully) expose some leg. Are you attending a cocktail wedding? One option is a crepe dress with a knee- or midi-length skirt, which would be appropriate for more casual occasions. Crepe is a magical fabric for highlighting the contours of every body type. Don't worry if you're unsure how to dress your bridesmaids if they wear a hijab; there are numerous examples of classic and trendy looks that are appropriate for women who cover their hair.
For example, Ria Ricis (Indonesian actress and digital content producer) produced a bridesmaid attire in the shape of an orange kebaya and a skirt or batik fabric with the same theme. This bridesmaid uniform is quite contrasting but also very suited when matched with a lilac-colored bridal dress. For bridesmaid hijab attire, it seems that there is no unique material requirement, therefore, each bridesmaid can pick up a veil in a distinctive kebaya pattern and make a perfect bridesmaid hijab dress.
6. Bridesmaid Jumpsuits
Jumpsuits are a wise choice for bridesmaids searching for an alternative yet trendy look. It's a really fashion-forward alternative that's also a breeze to wear. There are so many ways to dress a jumpsuit. It's a garment you can have fun with. After the wedding day, flaunt it with a denim jacket.
7. Bridesmaid Separate dresses
It is a fantastic approach to personalize your looks. Going with separates allows you to mix and match skirts, necklines, and sleeves. Circling back to the issue of sustainability, picking separates is also one of the savviest fashion decisions because several pieces offer unlimited re-wear opportunities.
Get a BHLDN in floral fabric, lace accents, and puffed sleeves to make this two-piece costume an absolute dream. The cute cropped shirt works wonderfully with an ankle-length mermaid skirt.
8. Adding fanciful details
When we say fancy, things like watercolor flowers, ruffles, flowery appliques, and floor-length dresses with a swooping silhouette come to mind.
If you're going to embrace the white bridal party dress trend, then this understated dove grey dress is a fantastic choice. You can have beautiful 3D flower appliques distributed across the entirety of the gown, this style is the essence of light and airy. Its ruffled sleeves and ultra-thin ribbon tie belt are sure to make a statement.

9. Different colors of grey
Get inspired by the fifty shades of gray, with each lady showcasing a distinct tone of the smokey color accented with undertones of taupe, blue, or sea foam. This bridesmaid dress ensemble is perfect for a beach wedding, you just need to ensure that all greys are so incredibly distinct.
10. Mismatched prints
Allover designs are considerably more wearable when the blooms are smaller, and the matching pale blue color puts everyone on the same page. Choose shapes and other features that are somewhat different from the bride's dress while preserving a touch of similarity—for example, a bridesmaid dress with the same neckline but an extra skirt. Mix in a few patterns or other decorations, like sequins or embroidery, to lend texture and complexity to a monochrome lineup of bridesmaid gowns.
Conclusion
Gone are the days of exact matching bridesmaid outfits. Doll up your ladies in a variety of colors and styles in many different ways that are just as gorgeous—and in some cases—more inventive.
These recommendations from BridalFusion.com go beyond the conventional trends. Here you will find a beloved mismatched trend (who doesn't adore a tiny print and pattern play?). We can't help but obsess over flowery prints of any kind, whether they are little patterns, massive blossoms, an ombré effect, or just one bold piece. With the inspiration from this post, we are sure you will have fun while shopping for bridesmaid dresses and accessories.