Here Are The Top 14 Wedding Gift Ideas For The Bridal Party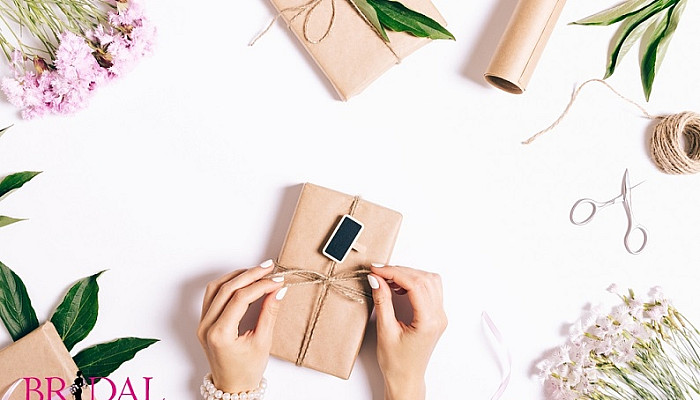 The bridal party encircles some of your closest friends and family. They've been at your side through thick and thin, and now they'll be your squad on the big day. They're also an essential part of your wedding journey—from celebrating your engagement to throwing a wild bachelorette party. You and your bridal party have a relationship that will only get stronger as you celebrate life's events, such as your wedding day, whether you met on the playground or were desk mates at your first job. That is why it is important to express your gratitude to them with a meaningful gesture of your appreciation. We've collected some of the most incredible wedding gifts for the bridal party that they'll be sure to enjoy.
1. Personalized presents
No one knows your close-knit group as you do after years of friendship. Keeping this in mind, think about presents that genuinely speak to each of their personalities. Brides and grooms frequently choose to offer wedding-day accessories such as jewelry or ties but don't limit yourself to solely big-day accessories. They might be as functional as a water bottle or as sentimental as a candle. Staying hydrated is at the top of the list of wedding-day necessities, so personalized water bottles are sure to come in helpful!
Your bridesmaids may require some break after the wedding. So, invite your closest friends to kick back and relax by the light of customized candles. They come in various calming smells, such as lemongrass or sage, and make an excellent self-care present. "Makeup bags personalized with their initials, coffee cups, or jewelry boxes with their names carved are all excellent gifts," adds bridal salon manager Olga Pomeransky. "Thinking of going the extra mile? Give them a personalized present."
2. Goodie boxes
A gift with some of your bridesmaid's and groomsmen's favorite treats will make them feel special. This personalized gift included snacks, beverages, and cosmetic goods. You may also create wine sampling hampers for your team. This bridal gift basket is more of a box loaded with gourmet cheese, sausage, crackers, and wine than a basket. Foodie friends will be overjoyed to get this lovely bridal present. Just remember to include a thank-you card.
3. A picture album
You have enjoyed so many lovely memories with your bridal party. Make a picture book loaded with favorite images from your many travels for the perfect bridesmaid present. There are many online editing tools that make it simple to create your memory book, and you can personalize the cover with your favorite image and title. Trust us when we say that this present will be appreciated for a lifetime.
4. Messages from celebrities
If you are gifting someone who appears to have everything? Your best bet is to provide experiential presents. You may use Cameo to request a personal video message from a celebrity. Several prominent faces on the site, ranging from professional sports to actresses, musicians, and reality stars, can do you this favor. Believe us when we claim it will be a memorable bridal party present. (Side note: Cameo is also a terrific way to plan outstanding bridesmaid proposals.)
5. Cozy Slippers
We'd never say no to a new pair of slippers, and your bridesmaids are likely to do the same. After all of the planning, preparation, and partying, they'll be more than delighted to put their feet up in these bad boys who undoubtedly are our favorite wedding gifts for the bridal party. Each fluffy white slipper is embroidered with its initial name, ensuring that you don't get them mixed up the next time you're all reclining together.
6. Friendship bracelets
Jewelry is unquestionably one of the most popular bridesmaids' presents. Necklaces and bracelets are a simple and heartfelt way to express gratitude to your friends for their love and support. Want to make your bridesmaid jewelry presents a little more unique? Use friendship rings. Pandora offers a lovely collection (and don't worry, you don't have to be Ariana Grande-level wealthy to buy matching rings for your besties).
7. Spa vouchers
Consider how much time and effort your bridesmaids expended to be there for you on your wedding day. Help them embrace wellness and self-care by giving each individual a gift card for their preferred spa treatment—mani, pedi, massage, facial, etc.; the list goes on. Spa Week gift cards may be redeemed at more than nine thousand locations across the United States; one near you will be there.
8. Charging Trays
We've found an equally practical bridesmaid present for the helpful members of your crew: a wireless charging tray. This intelligent technology will look lovely on their nightstand or coffee table while charging their phone. It works with most Google, Apple, and Samsung phones, but double-check that it's Qi-enabled if you have an older model.
9. Purchase Subscriptions to Their Favorite Teas
That pal, who can fix any issue with a relaxing cup of tea? It is most likely the most acceptable bridesmaid present for her. Three-month membership to Sips will allow her to get three monthly deliveries of exquisite tea from across the world (customized to her preferences).
10. Warm Hats
When selecting gifts for your favorite ladies, consider the weather. These thick beanies are a practical winter or autumn bridesmaid present to keep ladies warm in cold weather. They're also a stylish complement to your squad's clothing when you gather together.
11. Silk PJs
Are you looking for get-ready clothing? Think of a comfy pajama set. Throw them in the washing machine whenever you need to—no hand-washing or dry cleaning necessary. They'll be one of the finest bridesmaids presents you've ever gifted (we swear!).
12. Friendship Bands
A charming beaded friendship band is an easy-going piece of jewelry that pays homage to traditional friendship bracelets. You may give it as a day-of bridesmaid present, but if you want to make sure you have ample time to communicate your thoughts, you should plan ahead of time.
13. Bridesmaids' gowns
What bridesmaid wouldn't want to lounge in a silky robe? Giving this adorable bridal present lets your friends know they deserve some R&R. It's also a valuable gift for the morning of the wedding. You may add their name or wedding title to the back. (We recommend customizing bridesmaid robes with their names if you're buying them as thank-you presents rather than separate getting-ready gifts.)
14. Glittering cocktails
Do you need additional bridesmaid gift bag ideas? This edible glitter adds a colorful finishing touch that everyone will enjoy. Raise a sparkly toast to the momentous occasion with it and a bottle of bubbly. Alternatively, add the components for your friends' favorite cocktails and let them make their dazzling delights after the ceremony. Each box includes six packets of edible glitter in raspberry rose gold, blood orange-gold, and flavorless gold. Heather Dwight, an event designer, suggests that a fantastic shine is the way to go. "One can never go wrong with a little sparkle!" she exclaims.
Things to remember when shopping for wedding gifts for the bridal party
Deciding on the wedding gift for the bridal party
"Gift-giving should always be deliberate and thoughtful," Kisha Damali, owner and creative director of D'MALI explains. "When it comes to wedding party presents, my advise is to provide something that will make your wedding party feel unique." It might include customizing each item, selecting something that matches their hobbies, selecting lovely bridesmaid presents in their style, or putting together gift baskets full of helpful or soothing extras. It is also not required to purchase identical presents for everyone. "Think of giving each party member a distinctive present depending on their preferences and personalities," Damali suggests.
Deciding how and when to give the wedding gifts to the bridal party
There is no right or incorrect moment to give your bridesmaids their presents. If you're giving them something useful for the wedding day, like a monogrammed purse, the morning after is a great time to treat them. Otherwise, the rehearsal dinner is a great opportunity to give bridesmaids wedding gifts. What could be more emotional than a genuine "thank you" on your wedding day? Damali recommends a nicely wrapped gift box accompanied with sparkling champagne for presentation.
Conclusion
"Your bridesmaids are here to help you throughout the wedding planning experience," explains Damali."You can show that you value their time and aid during the most significant milestone of your life with a gift?" she says. From assisting with the bridal shower to planning a bachelorette weekend and offering their time for bridesmaid dress fittings, it's safe to say your bridal party deserves some recognition. We guarantee that any of the presents from our list of the top fourteen wedding gifts for the bridal party will be remembered as fondly as your wedding day!