What Are The Top 10 Engagement Ring Trends For 2022?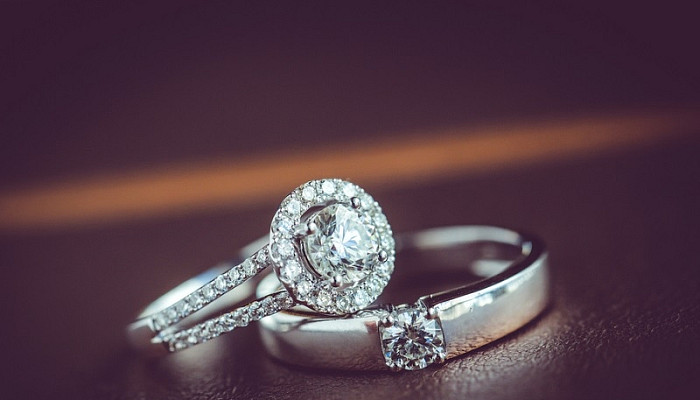 There is no one-size-fits-all strategy for finding a ring that represents one's love for their partner. If you are dwelling on such similar thoughts, you have arrived at the right place and at the right time. Whether or not you follow "trends," it will be quite fascinating to explore what is currently trending in the engagement ring space to reduce the stress over choosing the perfect ring for yourself or your better half!
This is equally applicable to those of you who, quite honestly, loathe the notion of marriage and simply want an epic-looking ring. Here is the list of the top ten engagement ring designs that future brides and grooms are currently eyeing:
1. Toi et Moi rings
The English translation of "Toi et Moi" is "you and me." A double-stone couple ring, recently adorned by Megan Fox, is a huge trend expected to last until 2022. According to jewelry enthusiast Zimmerman, unique stone and gem combinations, as well as double or triple stone rings, will have soaring popularity in the near future.
"The twin stone symbolizes the union of two people into a single entity," she says. In recent years, we've seen a rise in the use of distinctive diamonds and gemstones in engagement rings to enhance the love tale being told by the two gemstones. For Logan Hollowell, a jewelry designer and entrepreneur, multi-stone rings offer the opportunity to be creative. She adds further, "The Toi et Moi rings insinuate authenticity in the modern era we live in, and it also highlights the true expression of art and class."
Kathryn Money, Brilliant Earth's SVP of Merchandising and Retail, says the Toi Et Moi designs are symbolic of timeless beauty. Although it may appear to be a new trend, it's a form of engagement ring that has been around for generations, she explains. A Toi Et Moi engagement ring is stunning not just because of the concept of the union but also because of the way different gemstones complement one another. The three stones are thought to represent the past, present, and future of a couple's relationship as they go through these life stages together.
2. Oval-shaped Engagement Rings
Oval-cut diamonds are having a big moment and a fair share of the limelight in 2022, thanks to celebrities like Kourtney Kardashian and Hayley Bieber. The soft and oblong form of an oval draws attention to the hand and makes the fingers look longer. The diamond can stand alone or be enhanced with additional stones or a decorative ring. On a narrow band with a basic design, the most common setting for oval diamonds is the delicate 4-talon claw setting. This setting allows the diamond to stand out. However, three-stone rings continue to be popular, and we receive many inquiries about them. Oval diamonds of all shapes and sizes are highly sought after by millennials.
3. Bigger is Better
Bigger is always better when it comes to the 2022 engagement ring trends. There is a demand for extravagant wedding designs among soon-to-be-weds. They are thinking of big diamonds, halo cuts, and striking forms. Purchases of halo-cut rings increased by 127%, according to Klarna. The cliched saying about the ring being "the size of the rock" still prevails as many buyers prefer to propose with heavier bands, hence grabbing the position of the showstopper in the engagement ring trends this year.
4. Color Story
Colors fascinate people. They appreciate the sensation it provides. It's the same with jewelry. We're seeing an increase in customers inquiring about what colors we can add to their rings so that they're not only white. It's fairly uncommon for people to choose a diamond to pave engagement rings with a single sapphire put in the center to symbolize their love, while others choose three-stone rings with colorful side stones.
Bespoke jewelry designer Rachel Boston says she's also seen a rise in the use of more unique, colorful diamonds in engagement rings. For the most part, we're seeing a lot of demand for champagne and yellow diamonds, as well as teal, green, and peach sapphires, which are all exquisite colors, with white diamonds on each side of them. "We've observed a great grey/brown diamond trend," said Mayfair jeweler Jessica McCormack, "with people being drawn to those subdued tones, which are very lovely and intriguing in a stone." The staff at Minka Jewels agreed that the most popular engagement ring trends are brilliant-colored stones rather than diamonds. They further quoted that "clients typically collaborate with us in the selection of the stone, and this practice is becoming more prevalent."
This year, couples want to break the trend and choose truly unique settings. According to Klarna, black-stone engagement rings witnessed a 47% spike in sales in January. Carrie Bradshaw, the first "fashion queen," is said to have a black diamond ring on her finger. The season finale of the reboot recently aired, and black-stone rings have witnessed an increase in popularity. After seeing Carrie Bradshaw and Big's decade-long romance in the highly anticipated Sex and the City revival, "And Just Like That," people longed for another sight of the rare black diamond ring that Big gave Carrie in the final SATC movie.
5. A Vintage Affair
Classic or Period engagement rings are at the fore of the market in the same way that thrifting and vintage items have taken over the fashion market. You can get the same look like a one-of-a-kind heritage item with vintage-inspired rings while staying loyal to your style. They "give a particular individual, like a grandma, mother, or aunt, but with the ability to make it their own while still having nostalgic value," observes Zimmerman.
Adding a new band, diamond shape, or cut is a method to refresh a classic style, while enhancements using craftsmanship skills like milgrain, hand-made carvings, draping, filigree motifs, etc., bring a vintage feel to your sparkler. "Vintage-inspired rings are all about having your distinctive style while also giving meaningful importance to your engagement jewelry," explains Zimmerman.
According to Klarna, vintage design saw a 118 percent increase in purchases at the end of last year, and traditional cushion cuts are even making a comeback. Couples have always relied on cushion-cut engagement rings for their big day, so it's no wonder that they're outpacing other time-honored designs.
6. Out of the Box choices
Going against the grain in the jewelry industry is anticipated to become even more popular in 2022. People are becoming bolder in their jewelry choices, preferring stones with unusual colors and designs. Customers continue to fall for dark blue sapphires, but they are also seeking more eye-catching colors such as olive, pink, and yellow. While yellow and white gold remains the most popular metals, Guy Burton, bespoke director at Hancocks London, notes that rose gold demand is increasing, something he "hasn't really seen previously." In the jewelry business, there has also been a movement toward more fascinating and intricate designs, as well as fewer "traditional" solitaire shapes.
Viltier was a jeweler in Paris who specialized in one-of-a-kind engagement rings. Bands that were never intended to be "engagement rings" in the first place have become the most popular option. While Thomas Montier Leboucher confesses that he never meant for one of his bands to be used as an engagement ring, many of his clients have done so because of the enormous and distinctive colored stone in the middle, which makes it an ideal alternative to diamonds.
7. Stacks
The stacked style comes in various shapes, and the combinations with this type of design are endless. An additional benefit of stacking sets is that they can draw attention to individual pieces. According to Money, stacking and nesting wedding themes are excellent ways to showcase the centerpiece and create a statement. Brilliant Earth has even produced a selection of jewelry that can be mixed and matched to create the perfect ring.
8. Sustainable Jewelry
Today's consumers want to make purchases that represent their values. In light of an increasingly eco-conscious environment, today's consumers like to be well-aware regarding the making of their products. Australians are currently making sustainable and ethically created products a priority in their shopping habits, and this demand is expected to grow over the next five to seven years.
A pioneer in Australia's jewelry industry, Larsen Jewellery was the first to achieve carbon neutrality to its fullest extent. As a recognized Fairtrade Gold producer, they assure that all of their diamonds and gemstones are conflict-free.
9. Art-inspired engagement ring trend
"There is a drastic upsurge in the popularity of the Art Deco style," noted Emma Clarkson Webb, a custom London jewelry designer. Art Deco design features clean, strong lines, geometric patterns, and odd cutting of diamonds like kites and baguettes, which are becoming increasingly popular with millennials. She further adds that many of her clients are now open to experimenting with different kinds of cuts in the diamond. For example, baguettes or kite-shaped diamonds. She exclaims, "My favorite part about creating an engagement ring is that there are no rules: anything goes."
10. Diamond detailing on bands
Money states that this year rings will have extra stones, such as concealed haloes and highlighted galleries. This trend is all about adding more shine and individual personalization to otherwise simple designs. The embellishments are typically matched with solitaire designs and are modern evergreen classics with a twist and a personal touch.
Conclusion
In contrast to those who saw the past two years of lockdown as an opportunity to start a new hobby, get a new pet, or step up their loungewear game, you may have noticed that a large number of people in relationships have checked off one of two boxes: revealing a new baby bump or an engagement ring. And why not? We only have one life; we should make the most of it. According to Thelma West, agile, dynamic engagement rings will be popular in the next few years. "The demand for meaning and sensitivity is coming through as a trend," says Kate Baxter, founder of The Cut London. People prefer to go all out to make it distinctive.
Stay ahead of the curve with Bridalfusion as we provide you with the latest updates and trends on jewelry, grooming, wedding styles, and much more.