Buying the Wedding Ring: A Practical Approach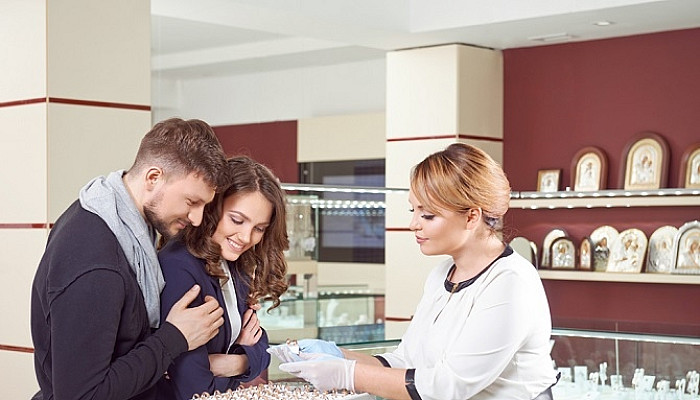 The wedding, engagement, reception, and anniversary are some of the essential occasions wherein we stop thinking practical. In such cases, couples presume that spending a significant fraction of income on these functions is a "Necessity" than a "Desire".
In this article, we will throw light on a similar fact every couple goes through. Here, we are talking about buying a wedding ring by following a practical approach.
If you too are planning to get engaged and looking for the best wedding ring for your partner, be with us in this article. Get to know about a practical approach every guy must follow when buying the wedding ring.
There are people who say, the cost of the engagement ring should contribute to a significant contribution to your monthly income. This may vary from people to people. Some say, the ideal fraction should be 1-2% of your total income, while others say it should be more than 5%.
What do you think?
Well, let's delve into it and find out what's good and what's not.
There are two kinds of people; one who earns $25000 per year, and others who earn $100k per year. Does it mean, the latter should invest 4 times the amount on the engagement ring, as compared to the former?
But, why? Just because the person has the capabilities to afford an expensive engagement ring.
On this point, some people would debate that your willingness to spend a considerable amount of money on the engagement ring actually shows how deepens is your relationship and how serious you are for your partner.
But, if the other side of the coin is to be considered, there are people who believe that love and commitment is demonstrated in words and actions. This means, if a woman is willing or believe that your feeling for her are genuine, she will happily say "Yes. I Do", without demanding or desiring an expensive gold-plated engagement ring. On the other side, if she is unwilling to accept you as her life partner, she won't understand your feelings even if you present her the most expensive diamonds available on this earth.
So, what's the point? We all want a partner who loves us and trusts us, not one who demands proof in the form of a high numeric dollar bill.
Another reason one should avoid investing too much in the wedding ring is that you need to worry about things like losing or having it stolen. Wearing a Diamond ring means, you need to be cautious while going out or doing your daily chores. In contrast, you can avoid this totally, if opt for a ring that does not cost much. Additionally, you are supposed to wear the engagement ring and the wedding ring for a long time, wearing an expensive ring may seem difficult.
The Takeaway
When it comes to investing in a ring, preferably the engagement or the wedding ring, most of the couples consider their budget limits. If they can, they do invest a lot, no matter what others say. The point is to raise an issue that "Is it necessary to invest high on wedding or engagement rings just to show your love and trust, or to show other how much you can afford"? If you go with a practical approach, the price is not the point and if it is, probably you are doing it wrong because when you are in love, price doesn't matter and if does, you better think again.
Just ask yourself and share your thoughts with us. We would love to hear from you. Leave your thoughts in the comment box and we will try our level best to revert at the earliest.