A Quintessential Guide To Cocktail Attire For Women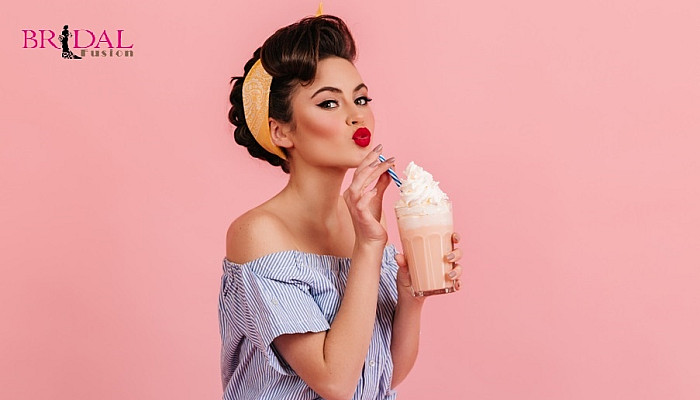 An unarguable leader of wedding dress codes, cocktail attire for women has been ruling the fashion industry for many years now. Deciding what to wear as a bride has a separate industry, led by white entirely. But what about wedding guests?
With so many choices and mazes we all have to get out of, cocktail attire is something that can get super-glam to super-tricky in under 60 seconds. BridalFusion is taking out the extra guesswork for you, so you can lay your hands at an outfit with penultimate confidence, without worrying about anything!
Keep reading to know everything about cocktail attire for women in 2022.
What is cocktail attire?
Cocktail attire is just clothes that are neither formal nor casual. They are a perfect blend of comfort and elegance. If you are invited to an event with this kind of a dress code, you need to wear a cocktail dress if you are a woman and a suit if you are a man.
Cocktail attire actually bridges the gap between night and day. You need to dress up for certain occasions, but you don't necessarily need to wear a full-length gown that's an epitome of sheer elegance. Cocktail attire for women can merge the silhouette of shorter, garden party dresses and the embellishments and eccentric fabric choices of formal gowns. Therefore, cocktail dresses fall between office/party wear dresses and sophisticated, formal occasion dresses.
Despite the almost clear definition of what exactly cocktail attire for women means, there is still a lot of ambiguity surrounding it. Of course, depending on the kind of event and venue you are going to, your cocktail attire should be determined. The right cocktail dress will also be determined by the time of the day and the season.
Cocktail Attire For Women
The most important idea to grasp from cocktail dresses is that the ultimate goal is to craft a fashionably elegant look with a knee-length, midi, or tea-length dress. Cocktail dress codes at any event do not equate to a gala gown or a short mini skirt. It is a balance between these two extremes.
If you opt for long dresses, ensure they are in a lesser-formal fabric so they do not look OTT. If you are attending a day event, you should be focusing on more natural colors and fresher styles. While if you are attending an evening event, you should utilize the power of darker shades with embellishments like feathers, sequins, and rhinestones. As long as both the dresses are not sweeping down the floor, you are good to go, no matter the time.
Another important thing to remember here is that your goal is to look dressy and polished. However, not so much that you are actually stealing the bride's thunder. You don't have to make people look away from the bride's wedding dress.
Whenever you find yourself in doubt, take out the best LBD from your wardrobe, pair it with a nice pair of heels or pumps, throw in some earrings and an elegant clutch, and you are good to go! This is the perfect cocktail outfit that works every single time, no matter what venue the event is in, the time of the day, or the season.
Apart from this, a traditional cocktail dress for women does not just mean a dress with heels and accessories. It can also mean a dressy suit or a fancy jumpsuit paired with similar accessories.
You do what suits you, queen!
Summer Cocktail Attire
When it comes to wearing cocktail dresses during the summer season, you should be opting for airy and light fabrics like linen, chiffon, or organza. Any floral maxi dress, a knee-length silken dress, a pastel-hued midi dress, or even a jumpsuit is an amazing option for summers. You can elevate your entire look with the help of accessories like a great pair of earrings, block heels, or even wedges.
Semi-Formal Cocktail Attire
Semi-formal cocktail attire is just another term for cocktail dresses. Just like a cocktail dress code, a semi-formal cocktail dress code also represents the same balance between casual wear and formal attire.
Where can you buy cocktail dresses for women?
If you are going to be attending a wedding soon, you'll be really concerned about buying yourself a cocktail dress for the event. There are multiple options when it comes to purchasing the right dress for the right event. You can opt to purchase a cocktail dress from any departmental store or even online retailers.
But, if you are looking for better options for a cocktail dress, you could choose Macy's, Dillard's, Nordstrom, or even David's Bridal. Anthropologie, ASOS, and Free People also have some amazing options for a cocktail dress.
What to wear to an event with no dress code?
If there is absolutely no indication of a dress code on the invitation, you should be using clues from the invitation and its context. You should really judge the overall formality of the invitation, find some clues from the venue, and the time of the day the event is being hosted.
Also, whenever in doubt, wear a knee-length cocktail dress!
What to not wear to a wedding as a guest?
Do not think of ever wearing white to a wedding as a guest. Don't steal the bride's thunder! We repeat, don't wear white to a wedding as a guest! Unless the couple is requesting you to wear white as a theme for the event, don't ever wear white.
Also, avoid matching colors with the bridal party. If you are not a part of the bridal party as a maid-of-honor or the bridesmaids, or the mother/sister of the bride, absolutely stay away from the color they are all wearing.
You should also avoid wearing a revealing, flashy cocktail dress that takes all the attention away from the event and the bride. You should also not be wearing anything too casual, like a denim jacket, jeans, or even sneakers at a wedding.
Cocktail Attire For Women - Etiquette
When your cocktail dress code is not strict like any black-tie event, it is not an invitation to just wear anything and everything. The event hosts still expect you to dress up for the occasion. The "dressy" part should be rightly reflected in your outfit. Anything extremely revealing, tight, loose, or short is a big no. You should also be staying away from denim at this moment, along with any ripped clothing, shorts, and sandals.
You should really make an effort to show up to this event. It is a jovial event, and you should not behave like a damper to the entire event. Adhering to the cocktail event dress code is not just a way of being polite but makes you feel at ease since you are also a part of the surroundings this way.
If you are at a loss for ideas, reach out to the event organizers, be it the bride's mother, maid-of-honor, sibling, or anyone you know, but never the bride herself. Clarify with them about the dress code and what you should wear at the event.
Before you do that, read the invitation clearly. The venue mentioned in the invitation will always give you a clue on what to wear. The venue will also describe how stringent you should be with the attire for the event.
Read the invitation to understand the setting and seriousness of the event. Suppose you are going to attend a garden party or any other afternoon party in an outdoor location such as a vineyard. In that case, the cocktail attire will differ from something you would wear to a wedding reception at a private club. The cocktail attire for women at a wedding reception would be more formal, unlike a garden party.
Wearing a cocktail dress to a wedding
If you are attending a wedding or reception with the dress code as "cocktail," your aim should be to look neat, polished, elegant, and well-maintained. Your outfit should scream you are put together nicely and not OTT in any manner.
As we said earlier, learn to take the right cues from the invitation. Take out details like the venue, the formality of the event, the season the event is happening, and the vibe of the overall invitation in order to understand what you should wear.