Wedding Tips For Brides - 5 Online Places To Get Your Dream Dress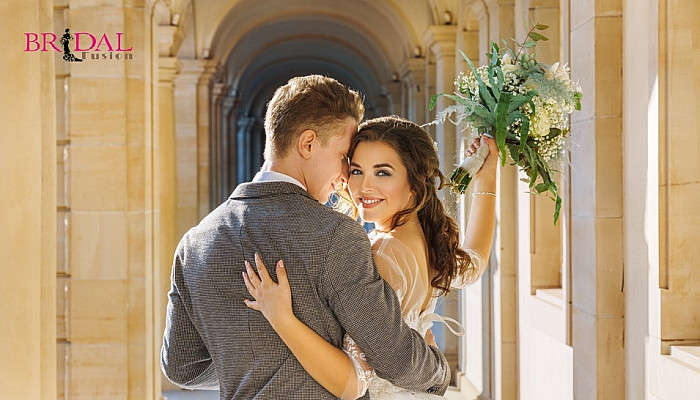 It is true that we all love the experience and thrill of shopping in bridal salons. There is a charm about them, and there is absolutely no denying that the advantage of shopping from a bridal salon is more than shopping for your wedding dress online.
However, there might be multiple trendy designers around the globe that you might not find in your local bridal salon. But, you will surely find them and buy them directly online. There are plenty more benefits when it comes to buying your wedding dress online. Online retailers like Moda Operandi offer you a wide range of high-fashion, designer gowns that come directly off the runway for brides looking forward to making that oomph fashion statement on their special day.
All this means that you really do not have to worry about booking an appointment in your desired store; hop from store to store to find that perfect dress. Our wedding tips for brides will guarantee you the best places to shop online for off-the-runway designer wedding gowns for soon-to-be brides.
With BridalFusion's online wedding shopping guide, you will find your ceremonial wedding dress, a reception dress, elopement wedding dress, or any other dress you are looking for to complete your desired wedding look. We have curated this list of the top five of our favorite online wedding stores that will make your wedding dress buying easy, simplified, and stylish.
So, let's get started with the best wedding tips for brides to buy their wedding dresses online.
1. Etsy
Price range: $150+
Etsy will always have a little bit of everything. You will find wedding gowns that are colorful, whimsical, non-conventional, yet vintage with pretty embellishments across the website. Want more? You can also easily find some ready-to-wear gowns and custom-made pieces in your price range. The website caters to all kinds of budgets.
You will find something for your taste on Etsy, whether your taste is bohemian, bold and lacy, blush tones, blues, or anything playful, even the dainty details and beadings you are looking for in that unique statement piece. Our wedding tip for brides is that you must definitely check out Etsy to find a personalized piece, handcrafted with love, something that you shall cherish forever.
2. BHLDN
Price range: $200 – $3,000
BHLDN's playful and modern style is what sets it apart from other online wedding dress websites on this list. At BridalFusion, we just adore their featured capsule collection, along with some of the finest designers you might not find anywhere else. Their current collaborations with Theia and Jenny Yoo are all the rage in the online wedding market.
Want more reasons to visit this website? Well, you will find multiple affordable options here! Yes, so much so that you can even afford the Watters Label gowns listed on their website.
If you are not able to visit any BHLDN store near you because of distance or the pandemic, you can definitely check out their online store. Our wedding tips for brides shopping on the BHLDN online store is to definitely take advantage of the 30 days easy return policy. That will come in really handy if you are confused between more than two wedding dresses.
3. Reformation
Price range: $200 – $500
Yet another modern online marvel that we at BridalFusion LOVE! Reformation offers brides easy wedding shopping. Need more reasons to love this online wedding dress website? You can also effortlessly shop for bridesmaids dresses; they have a pretty huge selection of these dresses.
Their statement outfits are worshiped among cool city brides or brides looking for a casual backyard wedding. But, this is not just the only style they offer. They also offer some budgeted, high-style yet simple designs for you to choose from.
Our wedding tips for brides for Reformation - You must visit their wedding section to find some exclusive, timeless, and classy wedding dresses and coordinate the style with that of your bridesmaids to maintain a sort of sophisticated uniformity. The quality of their dresses is uncompromising, even though they are priced so low. Their natural silk fabrics and eco-friendly designs bring a whiff of fresh air in this world run by fast-fashion choices.
4. Nearly Newlywed
Price range: $200 – $5,000
Nearly Newlywed is perhaps the best online wedding shopping website to get your hands at some new as well as preowned designs for budget brides. You can filter through various options on the website and find out the significant pieces that catch your eye as well as your pockets, depending on their designer and silhouette.
You might find a particular dress you have had your eyes on for a long time just disappears at times; it could be purchased by someone or just discontinued, so you need to keep an open mind about that. The best part about this website is that you can sometimes get your hands on a designer piece for a pretty major discount, so you have a diversified spectrum here for purchasing your wedding outfits.
Our wedding tips for brides for the Nearly Newlywed website is to definitely check out their collection of bridal accessories and jewelry to complete your bridal look.
5. Grace Loves Lace
Price range: $1,200 – $3,200
Grace Loves Lace is BridalFusion's favorite lacey heavens to be stuck in. Their luxurious pieces are heavenly and bring a breath of fresh air to bridal fashion wear. Not only are their outfits luxurious but also comfortable and stylish at the same time. They mix their signature stretchy fabric to cater to every shape and size, giving out that perfect fit any bride would want! Want more? Well, their prices are pretty attainable for brides of all kinds of budgets. You will not be disappointed while shopping with them.
Their website offers ready-to-wear pieces along with fully-customizable, made-to-order options. So, no matter how close or far your wedding day is, you can certainly rely on the expertise of Grace Loves Lace to help you out. The orders are processed with the help of their expert stylists present online to cater to your needs ensuring that you get that perfect fit, customized in the exact color, style, and details you want for your special day.
Our wedding tips for brides suggest that you must visit their online store at least once before you make any final decisions about purchasing your wedding dress. All of their outfits are ethically designed and made in the headquarters located in Australia.
Who says you cannot get your perfect wedding dress directly from your couch?
We all love the thrill that comes along with online shopping. Just put in our card details, and voila! In just a day or two, the items arrive in that rustic yet charming cardboard box at your doorstep.
Buying wedding dresses online is becoming an increasingly popular trend these days. It eliminates a lot of stress and anxiety attached to getting that perfect fit and silhouette. It is weird and risky, but who doesn't love risks? You will love the experience of buying your wedding outfit from the comfort of your couch and still have everyone in your bridal party involved!
No matter what look you are aiming for, simple, vintage, traditional, flowy, cocktail, beach, or lacey, shopping online will just make everything perfect in the entire process. BridalFusion's wedding tips for brides definitely recommend you check out the vast number of online retailers for fast and easy wedding planning and shopping experience.