Wedding Tips For Brides Writing Their Own Personalized Vows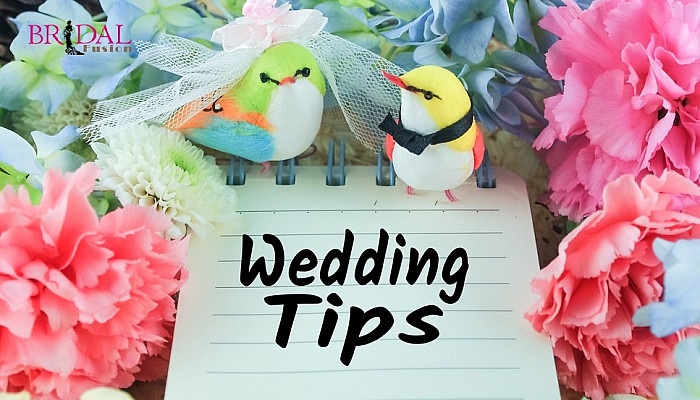 Hacks, tricks, and wedding tips for brides to craft the highlight of their ceremony - vows - in a way that suits their personal style.
Are you planning to skip the typical wedding vows that are repeated after the officiant? Are you planning to pen down your own wedding vows? Get on the same page with your future SO, and decide the tonality you are looking forward to for your wedding ceremony. You might want to choose writing your wedding vows together, each of you reciting the same verse over and over again, as you go ahead and compose them together. Or, you could choose to keep your words pretty simple, composed and private, until the glorious day comes. No matter what wedding planning process you are following, what promises are you working on, what memories are you sharing, wedding vows are an ode to your beloved. They will definitely make them laugh, cry, smile, or feel more in love with you, more than they ever have before.
So, here are a few wedding tips for brides and grooms to write the best, personalized, and most romantic and meaningful wedding vows. Hopefully, these tips will get you going!
Reason for writing personalized vows
Find out the reason why you are looking forward to writing your own vows? Decide if the personalized vows are even suitable for you? Are you looking to write personalized vows because you are not religious or not a massive fan of simple "civil" wedding vows? Or are you writing your personalized wedding vows because you just love expressing your feelings in words?
Get to the root of why you are opting to express your lifetime commitment to your SO in your own words. Consider what is missing for you in the standardized options available in abundance already. You can only plan and write the best wedding vows when you know the problems with the already available options. This is one of the best wedding tips for brides and grooms, so they can write the most beautiful and meaningful wedding vows.
If you know what you do not want in your wedding ceremony, you will be able to best pin down the ideal tone for your ceremony. You can make it more meaningful, touchy, unique, and all of your own. You could aim for non-religious vows or something witty, funny, and anecdotal. This will serve as the right time to pinpoint the traditional and non-traditional elements you want as a part of your wedding.
Do it only if you are both in!
Imagine a wedding ceremony where you are just blabbering your personalized vows, with your SO just standing and repeating only what the officiant speaks? If you think this makes your relationship independent and comfortable, we are sorry to break it to you; it is not! It hints that you both have multiple things to work on and are not on the same page.
Decide together before you start penning down your thoughts and wedding vows. Whether you are both in or are looking forward to the officiant doing the bare minimum?
Only do it if you are both in!
Keep your anecdotes short and sweet.
Personal anecdotes and stories of how you met, got to know each other, knew they were the only one for you or the beautiful proposal story, all are welcome to be a part of your personalized wedding vows. However, one thing needs to be sure, do not make them drag on and on. Your guests will only follow a few of these fleeting moments, and it can be difficult for them to keep up the "he said, she said" anecdotes or grasp all of your private jokes. So, one of the most crucial wedding tips for brides is to remember, the larger your audience, the shorter your anecdotes should be.
Ceremonial vows, just like wedding toasts, are not your typical roasts. So, wit and sarcasm in moderation are still okay, but being snarky is definitely not okay.
Brush up on your classics
While writing your personalized wedding vows, Bridalfusion's expert wedding tips for brides and grooms would be to give your traditional wedding vows a look as well, just for inspiration's sake. The classics can serve as the base blueprints for your fun, unconventional vows. You might find "I take thee.." a bit of fluff, but you can always be inspired by it and write something like "to have and to hold from this day on." It will be fresh, romantic, and pretty personal.
Personalization
Whether filling your vows with humor or looking to bring tears to everyone's eyes, writing your vows as if speaking directly to your SO is the way to go with it.
Our expert wedding tips for brides and grooms suggest that you should not try to go for a typical toast or a public speech. You should look forward to your wedding vows as a dedicated, one-on-one conversation with your beloved, rather than making it look like a "performance."
You can personalize it and make it a conversation with the help of jokes, stories, and personal anecdotes, and words that make your vows different from those of others.
Keep it short
Your feelings can often get lost in length. So, keeping it down to a maximum of three minutes long is probably wiser. This does not mean you need to be afraid to write your thoughts down; you just need the words to be focused and concise. Maintain eye contact with your beloved while you say those beautiful words; it keeps everything intimate and romantic. However, don't risk rambling on and on by giving up on the notes altogether unless you are an experienced public speaker.
If you have trouble penning down and editing your thoughts, you should put the rest of your words in a private note, which you can share with your SO after the ceremony or even before!
Be vulnerable
Wedding vows are the ultimate time to be vulnerable. It is your wedding ceremony, and it should be a space free of judgment, especially when it comes to matters of love and heart. So, even if you are not precisely sentimental or the romantic kind, you can always surprise your SO with a few sensitive touches, here and there, to make your ceremony unique. Think of what Sheldon did to Amy during their ceremony in The Big Bang Theory. Profess your attraction and dedication to your beloved in the most passionate and vulnerable way you can.
Write, Edit, Repeat.
Start by putting your feelings into words. Ignore any form of pressure to infuse any sarcasm or wit or any private jokes. You might not have a beginning, middle, or an end to the first draft you frame. But like any writing task, get your thoughts together, allow yourself to tweak some words, reword some of the parts, and add what you think is missing from the draft.
Take your time after the first draft is complete. Leave it for a day or two, and then go back to it again. The hardest part of framing the best wedding vows is getting started, so don't stress it. Take enough time, and despite the pressure, start with anything you feel like. But, don't leave your vows to the last minute. You can always rework them with time.
Bridalfusion's expert wedding tips for brides suggest that you can start with a private document on your phone or your computer as soon as you get engaged and write your feelings, piece by piece. You can finish this rough draft in about a week or two, which can be tweaked with your choice of anecdotes and words with time.
Practice out loud
Practice reading your vows out loud every day till your big day comes. You can practice them where your fiance cannot hear you, in your private space, or away from everyone else. You want your vows to feel incredible, intimate, and personal in the context of your relationship.
Read it out loud as if you are genuinely talking to them and not the crowd. Read your words constantly, and think of ways you can make them better in the editing process. Reciting them aloud makes the words flow more straightforward and is one of the best wedding tips for brides and grooms to make their wedding vows perfect.
Bring in a few promises.
Vows, if nothing else, are promises. They are the most traditional way to tell your beloved you will cherish them, hold them and stay close to them in all of life's problems, sickness, and health. These promises will forever be with you until death do you part. The traditional way to put these words together might not be your style, so you can land on something that you both love together. You can bolster any and all kinds of humorous moments filled with sentimentality.
No matter what promises you make, keep in mind that they are connected, unique, and life-changing for you two. Make sure they are the perfect match for you and your SO.
Stay true
No two relationships will be the same, ever. Some, even in the closest of families, are genuinely different. So, if you and your partner share the true love of Star Wars, don't be ashamed. Stay true to it. Your vows should reflect your passion for the franchise. You can reference the sky, moon, and everything in between, in your vows. Tell your SO all the reasons you love them in the language they understand better. Your vows should reflect your personality. It should be true to you.
Summarizing
The best wedding tips for brides and grooms state it is vital for you to pen down your own vows, in a personalized manner, in words that are true to yourself and your relationship. Just write whatever you can and whatever you mean to say to your beloved on one of the most important days of your life.
For those of you who think you might be too overwhelmed with all the love and might forget some words, you can provide a copy of your wedding vows to your officiant in case you tear up or are too overcome with emotions to read them out loud.
But, just write. Write your own words. Tell them you love them.