Wedding Planning Guide - How To Host The Perfect Rehearsal Dinner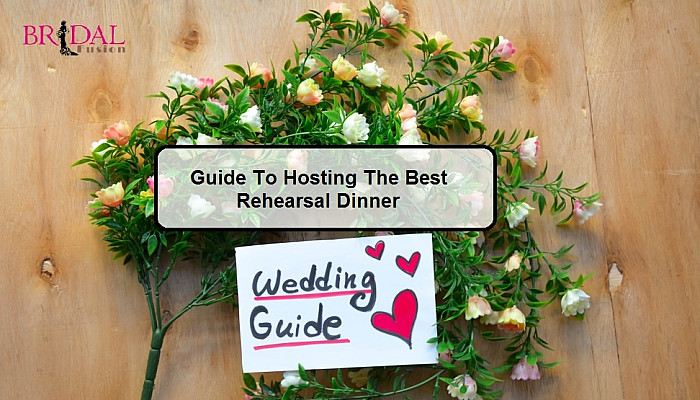 A rehearsal dinner menu is always an opportunity to have fun. This is especially true if your wedding reception will be a little on the formal side with a seated, multi-course dinner and traditional entrees.
Most of the couples want their rehearsal dinners to be exciting and different from the traditional norms. They expect them to be a casual affair before their wedding day. The perfect rehearsal dinner reflects the couple's personality and preferences to set the tone for the entire wedding weekend.
Bridal Fusion consulted a team of wedding planning guide experts and event producers to offer you tips on how to plan your wedding rehearsal dinner menu the perfect way.
Wedding Planning Guide - Tips for the perfect rehearsal dinner menu
When it comes to planning your wedding rehearsal dinner menu, there are plenty of things you should consider. From the location of your wedding rehearsal dinner to the number of people you are inviting and the time of the year you are throwing this party at, everything should be factored into your wedding planning guide for the perfect rehearsal dinner menu.
1. Time
The first thing to consider when planning your wedding rehearsal dinner is time. Consider your guests' time and logistics before you start planning. If your guests are flying in from other time zones, plan and start your rehearsal dinner according to that. There are plenty of elements to think about when planning and executing your visionary rehearsal dinner. Our wedding planning guide professionals state time is of the essence here. You can serve what you like but don't serve it too late. You want your guests to be ready for your wedding in time the next day. Moreover, you do not want to go to bed late!
2. Easy to eat food
When you are thinking about items to put on your rehearsal dinner menu, ensure the food items are easy to eat and digest. You might encounter several people at your rehearsal dinner you will be meeting for the very first time. Make sure that they are not embarrassed at dinner while eating a complicated dish. You can choose a few risky items as appetizers or passed hors d'oeuvres, but that's all. Don't go overboard with risky items for your entree. Entrees should be safe and easy.
3. Visually Present the food
When it comes to food, what mesmerizes the eye will most likely mesmerize one's stomach too. So if you are looking for that "Wow" from your guests, ensure you hire a catering agency or a chef that knows what they are doing. If they are trained for making the best sushi you know of, hire them. If they do not know how to make sushi, you probably would not want to hire them since you will end up with rugged rolls of raw fish and rice falling out! Incorporate as many items that will satisfy not just your bellies but also your eyes. The food should be a conversation starter at the table for its uniqueness, its colors, and beautiful presentation. In the opinion of our wedding planning guide experts, presentation is the key!
4. Let go of traditions
As a millennial, you must always face the dilemma of sticking to your roots and then following your passion at the same time. It is not just you; most of us feel that way! However, it is your wedding day, and it is finally time to follow your heart. If your heart says it should be a big brunch instead of a rehearsal dinner, do that! Who says it definitely should be a rehearsal dinner? Just flip the traditions. Ditch the traditions and have a daytime rehearsal lunch or brunch. Have a beach barbeque, pour in some margaritas, and enjoy with your loved ones.
5. Inclusivity
Say yes to your roots when planning your rehearsal dinner. Include special items that reflect the bride's and groom's family traditions and roots. It could be a beer from a local brewery back home that people love, or it could be their secret family apple pie recipe for dessert. Whatever it is, ensure you include it in your menu. If you are from Mexico, serve some authentic Mexican food! People will love it.
6. Mix and Match
The Wedding Planning Guide professional stated how they have often loved the idea of a typical mix and match menu at any rehearsal dinner. They mix up traditionally plated dinner with a family-sized side or an appetizer at times to ensure there is no predictability in store. Fries are always a crowd favorite, no matter the age, and are a bit unexpected to see at a wedding rehearsal dinner; however, if the bride and groom love it, who's there to complain! You can serve whatever you want to to make your rehearsal dinner more fun and eccentric.
7. Don't forget the sweet tooth!
Rehearsal dinners are great when it comes to getting up and moving around for the desserts. You can opt for an old-school ice cream bar or a full dessert station with different tiny pies, cupcakes, and cake slices. It is nice to have a dessert station/bar for people to eat at their own pace while mingling. If you opt for having an ice cream bar, work in at least two favorite toppings. And if you opt for a pie station, pick at least two of your favorite flavors or share a family-secret pie recipe with the chef to recreate the same.
Rehearsal Dinner Menu Themes
Whether it is a seafood feast on the beachside, a backyard barbeque, or old-school Italian-themed food, there are themes for planning your rehearsal dinner. Here are a few themes you can choose, curated especially for soon-to-be brides and grooms by our wedding planning guide experts, to make your rehearsal dinner a memorable one.
1. Mediterranean/Greek feast
A menu that is always a hit for a rehearsal dinner is a family-style Mediterranean/Greek food fest. The meals are perfect, light, and are different from the elegant wedding dinner that will be served the next day. Imagine traditional chickpea tahini, tzatziki, grilled octopus, and warm pita for the menu! Isn't it lovely?
2. Mexican feast
Mexican food goes well with a casual rehearsal dinner with your closest loved ones. Have a few Mexican food stations instead of a buffet. Separate those stations by items and have them handled by chefs where guests can have their own "make your own taco" fun. And if you are considering having a Mexican feast, our wedding planning guide experts suggest having plenty of margaritas on the side, and of course, Corona (Beer not the pandemic). A Mariachi band would work really well with the food.
3. BBQ feast
A crowd-pleaser, barbeque stations work with almost all kinds of rehearsal dinner parties. You can have plenty of options like fried chicken, cornbread, pulled pork, mac and cheese, collard greens, and so much more. The possibilities are endless when it comes to having a BBQ feast. Make sure you have plenty of wet napkins available for guests to keep their hands clean.
4. Fresh seafood feast
If you are hosting your rehearsal dinner by the beach, make sure you do it right with the "catch of the day." Have a spread of fresh caviar, oysters, fish, and crabs. These items go well with champagne and french fries. Crab boils are a great way to go about incorporating fresh seafood into your menu. Everyone will just love to have them by their hands, really digging into it. Also, the classic Cape Cod-style with fresh crayfishes and crabs along with corn and potatoes are going to be everyone's favorite!
What could be more delicious and celebratory than this?
5. Classic Italian feast
What is an all-time favorite and extremely safe? Our wedding planning guide experts state it is the classic Italian spread. However, there is just one catch. To ensure people go crazy with food, hire a great Italian chef who can make portions of pasta perfectly. It will be a crowd-pleaser. Pizza stations work well and are safe too. However, don't keep them simple; add a mix of seasonal vegetables for that extra twist. If you are having a summer/spring wedding, opt for ramp pizzas and white cheese. But, if you are having a fall wedding, go for kale and sweet potatoes. People will love them.
6. Sushi spread feast
Turn your rehearsal dinner into a fun event where you can recreate your date nights for the crowd with a Sushi spread. Opt for this extravagant meal and see how people fall in love with you. If your wedding caterer does not specialize in Sushis, opt for getting your favorite place closed down for the night as the perfect alternative! And for that extra romantic zing - opt for your favorite date-night sushi restaurant as your rehearsal dinner venue.
Final Words
Wedding planning is already a hassle. It takes a lot of time, patience, and effort to bring it all together seamlessly. However, rehearsal dinners need not be perfect; they just have to be fun! Our wedding planning guide suggests you have the time of your life before you say "I Do`!".