Solve Your Wedding Planning Woes At The Great Bridal Expo Atlanta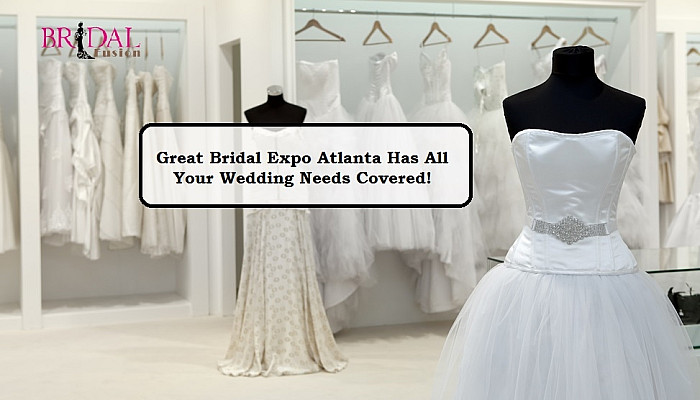 The Great Bridal Expo has been serving soon-to-be brides, grooms, and their families around the country for more than four decades now. The event aims at taking bridal styles across the nation, making their mark in every city. Future brides and grooms count on the event to ensure all their wedding needs are met.
The bridal show has been featured in the top 50 list of the Trade Show Week as the fastest-growing trade show in North America.
The event is one of the most significant bridal events, a direct-to-consumer wedding show in the United States for over four decades. Attorney and entrepreneur William F. Heaton founded the event in 1978. Since then, the Great Bridal Expo Atlanta and other shows have become the premier consumer shows in the country.
Today, the event tours the entire country, crisscrossing through different cities, and reaches tens of thousands of soon-to-be brides and grooms. It also entertains and fulfills the requirements of their friends and families who are also involved in the wedding planning process.
The Great Bridal Expo Atlanta is occurring on a large scale in an upscale hotel. It usually happens in such exclusive locations and convention centers. The event completely follows a trade show format. Couples go through the entire process, experiencing everything from the tiniest flowers to the grandest wedding dresses, honeymoons, home decor and furnishings, wedding bands, and engagement rings. Besides the exciting and informative exhibits, other features of the Great Bridal Expo Atlanta include orchestras, D.J. presentations, and the much-awaited New York Style Fashion show for brides.
When it comes to gaining more clients and revenues, the event is a great way for wedding vendors across all verticals to reach soon-to-be-married couples at this form of a live event.
Event Details
Date
October 3rd, 2021
Time
12:00 PM to 4:00 PM
Ticket Price
$10.00-$40.00
Future brides and grooms can purchase tickets to the event on the Great Bridal Expo official website.
Venue
- Grand Hyatt Atlanta in Buckhead
3300 Peachtree Road, Atlanta, GA 30305, U.S.A.
Atlanta, GA 30305 United States
What is included in the ticket price?
For merely $40.00, you can easily attend the event and bring your significant other along. You can also bring your parents, your future mother or father-in-law, groomsmen, bridesmaids, and different combinations of these people. However, the maximum number of guests you can bring as per a bridal party is limited to 7. Additional loved ones can enter the premises of the event with the bridal party for only $5.00 each by purchasing the tickets simultaneously as you are buying your group pass.
Giveaways and prizes
When you purchase tickets to the Great Bridal Expo Atlanta, you are guaranteed the following:
- A $200 gift card for all the visitors who register online and attend the event.
- Guaranteed prizes for the soon-to-be-brides at the show
- 2 Free Wedding bands for only the first 50 couples in line at the show.
Currently, couples also get a gift bag at the show, including coupons, freebies, and other offers.
List of Exhibitors
The following is the list of all the exhibitors presenting their products and services for all your wedding planning at the Great Bridal Expo Atlanta:
1. 3 Cheers Productions, Llc
2. Agape Unlimited Travels
3. Agricultural Museum Of S. Carolina – Iron
4. Amanda P's Luxevo Vacations
5. Amazing Vacations, Llc Dba Am Travel Agency
6. Beaches Resorts
7. Bean's Bounty
8. Bill Rhodes Bakery
9. Body Works By H.E.R.
10. Boudoir By Ria
11. Bretfeld Photography
12. Cashmere Williams
13. Celebrate Your Sexy
14. Cherie Amour
15. Clinically Clear
16. Clubs Of Peachtree City
17. Cosmo Losco Films
18. Cpa Events Wedding Coordinators
19. Custom Crystal Chucks
20. Custom Destination Weddings
21. David's Bridal
22. Dia Scott
23. Diamond Resorts
24. Dj Connection
25. Event Masterpieces
26. Events De Luxury
27. Florida Beach Banquets
28. Groomed Gentlemen's Parlour
29. Halo Special Events & Rentals
30. Hello Fresh
31. Iron Oak Barn
32. King Tux Tuxedo Rentals
33. Kitchen Traditions Bridal Registry
34. Maison Jouvence
35. Married The Wright Way Corporation
36. Mary Kay
37. Morgan Amanda Photography
38. Nala's Yoni
39. New Creation Wedding And Events, Llc
40. Optavia Heather Duggan Certified Weight Loss & Health Coach
41. Paparazzi
42. Part-Way Travel Inteletravel
43. Party Planit
44. Petite Sweets N Treats
45. Prose Nails
46. Pure Romance By Sarah & Heather
47. Red Bicycle Travel
48. Renewal By Andersen
49. Rodan + Fields Skincare
50. Sandals
51. The Skin Lounge
52. Waymaker Events And Design
53. Weddings By Tre, Llc
54. Weddingvibe.Com
The complete, detailed list of exhibitors can also be accessed on the official website.
Final Words
So, ladies, what are you waiting for?
Grab your tickets now, pick up the most oversized shopping tote you can and find your dream wedding dress at the Great Bridal Expo Atlanta this year. The event is a great way to include your fiance in the future you have always dreamed of. Also, while you are there, plan your honeymoon with one of the wedding vendors at the exhibition.
Happy wedding planning to you!