The Ultimate Wedding Planning Guide To Get Married In Hawaii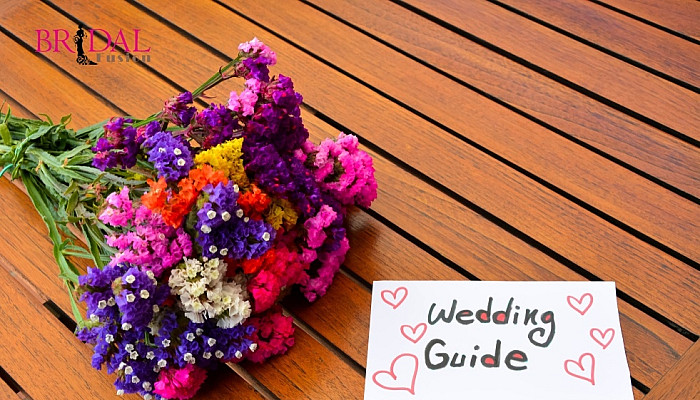 Wedding planning is a heavy-duty task. It can be both crazy and intimidating, especially when you do not know where to begin. This wedding planning guide for a destination wedding in Hawaii will take you through the entire journey and help you mitigate the process.
Are you planning a Hawaiian wedding? No matter what island you are going to choose, you will be in for a treat. Hawaii is one of the most beautiful islands on this planet, making it a hotspot for destination weddings. Hawaii has been the ultimate best friend for couples who want to get away and experience a top beach wedding.
Getting married in Hawaii might seem like a task, but in reality, it is pretty simple. This wedding planning guide has been carefully crafted with all the essential information you need to plan an epic wedding! From the best wedding venues in Hawaii to making it a reality, we have covered everything.
Why Hawaii?
When it comes to planning a destination wedding, a tropical, romantic atmosphere comes to their mind. The picture is beautiful, breathtaking, and breezy. Luckily, Hawaii is just at arm's length for soon-to-be American brides.
This island cluster has lovely weather all around the year, with some gorgeous beaches and bountiful tropical wildlife. Sunsets in Hawaii make for the breathtaking awesomeness your wedding needs, especially when it comes to backgrounds for your wedding pictures. Each Hawaiian island is unique and attracts couples to say "I do" on the beach shores.
1. Hawaii Wedding Cost
As per wedding data collected across 2019, there were approximately 21,000 weddings held on the islands. The average wedding spend of each of the marriages was roughly $38,000. The figure, however, does not include the wedding dress or the bridesmaids' dresses, hair and makeup, rings, guest experiences, accommodations, and even airfare.
The Hawaii destination wedding cost depends on various factors and circumstances, like location and other variables. However, the general overview is that Hawaii is host to more and more elopements with a simple and intimate beach ceremony, musicians, flowers, photos, and a dinner for the bride and groom for $2,500 or more.
When it comes to planning a destination wedding for 50 guests or more in Hawaii, you could easily see yourself shelling out $45,000 or more for the ceremony and reception. This price would include the venue, flowers, photography and videography, catering, lighting, sound, music and dancing, and more. If you are planning to have over 100 guests, $75,000 or more would be your figure.
The ideal time to get married in Hawaii
You can get married all year round in Hawaii, owing to the pleasant and sunny weather. So, suppose you are planning for a destination wedding. In that case, you should look out for Waikiki and Ko Olina in Oahu, Kaanapali to Wailea shores in Maui, Poipu to Waimea shores in Kauai, and the prime Hawaii islands' Kona Coast to Kohala.
Though weddings happen all around the year across the Hawaiian islands, our wedding planning guide suggests you get married in the months from May through September for that extra oomph.
2. How to get married in Hawaii?
To be legally married in Hawaii, you should apply for a marriage license. Your wedding officiant should be registered with the State of Hawaii. Both the officiant and the marriage license will come for a fee. You can hire a local Hawaiian officiant, which will be much easier and authentic when getting married on the islands.
One thing to know here is that even though Hawaiian beaches are open to the public, you cannot just show up and get married. When traveling with your wedding party of 50-100 guests, you need the proper permits. You cannot park your chairs or your wedding arch and decorate the area to have the ceremony. This is not the case.
Most of the beaches will be extremely busy with people sunbathing, so you should not expect any form of privacy. If you are looking for a private, small, and intimate wedding, you should consider renting an estate rental, a chapel, or even a hotel venue.
If you are keen on getting married on the beach, you will require a Wiki Permit for hosting a "commercial activity." This way, once you get the permit, you can bring your officiant and your wedding photographer down at the beach to do their magic on your wedding day, legally. You can check out the list of ceremony-friendly beaches on the Hawaii Government website.
Wedding Planning Guide Expert Tip: If you are planning to hire a wedding photographer and a wedding officiant with your Wiki Permit, ask them for the fee they are charging.
3. Hawaii Wedding Venues
With abundant options to host wedding ceremonies and receptions, you will never crave that one dream wedding venue in Hawaii. You will have plenty to choose from, with the only consideration being to fulfill your unique vision along with accommodating the number of guests you are planning to have.
There are multiple options, like suites, chapels, as well as beachfront venues. Some of these options are perfect for couples who want a weekend getaway wedding as they elope. In contrast, others are great for hosting grand weddings. Whether you plan on vow renewals, small or big weddings, you will get everything for your needs.
Moreover, depending on the protocols at your wedding, hotels in Hawaii can also offer you larger spaces to accommodate more guests for you. The following is a small list of some of the best wedding venues in Hawaii for that perfect destination wedding you have always dreamed of.
Oahu/Honolulu
2. Northridge Estate
3. Dillingham Ranch
4. The Willows
5. The Royal Hawaiian Hotel
6. Moana Surfrider
Maui
1. The Westin Maui Resort and Spa
2. Four Seasons Resort Maui
3. Haiku Mill
4. Royal Lahaina Resort
5. Wailea Seaside Chapel
Hawaii Island
1. Hale Aloha at Hilton Waikoloa Village
2. Mauna Kea Beach Hotel
3. Hilo Hawaiian Hotel
4. Anna Ranch Heritage Center
5. Sunshower Farms
4. Wedding Attire
Casual elegance is the key when it comes to getting married on the beachside in Hawaii. Your wedding dress should be light and easy in terms of fabrics. Soon-to-be brides should choose a simple and easy, elegant flowing wedding dress. You can accessorize your wedding dress with a local floral team.
You can also choose island-based designers like Sig Zane, Manuhealii, or Manaola for their incomparable, flowy designs. You can also purchase your wedding outfit from Elly's Formal Wear in Maui or Casablanca Bridal in Honolulu.
5. Wedding Food
Food is an integral part of a Hawaiian wedding. When planning a destination wedding in Hawaii, include as many Hawaiian-inspired regional cuisines as possible. They will bring the bounty and spirit of the island to your celebrations.
Hawaiian weddings are a whole experience in themselves. Apart from traditional foods, regional cuisines made from local ingredients are the right kind of fusion of people and the culture that your wedding needs.
The cuisines combine Chinese, Japanese, Thai, Korean, Vietnamese, and Filipino flavors and French-style cooking. Your wedding guests will have the time of their lives with hospitality that matches no other country.
Some signature wedding delicacies in Hawaii are Kauai Shrimp, Kona Lobster, Niihau Clams, Kahuku Corn, Kula Strawberries, Maui Lavender, coconut rum punch Ahi Poke, Sashimi-grade Yellowfin Tuna, Fresh Limu, and Waimanalo Radish. Wedding food here is the highlight of the best from both the land as well as the sea.
6. Wedding Activities
One of the best things about a destination wedding in Hawaii is the ability to share Hawaiian culture, beauty, and diversity with your significant other and your guests. This can happen in the form of planned activities. You can bring your friends and family along on a sunset catamaran rise along the Oahu shoreline. You can also tour the cacao farms on Maui and taste chocolates on your tour.
Another wedding activity that is popular in Hawaii is the Luau-style welcome dinners and receptions. Other activities include the Hawaiian Agricole rum tasting, Kohana Rum Distilleries tour, native sugarcane plantation tours, tropical-fruity wine tasting at the Volcano Winery. These are some of the activities that our Wedding Planning Guide experts say you should not miss!
7. Going to Hawaii
You must decide what island you are interested in for your wedding nuptials. The Hawaiian Islands are pretty far apart, so there is no road system that you can rely on to go from one island to another. You can only travel by plane or private yacht. So, keeping yourself restricted to one island might help you keep your overall cost for the wedding down.
Luckily, traveling to one island is simple, especially if you are traveling from the mainland. The Honolulu International Airport is situated in Oahu, which is the state's central hub for transportation. If you are flying to some other islands in Hawaii, try to fly into the Honolulu International Airport and have a connecting flight that takes you to that island.
Maui and Kauai also have large airports that accommodate planes from the mainland. However, it can be challenging to find direct flights to these locations at times. The smaller islands, Molokai and Lanai, do not have big airports, so they can only connect flights coming from Oahu.
Once you reach your desired destination, your means of transportation will depend on what is available. You can have a car rental service or travel on shuttles and buses on each of these islands. You can even rely on public transportation, but our wedding planning guide experts do not recommend this one since it is your wedding!
On the smaller islands, i.e., Molokai and Lanai, you can rely on taxis and shuttles as your means of transportation.
8. Accommodations in Hawaii
The date is set, your wedding venue is confirmed, and your flights are booked. It is now time to book your accommodations.
You can easily book the accommodations for yourself and your wedding party on the island where you are getting married. Do not choose any other island; it is a mistake you will regret for a very long time.
If your wedding venue is also a hotel, you can book that hotel for a few days. If not, you can book a hotel that is pretty close to your wedding venue.
When booking a hotel for your wedding party, ensure you talk to the hotel's management team to get a group discount. If you book a block of rooms in the hotel, you will get a significant group discount. This group discount will ensure you and your guests are staying in the hotel comfortably. This will also ensure all the people you know are staying together to manage things easily on your wedding day.
9. Hawaiian Wedding Favors
Wedding favors are a great way to express your gratitude to your guests for being a part of your special day. Offer your guests souvenirs that they will never forget and keep close.
Now, since you and your wedding guests are traveling to Hawaii, you should offer them goodies and Hawaiian souvenirs in a beach tote or a basket. You can give them valuable items that they can use on the trip as well, like:
1. Sunblock
2. Aloe lotion
3. Printed schedule of the events
4. Restaurant recommendations
5. Chart of activities they can indulge in
6. Tea or coffee from a local Hawaiian farm or company
7. Macadamia nuts covered in chocolates
8. Locally grown fruits
9. Sunglasses
10. Waterproof bags for valuables
11. Reusable water bottles
12. Lip balms
Your favorite basket/tote can be personalized as per your taste and preferences. You can even get these baskets/totes along with the favors custom printed with your wedding logo. Baskets and tote bags are comfortable and portable, so your guests will not have to worry about getting your wedding favors back on the plane. This is why these make for useful items as a part of your destination wedding.
Get Married!
Finally, the time has come. The "save the dates" have been sent out, airfare and accommodations are booked, wedding dresses and groom's tuxedo fits perfectly. All your efforts are paying off! Now, the only thing left to do is getting married. Soak it all in and relax. Bask in all the fun of getting married in the heart of paradise, Hawaii.
Bookmark this Wedding Planning Guide for future reference, or share this with someone planning to marry in Hawaii.