Recent Trends in Wedding Cakes! Choose The Best One For Your Big Day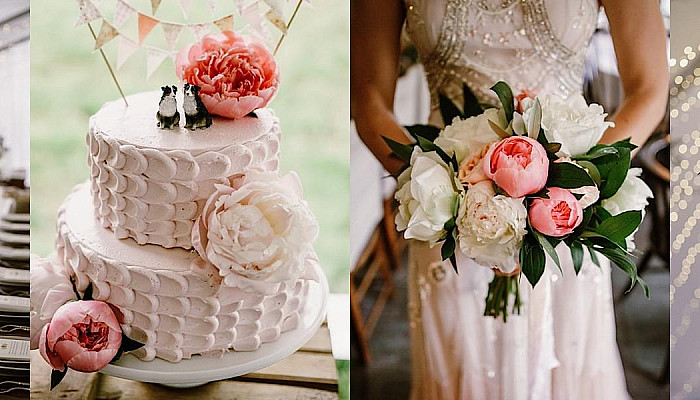 Many couples these days look at their wedding cake as more of a decorative feature rather than something for their guests to eat. This fact has resulted in ever-evolving wedding cake designs. Here, we are sharing with you the current top trends for wedding cakes. Check it out!
Strong Colors and Bold Patterns Wedding Cake
Strong colors and bold patterns based cakes such as polka dots are quite in-trend these days, especially for brides that wish for something different to conventional white cakes. One can even choose the cake colors so as to complement the overall wedding color scheme. A bolder shade of bridesmaid dress color works well quite often. Large individual patterns like flowers extended across various cake layers add impact.
Bridal Gowns Inspired Cakes
Basing cake design on the wedding dress style is a growing trend. White, ivory, and cream-colored cakes are regaining their popularity by being decorated with diamante, flowers, pearls, fabric, and jewelry pieces to imitate the bride's outfit. Some of the top cake makers are in fact working with dress designers in order to make couture cakes inspired by the designer's collections.
Ice-Cream Cakes
Ice cream cakes are the perfect choice for casual summer weddings. And since the guests won't be able to take a piece home, these ice cream cakes double up as dessert as well. Some of the popular flavors for ice cream cakes include white chocolate, strawberry, and lemon. One should just be careful enough not to leave the cake out of the freezer for a longer time if you do not wish it to collapse.
Black and White Cakes
White icing paired with black detail has been in style for some time now. Though, this season fashionable black and white cakes are being livened up with a dash of color, such as pink, bright red, or a bold ribbon or orange flowers.
A New Twist on Cupcakes
The trend of stuffing a large cake stand with individual cupcakes is still flourishing, though some brides these days are looking out for a new way to take this idea forward. Conventional square layered cake having a couple of layers made up of small individual square cakes, fully iced and personalized for the guests is one innovative solution. This alternative to cupcakes is a more formal one but still indicate that each guest receives an individual cake.
Bejeweled Layers
Replacing fresh flowers with large pieces of costume jewelry is the most fashionable way these days to adorn your wedding cake, and to connect the design of the cake in with your overall wedding theme. This trend is especially good for winter or evening weddings, as the jewels sparkle under lighting.
Metallic Accessories
Metallic themes crawling into every area of wedding design and cakes are no exception. Icing, ribbons and other decorative features can be found in conventional silver and gold, or more contemporary metallics such as pewter, pink and bronze.
Cake Calligraphy
Wedding cakes with writing on follows the trend for monochrome cakes, as these tend to be white cakes having black iced writing. A lot of couples go for a single word or phrase, while others choose a whole poem or verse in exquisite writing on their cake.