Discover The Blue Nile Rings Right For Your Zodiac Sign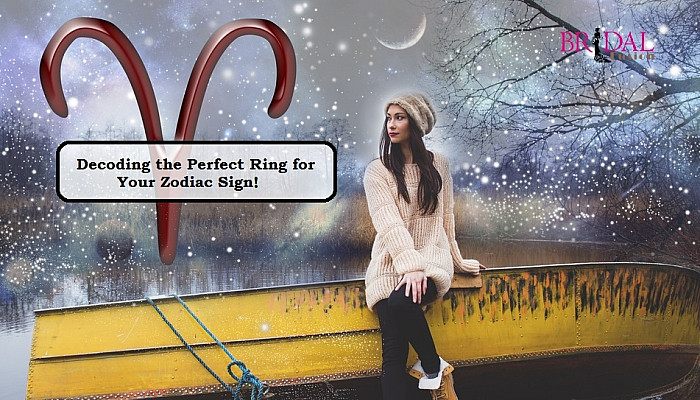 Can your astrological sign determine the right engagement ring for you? Let's find out!
Looking for that perfect engagement ring that uniquely speaks to you has been a formidable task for a long time! Your engagement ring should speak about your character, personality and properly reflect your persona. This is why it takes months, even years, to carve out that perfect diamond for some of us, including me! It took over a year to decide what kind of engagement ring I wanted, the type of setting I wanted, the clarity, the color, and the cut.
If you are going through that confusion as well, you can always seek your partner's guidance on what design best captures your love's true spirit. You can turn to your friends and family for some much-needed advice. It never hurts. And even after doing all of this, if you still cannot decide what Blue Nile Rings you should be getting to sport on your wedding day, you have come to the right place!
We will decide together what Blue Nile Rings will suit your personality based on your zodiac sign. Keeping in mind your zodiac sign, the rings you choose turn out to be your "forever ring." Considering our astrological signs, we can consider a type of diamond or design to reflect our true selves in our engagement rings.
But first, let us understand why Blue Nile Rings are just perfect for you.
About Blue Nile Rings
The Blue Nile is an online jewelry store specializing in engagement rings and wedding rings for women. While the brand sells many of its unique designs in diamonds, platinum, gold, silver, pearls, and sapphires, soon-to-be brides and grooms also get the options to customize the jewelry as per their preferences as well. Blue Nile Rings have received various industry awards and accolades. They have been time and again featured in multiple publications like Forbes and Time magazines.
So, can your astrological signs guide you in the right direction?
Zodiac signs are the perfect wedding guides you did not know you ever needed. Determined by our positions in the universe at the time of our birth, the 12 astrological signs are believed to be the right key to understanding the quirks and personalities of different people. It even helps us understand our outlook on life, based on who we are as individuals but also the connections we share with others in this world.
So, should an earth sign go for a halo diamond ring? Are solitaires great for fire signs? Let's find out what Blue Nile Rings will suit your zodiac sign the best!
Aries: Three Stone Tapered Baguette Ring
Strengths: Fearless, headstrong, dynamic, daring, strong, and optimistic.
Meant for the people who are ever-hopeful and optimistic, Aries can beautifully sport this hand-crafted, light, and airy three-stone tapered baguette ring. This is one of the most beautiful, unique trilogy Blue Nile rings that genuinely reflect the fearless spirit of Aries. This art-deco-inspired engagement ring is pure elegance. Its twin tapered baguette diamonds frame the center stone, casting their brightness in every direction.
Taurus: The Petite Twist Diamond Ring
Strengths: Caring, Dedicated, Steadfast, Patient and Kind
This one's a classic diamond engagement ring, but with a twist! Quite literally, the six-prong petite twist diamond engagement ring in 14k white gold features a delicate entangling twist of the pave-set diamond, complimenting the round diamond in the center. Much like what Taurus is.
Tauruses are lifelong partners who are a treasure to find. Therefore, to represent the solid and long-lasting bond of you and your Taurus partner, this ring is perfect! The ring's twisting band represents the intertwining of two souls. In contrast, the middle round diamond represents the strength and bright sparkle of the two people sharing their love for each other.
Gemini: The Starburst Floral Diamond Ring
Strengths: Adaptable, Inquisitive, Caring, Fast-learner, and Sympathetic
Geminis are known for their inquisitive nature, curious minds, and open hearts. They are one of the most sympathetic zodiac signs you will ever find. They find beauty in emotions and are dedicated to their relationships like the grass to a garden with emotional sensitivity. They tend to bring out the best in those they love; they let them bloom.
Therefore, to reflect this personality of a Gemini, this is one of the best Blue Nile Rings - the Starburst floral diamond ring in 14k White Gold. They are intricate people and organic, truly reflected in this beautiful ring—the ring sports ten round brilliant cut diamonds, set in 14k white gold. From far away, this ring looks like a dazzling starburst halo protecting the center diamond, much like Gemini's relationships with their partners.
Cancer: The Knife-Edge Double Pave Studio Engagement Ring
Strengths: Deep-feeling, loyal, passionate, expressive, daydreamers, and opinionated
A Cancer truly feels every single emotion, right down to its core. There is no one feeling that goes by unexamined and unexplained. No thought goes by unexpressed. Cancers are people who choose their relationships exceptionally carefully. Still, once they choose and fall in love, there is no going back. They are perhaps the most loyal people you will ever meet. The Knife Edge Double Pave Studio Engagement Ring truly reflects the depth of a Cancer's nature and love. This solitaire ring features a band with a crown diamond surrounding the center diamond, dotted along with a cluster of pave diamonds to resemble Cancer's emotional peaks and valleys.
Leo: The petite micro pave trio diamond ring
Strength: Entertaining, passionate, helpful, bold, and creative
Bold and fierce like lions, Leos are without a doubt expressive, with an innate ability to light up any room they are in. Leos are genuinely the life of the party. They are incredibly passionate about things they care about, which makes them devoted and strong partners. Leo's personality is truly reflected in the petite micro pave trio diamond ring in platinum.
The ring is elegant and delicate, just like our fellow Leos. The ring features two round prong-set diamonds with petite micro pave diamonds, exploding unabashed Leo energy and light.
Virgo: East-West side stone pave diamond ring
Strength: Hardworking, loyal, detailed, systematic, and loving.
One of the best works of Blue Nile Rings, the east-west side stone pave diamond ring in 14k rose gold, is truly reflective of Virgo's sparkle of love for their partners.
This unique east-west setting places a princess-cut diamond as side stones for the brilliant cut in the center. 10 round pave-set diamonds come together like stars to celebrate the sparkling romance of a Virgo and their partner. The setting is symbolic of Virgo's vast horizon and new beginnings. It resembles all the details they put into planning their future and growth with their partner.
Libra: Split shank Empress Engagement Ring
Strengths: Generous, social, peacemakers, team players, and grateful
Anyone in love with Libra knows that these people are beloved for their ability to see the positives in all kinds of situations. Therefore, their generous spirits and passion for life and equality are celebrated in this beautiful Split-shank empress engagement ring in platinum. The design has a beautifully crafted reverse split shank, diverging into two diamond-encrusted bands, similar to how Librans love sharing the highs and lows of their love for their partner.
Scorpio: Diamond halo engagement ring
Strength: Strong-willed, true friends, determined, loyal, brave, and introspective
Scorpios are known for their strength, determination, and their grandeur. Their spirit is what helps them make the most out of life and love. Scorpios do everything in their power to ensure their partner feels comfortable and loved. Their presence in their partner's lives is exceptionally bold and empowering. This is probably why their vitality can only be matched with this uniquely bold and classic halo diamond engagement ring.
This classic and decadent ring is breathtaking, showcasing a halo with a diamond-laden shank framed against a beautiful platinum band. This ring is not afraid of shining, just like the true Scorpion spirit.
Sagittarius: Pear side stone diamond ring
Strengths: Utopian, funny, confident, romantic, and hopeful
Like a ray of sunshine, Sagittarius zodiac people brighten the world around them with their sense of hope everywhere they go. Their optimistic nature, wrapped around their humorous personality, is truly reflected in this pear side stone diamond engagement ring in platinum. This solitaire with two side stone diamonds offers you a ring that is one of the best pieces by Blue Nile Rings. The ring is inspired by the positive and creative nature of a Saggitarius.
This luxe platinum setting with a precious diamond with two fancy-cut edges and pear-shaped sidestone will sweep your Sagittarius princess off her feet!
Capricorn: Knife Edge Micropave Diamond Engagement Ring
Strengths: Resourceful, dedicated, wants to bring the best in others, strong leaders, and orderly.
Capricorns love nothing more than bringing out the best in their partners. They use their inquisitive and tenacious nature to find the perfect solutions to whatever problems life throws at them. They often feel the most in love when they can support their partner. Capricorns are perhaps the only zodiac sign that finds romance in order and dedication. Blue Nile Rings' Gallery Collection knife-edge micro pave diamond engagement ring is perfect for Capricorns. This solitaire ring features a hidden micro pave diamond halo, symbolizing their supportive relationship. This sensational design is dazzling and sparkling. The premium platinum displays the diamond center stone with a remarkable exhibit of sparkles from its rows of pave diamonds along with the band and prong setting. Indeed something a Capricorn deserves!
Aquarius: Bezel set solitaire engagement ring.
Strength: Independent, authentic, open-minded, original, and love their community
Being one of a kind, Aquarius loves nothing more than being able to try new things every day, especially with their partner. They cherish their family, their loved ones, and their community. They are gifted at bringing people together in terms of love and nurturing. To mark this bond with your Aquarius, you should go for the bezel set solitaire engagement ring in platinum. The ring's bright prongless setting symbolizes their unity and wholeness.
Pisces: Zac Posen Star Halo Diamond Engagement Ring
Strengths: Empathetic, creative, free-spirited, artistic, and humane
Without any restraint, creative energy starts to flow as soon as this water sign enters the room. They are fascinating and artistic people and make for highly empathetic partners. Pisces value their relationship over everything else and always look for new ways to express themselves and love for their significant other.
As such, this Zac Posen star halo diamond engagement ring is perfect for a Pisces since it features a very intricate halo design, adorned with a spectacular setting with tiny diamonds alternating around the center stone.
Final Words
So, if you are looking for an engagement ring while going down on one knee to give your significant other and spend the rest of your life with them, Blue Nile Rings are perhaps the best option for an engagement ring investment. They are hand-crafted, unique, and authentic, just like your love for your partner!