Unconventional Wedding Dress Ideas For A Modern Bride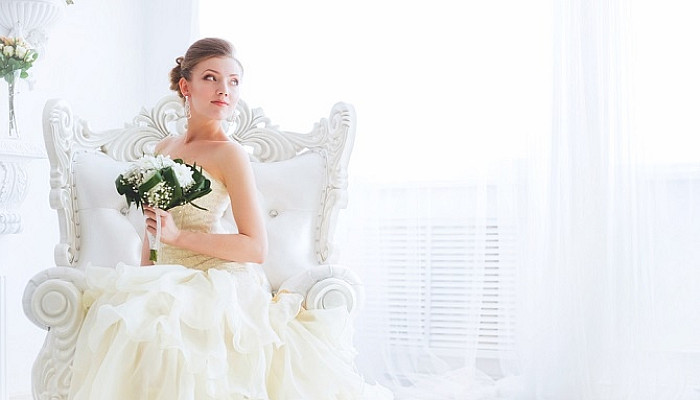 If you don't feel like wearing a traditional nude wedding gown, go for something unexpected. Just because wearing white is an old tradition, does not mean that you have to wear white too in your wedding. If your heart is on unusual bridal gowns, trust us, no one will be confused who the bride is. Choose something that reflects your true personality. The important thing is that whatever you wear, you should feel comfortable wearing it.
NON-TRADITIONAL WEDDING DRESS IDEAS
There is nothing wrong in a fashion-diversity on the once-in-a-lifetime-day. Here are some non-traditional wedding dress ideas to take inspiration from, Keep your radar on to these modern bridal outfit ideas and embrace your inner princess.
TRY-OUT A DIFFERENT COLOR
Celebrate the new beginning of your life with colors. The old nude white colored wedding gowns are no more in trend. Color adds a fun element to the wedding dress. A chic black color bridal gown is the latest trend in the wedding season 2018. The brides who want a traditional wedding dress yet something out of common, consider vintage champagne-colored sheath. The dress should not be an eyesore to look unique. For a more feminine look go for scarlet red or light-pink fit and flare wedding gown. Pastel blue, green, bright yellow are getting a place in the wedding dress color list 2018. The two-toned wedding gown is the new choice of brides today.
GO SIMPLE
Simple is the new unique. Being simple does not mean dull and boring. Clean & crisp lines, sharply clear white, and frames in the wedding outfit steals the spotlight. Simplicity propels the brides to be the center of attention. The simple white wedding gowns are ideal for a beach wedding, farmhouse wedding, the hills and the forest weddings.
ASYMMETRICAL LAYERS
Gone are the days when brides used to wear long wedding symmetric gowns. Asymmetrical wedding gowns allow the brides to step outside the comfort zone while still maintaining an angelic quintessence. Layered gowns steal the center spot in the wedding. The contoured bodice showing off your assets on top of layers of fine silk will place you on top of ocular admiration. No one will be able to take their eyes off of symmetrical asymmetry.
FAIRY TALE LOOK
Beautifull ball gown wedding dresses look ultra-fine. Happily ever after, is your wedding day look if you are planning your wedding since childhood. The ball gown wedding dresses make you feel like a princess. They are the perfect example of quality and class. Ball gown wedding dresses are a quintessential selection for those brides who want to tap their feet until witching hours. Try the fairytale look and discover the princess inside you.
LACE PATTERNS
Lace pattern looks ultra feminine and adds a touch of elegance to your bridal look. Be a sexy winsome with lace patterned wedding gowns. Lace patterns are a great way to add texture to wedding gowns, sleeves, veils, and trains. The sizeable impression on a bridal dress is lace bodice. Lace transform a traditional wedding gown into a full-blown sexually attractive dress. Lace patterns magnificently accoutre the bridal look and led the brides up to the perfection.
SEXY SHEATH STYLE
The sheath styles accent the curves and lines of the body. Sheath literally, means fitting. Sheath style accentuates the physical assets of a woman. Sheath gowns are for those brides who love her cuts & curves and want to set out her best self on her special day. Pair a dramatic veil with the sheath style gown and be ready to be the center of attraction. This style can be ultra sexy and modern-sophisticated.
PRINTS & FLORALS
Printed floral wedding dresses are for fashion-forward brides. Pair the floral dress with boots to give a whim touch to the bridal look. Patterns and florals bring peppiness to any wedding and are great for the bride who wants to stand out from the crowd. Floral wedding gowns are completely engrossing and compelling. They can be worn again even after the wedding at some party and still, it will excite everyone's interest.
Be the brides of your dreams, and not what tradition says. A little change is always good. Wear what your heart says at your wedding. We hope our nontraditional wedding dress ideas quenched your thirst for unique bridal attire.