Leave Your Guests Delighted With The Creative Wedding Favors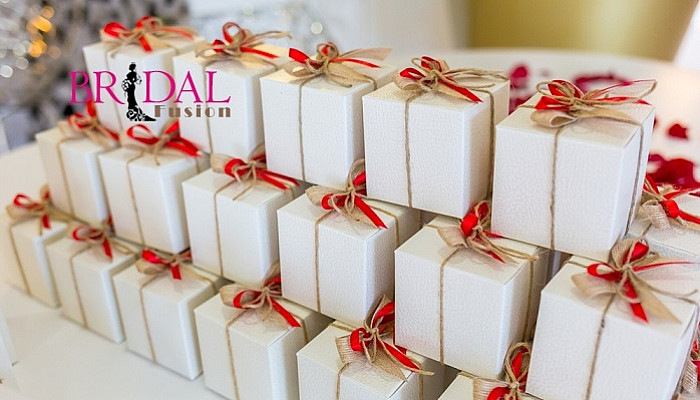 Favors given to guests at a wedding are thoughtful gestures and a great way to personalize the event. They can be a small token of appreciation or a clever nod to the location or theme of the celebration. However, there's no need to worry if it's out of your price range or you don't want the added responsibility. However, a wedding favor is a wonderful way to show your appreciation to the guests who have made an effort to travel to your big day from far and wide.
You should remember a few things: Be practical; it's hard to go wrong with practical gifts. Table + Teaspoon CEO and creator Liz Curtis agrees it's a good idea to do anything you can to make your guests more relaxed and at ease over the wedding weekend. She recommends giving guests a favor box filled with little gifts that are both entertaining and functional — think candy, playing cards — at the start of the wedding weekend rather than waiting until the end of the celebration.
Lynette Dow, a famous wedding planner, suggests thinking of a favor that relates to the location of the event, such as a little bottle of maple syrup for a wedding in Vermont or tequila for a wedding in Mexico. She also suggests picking something you and your future husband collect, like magnets or holiday ornaments. If this is the case, Dow means placing a table with wedding favors near the exit with clear signage stating that attendees are expected to take one.
We have rounded up fifteen affordable yet creative wedding party favors to make the pick super easy:
1. Personalized Coasters
Get ready to celebrate because we've found the most extraordinary bridal party favors for a celestial-themed event. These constellation-adorned coasters are the perfect final touch to your tablescape, and your loved ones may take them home afterward. A one-of-a-kind favor that also serves as wedding décor? It's simply a win-win.
2. DIY S'mores
While you may be tempted to make your wedding party favors, keep in mind that the process may be time-consuming, so ensure you have the time and energy to put together your handouts. If you're determined to make your own party goodies, s'mores kits are a tried-and-tested choice. Though this wedding favor idea lacks the elements for a delectable s'more—graham cracker, chocolate, and marshmallow—its favor tag seals the deal.
3. Spicy bottles
If you always like carrying spicy sauce in your suitcase, these wedding favors are great. Simply print the tag and attach it to your favorite hot sauce bottle for a unique present that your guests will love! Simply buy enough little Tabasco bottles, print these favor tags, and you're ready to go.
4. Coffee bags
This brilliant wedding favor idea if you're planning a camp- or similarly outdoor-themed wedding: individually packed coffee in a tea bag. These practical wedding favors, which are not to be confused with instant coffee, are not only easy to brew but also delightful. If you're always exploring the outdoors together, it's a great homage to your partnership (and love for coffee).
5. Bottle openers
Regardless of where you stand on the coffee-versus-tea debate, this take-home tea vial is a unique wedding favor that can also double as decor—imagine how lovely it would look on a guest's kitchen counter. Select a single variety of tea for each visitor or mix & match by asking for an equal amount of each. If you want to include Pantone's 2022 color of the year in your wedding, the mallow tea is a must.

6. Elegant Chopsticks
We think these engraved bamboo chopsticks would make a great eco-friendly wedding favor. Your guests will think of your wedding whenever they dig into some authentic East Asian fare.
7. Romantic Tea bags
Heart-shaped tea bags are the cutest party favor or wedding favor for your guest. Each tea bag has a label that reads, "The ideal mix," keeping with the theme. Thank you so much for your thoughtfulness and consideration of detail.
8. Creative Coffee Mugs
Some of the most exciting ideas for wedding favors may be ones that guests won't remember or care about once the big day is over. However, this is not the case with these convenient mugs. In addition to your names and wedding date being printed on the front, you may also include a heartfelt thank you note. Those you care about will use these creative mugs every day for their morning beverage of choice.
9. Personalized masks
Provide personalized wedding masks to guests if required at the ceremony site to ensure everyone's safety. Personalized wedding favor masks with the happy couple's names and the wedding date foil-stamped on the front are a fun and practical gesture that guests are sure to appreciate. Your wedding's mask and typography may be customized to fit your color scheme.
10. Leather Luggage Tags
Yes, you may present wedding favors to your guests if you're having a destination wedding. One exciting concept? Stylish baggage tags with a pleasant, travel-themed message written on them. These leather baggage tags will be helpful on the way home. Furthermore, because they are not customized, your loved ones can use them for future vacations. Talk about unique wedding favors!

11. Scented Candles
Still stumped on what to put in your wedding favor bags? Woven Wax sells bespoke scented candle favors in quantity. Choose from ten perfumes ("love spell" is especially apt), then personalize the text on the lid. You can provide your new titles and share your last name.
12. Personalized Playing Cards Game
You finally drew a firm hand with your one-and-only after playing games with far too many singles. These amusing cards will inspire a slew of subsequent games for your visitors. The reverse of each card features a loving couple's image, your names, and the words "all in." (Awwh!) Don't forget to purchase a deck of these romantic cards as souvenirs.
13. Edible Wedding Favors
You can treat your guests with sweet treats such as home-baked cookies, mini jars of jam, or homemade pickles in decorative jars to give it a luxe touch.
14. Personalized matchboxes
Who couldn't benefit from having an extra matchbook on hand? It's the epitome of the most helpful present ever, but the customization makes it seem extra unique and precious. There are over 75 different paper alternatives to pick from (across a wide array of colors and finishes).
15. Trendy Flip-flops
In keeping with the theme of favors that enhance your guests' enjoyment of the event, they are a must-have for those who wish to dance the night away without their dress shoes. They are also perfect for a beach wedding entry.
Conclusion
Wedding favors are a light-hearted way to express your gratitude to those who share your special day. It's up to you to decide how much money you want to spend on wedding favors and how simple or intricate you want them to be. There is no hard and fast rule about how much you should spend on wedding favors, although most couples spend between $2 and $3.
Whether you want your wedding favors to reflect the theme of your big day or to hold a personal meaning for you and your partner, the options are limitless. If you're at a loss for what to give guests as wedding favors, don't worry; we've got you covered. Here are a few of our picks; for more, keep reading BridalFusion.com for endless wedding inspiration.