The Quintessential Guide To Bridesmaid Dresses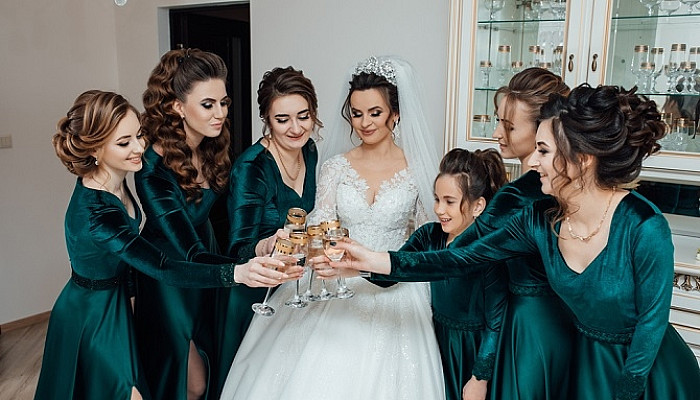 Bridesmaids are an indispensable and an ocular element in supporting the bride. What they dress-in really does set the tone for the big day. The color palette chosen is a great way for the bride to enunciate her distinctive and personal taste. Hand-picking your maid's dresses that are glamorous, stylish, flattering and elegant at the same time, will make sure your bridesmaids are self-assured and gracefully smiling as they accompany you down the aisle. Whatever you do, get the groundwork right – choose gowns that will look attractive on your maids, opt for the shades and color that will flatter and compliment everyone in the bridal brigade, and ensure a fit that does them all justice. Looking for the perfect bridesmaid dresses? Get a head start with a pile of hints, tips, and ideas via our quintessential guide to bridesmaid dresses. Bedazzled with, our guide to Bridesmaid Dresses.
QUINTESSENTIALCOLOUR GUIDE TO BRIDESMAID DRESSES
When choosing the dress for your maids, an adroit starting point is to consider color. Modern brides are choosing bolder brighter colors like canary yellow and kelly green for their bridesmaids instead of pale pinks and pastels. Don't just think of one color, either – come up with a few other options. Blue is the hue of the moment. Blue bridesmaid dresses are contemporary and chic, in an understated way. Whether you go for navy or pastel, royal or electric, it is the color for the season. Some brides are choosing an assorted color palette for their wedding scheme and are having one bridesmaid in each color. Something that can assist in your color-decisions is the blossoms you are considering for the ceremony. Depending on the color shade you pick for your bridesmaid, it can be brightened, lightened or deepened with the right complementary color shade.
QUINTESSENTIAL GUIDE TO BRIDESMAID GOWNS
When it comes to the style of gown, consider your maids' shape and size. Are they big busted or flat-chested, do they have short bodies or long? Choose the color and the fabric for the maids' dresses and then let your bridesmaid select their own style according to their body types, this will exhibit an attractive combination of vitality and glamour. You can also go for full-length gowns and sleek fitted bodices with flowing skirts, and florals and lace designs for your bridesmaid, this will add a sophisticated edge to the wedding. Floral patterns are very much in rage in this division of the year and add a feminine look to your bridesmaid gowns. Silhouettes in the gowns are trending towards the figure-hugging, billowing below the buttock area. In Satin strapless gowns, or at least those with ornate lace straps the bridesmaid will look fabulous and stunning.
QUINTESSENTIAL GUIDE TO BRIDESMAID DRESS PATTERN
While monochrome still works well for the bridesmaid, a drift is creeping in for bold and audacious patterned gowns. Floral patterns are very much in rage in this season and add a feminine touch to your bridesmaid dress. Polka dots, spatial, stripes, and geometric designs and patterns are all making their mark on present-day bridesmaid dresses. Startling and stunning looks can be had with pattern mixing that will ensure your wedding is truly unique.
QUINTESSENTIAL GUIDE TO THEMED BRIDESMAID DRESS
Behind every fab, a bride is fabulous bridesmaids and maids' stupendous dresses. With a unique wedding theme like orchids, you can opt for the same fabrics and strike purple color to tie bridesmaid dresses designs together. For an ivory colored themed wedding you can go for matching blush bridesmaid dresses and ivory shrugs with nude pumps, a delicate bouquet made up of soft pinks, ivory and green will flawlessly complement the pale color palette. For a vintage themed wedding, you can choose blush pink, chiffon dresses with an asymmetric frill strap and retro-inspired hairstyles for your bridesmaid. If you are thinking to opt for Flora themed wedding, pale sage green gowns with pleated bodice and floral details on the shoulder will do the needful. Although some brides want all their bridesmaids to match-stop opting for this laid-back outlook, allow your bridesmaids to choose a different style of dress which they are comfortable in.
QUINTESSENTIAL GUIDE TO SHORT BRIDESMAID DRESS
Picking a short bridesmaid dress is a big deal and those who disagree have probably never been a bridesmaid. In recent years tea length dresses and net underskirts are becoming a well-liked choice for the bridesmaid dress. This trend continues, with knee-length gowns becoming the norm and pleats & puff balls keeping bridesmaids dresses fun. Although the bridesmaid dresses may be short in length, they are definitely not short on style. A shorter bridesmaid dress for bridesmaids' also complements the bride who wants to keep her merrymaking simple & intimate and think of the big day as more of a party than a formal affair.