Wedding Band Stage: How to Decide Which is Right for You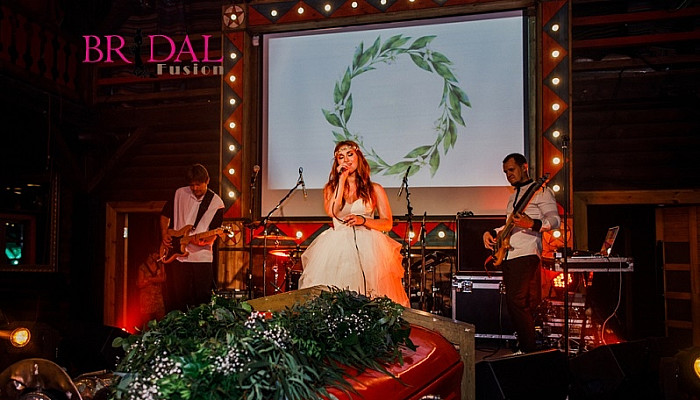 Every wedding is unique and different. So are the venues where they take place. From rustic barns to bustling city skyscrapers, there are many options when searching for a location for your wedding day. Similarly, when choosing your wedding band stage, that's yet another detail that needs to be narrowed down and investigated before making a final decision. The type of band you hire and where they'll perform can significantly impact your reception; read on to learn more about why getting this part right is so important.
What is a Wedding Band?
A wedding band includes a group of musicians that performs at weddings. Many types of bands perform at weddings, but there are two main categories: cover and event bands. Cover bands play songs by other artists, while event bands use music and sound effects that are all original.
All major band booking websites, like GigMasters and Soundfly, list the types of bands they work with so you can quickly identify which one is right for your wedding.
There are many different types of music that a band can perform at a wedding. The most popular genres include pop, rock, country, and folk. Other music types played at weddings are Latin, jazz, reggae, and hip-hop. In choosing a music style, you'll also need to decide whether you want a band with a singer or a band without a singer. Having a singer perform at your wedding is a great way to add variety to your music selection.
The Importance of the Band Stage
The location where your wedding band performs on the day is just as important as the music they play. A well-designed band stage can make all the difference when setting the tone for an unforgettable reception. Smaller weddings don't have to skimp on the entertainment; a stage for the band may be scaled down without losing its prominence. If you're having an extravagant event, on the other hand, you can choose a grand-scale stage that's sure to wow your guests when they walk into the room.
When selecting a vintage-themed wedding, you might want to look for a rustic, wooden stage. If you're opting for a modern take on your big day, on the other hand, a sleek, metallic structure might be more up your alley. It's essential to think about the type of band stage you want to use ahead of time to ensure it's big enough to accommodate the musicians performing on the day.
What to look for in a wedding band stage?
When shopping around for a wedding band stage, there are plenty of factors to remember. You can use them to narrow down your search and find the best stage for your needs. For example, you'll want to ensure the stage you choose has the right dimensions to fit in your wedding venue. You'll also want to look for a stage with a construction type matching the rest of your decorations. You can also find a location that lights up for an extra-impressive visual. As for the materials used on the stage, you'll want to ensure they're sturdy enough to hold the musicians during the performance. The surface of your stage should be easy to clean, while the construction should also be easy to transport. You'll also want to find a stage that comes in a color that matches the rest of your decorations.
U-Shaped Stages
U-shaped stages are known for their versatility and adaptability; they can be used in almost any venue and come in a wide range of sizes. They are designed to be placed in the middle of the room and are perfect for larger weddings. They make for a fantastic stage for bands that want to be at the heart of the reception and are ideal for when you want to bring the party outside. These types of stages are best used for weddings where the band is the main focus of the event. You can also use them for large receptions where you want guests to be able to move around and not feel corralled entirely in one spot.
T-Shaped Stages
T-shaped stages are similar to U-shaped stages in that they are great for large weddings or events. The main difference between U-shaped and T-shaped stages is that T-shaped stages are designed to fit in the corners of the room instead of in the middle.
They're also usually smaller than U-shaped stages, making them perfect for weddings and receptions where space concerns them. T-shaped stages are best used for weddings where a smaller group of musicians is playing in the corner of the room. They can also be used for smaller receptions where guests don't need to be corralled into one specific area.
Freestanding Stages
Freestanding stages are the most common type of stage used in weddings and come in a wide range of shapes and styles. These types of stages are easy to transport, easy to set up, and can be used in a wide variety of venues. They are perfect for smaller weddings or receptions where the band is not the event's main focus. They also work well for indoor or outdoor weddings, depending on which one you choose. Freestanding stages are best used for weddings where the band is not the event's primary focus. They are also perfect for smaller receptions where space is a concern.
Outdoor Stages
These are a perfect choice if you want to host your reception or wedding outdoors. Even though they are perfect for outdoor weddings and celebrations, you can use them indoors as well. Outdoor stages are often made of lightweight materials designed to withstand the elements. Outdoor stages can be used for weddings or receptions of all sizes and work best for events where the band is not the main attraction. They can also be used for indoor events and provide an extra intimacy level for smaller receptions.
FAQs on the wedding band stage
Do I need a stage for the wedding band?
Whether or not the happy couple decides to hire a stage relies on factors such as their financial position, whether they are having a budget wedding, and the layout of the reception hall. New Orleans' Blue Earth Productions' John Hozey, however, argues that stages offer numerous benefits. He explains that having the band perform on a stage makes the whole thing feel more like a concert or a show. The addition of a stage, in our opinion, enhances that dynamic while also providing an easy way to maintain a respectable distance between the band and the audience.
When the stage is raised, everyone's eyes are immediately drawn to the bride and groom, making it easy to call them up to do something special. In addition to being a focal point of the performance throughout the reception, the stage's elevated position makes it possible for all guests to see the show. The lack of exposed wires, monitors, and other equipment on a stage, as pointed out by Hozey, is an additional safety feature for the audience.
Nonetheless, Hozey points out that hiring a stage does have one key drawback: a lack of human connection. "In general, we are more sociable and outgoing while the band is performing on the floor. The bride, husband, and guests all feel more at ease and connected when they are on the same level as the guests." Some wedding locations may not be suitable for a stage, and vice versa; this is especially true when a tiny stage is expected in a vast hall.
It's possible that our eyes will adjust to a stage width that's consistent with the width of the dance floor, whether that's 16 feet or 24 feet. It could be best to cancel the performance if the band is too small to fill the stage. If you need help picturing the ideal stage and entertainment setup, ask your venue or planner for photos or videos.
What should be the size of the wedding band stage?
The stage size is decided by the agreement you make with your entertainment provider, says Lindsay Sims, owner and main planner of TOAST Events in Atlanta and Nashville. Typical stage dimensions are between 8x24 feet and 20x30 feet. For instance, Hozey states that the minimum stage size required for his six-piece band, D Play, is 12 by 16.
If they're going to be using more horns in their ensemble, the stage size has to be raised to 12 by 20 feet. A smaller stage will restrict the band from doing their distinctive maneuvers and dances. Therefore, it's important to inquire about the entertainment group's needs and make preparations accordingly. She recommends asking for the lowest size the band is able to deal with if you're in a confined area. They have some space for maneuver!
Where can I find a venue that rents out a stage?
Some reception venues will have their own stage set up, while others may require that larger bands provide their own. Many engaged couples, however, will have to hire a stage for their ceremony. You might inquire with the show's organizers or the performing group's members for suggestions. Couples should try to reserve their stage at least 90 days in advance, and the cost should be factored into the original budget draft. The average cost of renting a stage large enough to accommodate his six-piece band was between $700 and $1,600.
Wrapping Up
With so many wonderful options available, you have plenty of reason to be excited about the wedding band stage of your dreams. Before you dive in and start shopping, though, it's essential to think through the type of band you want to hire and the venue you'll be using for the reception. Once you've got all that squared away, it's easy to find a wedding band stage perfect for your big day. Continue reading BridalFusion.com for more inspiration on your wedding venue, ideas for wedding dress, music, décor, and much more.