Top Destination Wedding Ideas To Celebrate In The United States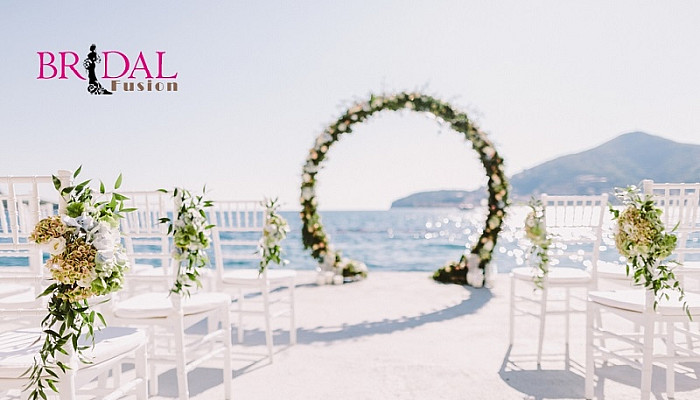 If you are dreaming of a destination wedding, you will be surprised to know that there are thousands of extraordinary places where you can tie the knot without pulling out your passport. Yes, there are many more scenic options in the United States than you realize. So, now you can easily plan an unforgettable wedding without traveling abroad. Planning a destination wedding away from your home seems all fun; it also means more intimate ceremonies and a lot of preparations to do. It is definitely not an easy feat and requires a lot of important details to consider. To make it easier for you to throw a fantastic wedding, we are to help you. We have a bunch of destination wedding ideas or places where you can fly with your friends, family, and loved ones and host the wedding of your dreams. Unlike the old list of wedding destinations, here are some new locations that will inspire your new wedding vision board.
So, without wasting more time, scroll down and start planning. It's high time to call your wedding planner and start planning your memorable day with our destination wedding ideas.
1. Miami, Florida
Miami is a beautiful city in Florida that captivates travelers' attention with its outstanding architecture, vibrant aesthetic, mouth-watering food, and awe-inspiring beaches. While it is a perfect travel destination, it is also a popular choice for a wedding. It is a sun-soaked hotspot with a party-vibe and cosmopolitan feel with ample luxe resorts and gorgeous architecture. While it is a bit expensive, the weddings here are mystical and magical, making it worth the penny. So, whether you are hoping for an opulent beachfront wedding or a wedding at a luxurious resort, Miami has no shortage of spectacular wedding venues at your fingertips.
2. Newport, Rhode Island
Newport is one of the classiest destination wedding ideas to check out. It is no surprise that Newport is an iconic location with ample places to host a dreamy, sophisticated wedding. The Rosecliff mansion, posh Grace Vanderbilt hotel, Castle Hill, the Aldrich Mansion, Belle Mer, and more are some of the best places to host your wedding. Other than that, this city offers a wide array of adventurous activities, luxurious shopping centers, and everything in between to spend an unforgettable time with your family and friends. In a nutshell, Newport is a genuinely delightful getaway for planning your wedding.
3. Kennebunkport, Maine
If a scenic backdrop of stunning ocean vistas, picture-perfect lighthouses, quaint barns, or pastoral fields is what your wedding desire is, then Kennebunkport is the place for you. Kennebunkport is a small, historic town known for its laid-back atmosphere and enthralling natural surroundings. Apart from scenic landscapes and photogenic backdrops, this place has some of the best wedding venues globally and lip-smacking dining options. With so much to offer, having a wedding that you've been dreaming about is entirely possible in Kennebunkport. Whether you want an intimate gathering or a grand affair, this place will welcome you with open arms.
4. Boston, Massachusetts
Worrying how to pull off a mind-blowing wedding? If yes, then look no further than Boston. It is one of the best destination wedding ideas, which is culturally and historically rich and offers a tapestry of vine-covered brownstones, narrow streets windings, extensive museum scenes, scrumptious food outlets, etc. Being one of the oldest U.S. cities, Boston acts as a time machine into American history and offers the wedding planners a range of classic venues to host a big wedding. While this might sound like a costly affair, you will be surprised to know that Boston has a reasonable selection of affordable wedding locations.
5. Las Vegas, Nevada
A wedding in Las Vegas is still a dream for many. While this city is loved for hosting bachelorette parties, it is also a perfect destination wedding location with an outstanding range of out-of-this-world resorts & venues, iconic chapels, lush outdoor gardens, elegant ballrooms, and much more. If you try to explore the city and look for some famous wedding spots like Bellagio, The Mirage, etc., you will be astonished to see the whole other side of Sin City. From cheesy to classy, you will get everything you want to tie your knot with your loved one.
6. Napa Valley, California
Like its powerful, robust red wine, this region also hits high notes in terms of weddings. This region in California has some stunning landscapes with acres of vineyards, rolling hills, and lush valleys. While the abundance of delicious wine is the main thing that draws attention, it also has food-worthy, high-end restaurants, classic resorts, world-class spa services, golf playgrounds, hot-air balloon rides, and more. This makes it perfect for guests to have some quality time while enjoying the incredible wedding. So, if you are someone who wants to capture the best memories on your D-day, then Napa Valley is one of the best destination wedding ideas to consider.
7. New York City
If you want a fusion of culture, history, and classic romance in your wedding, then this is the destination that you should pick from this list. New York City has nonstop energy, top-notch museums, and trendy restaurants with some legendary cinematic love stories that make it a perfect place to host a wedding. When it comes to wedding planning resources, New York never lacks behind. It has innumerable caterers, bands, florists, bakeries, photographers, caters, designers, etc. New York City has a plethora of jaw-dropping venues like New York Botanical Garden, Manhattan's The Beekman, Brooklyn's Liberty Warehouse, and more.
8. Aspen, Colorado
Last on the list, we have another wedding destination that is a perfect pick to host your big day. Aspen is one of the visually spectacular, pleasing locations worldwide that is the right pick for all the couples who want a mountain getaway for their wedding. This city is a perfect blend of luxe amenities, natural beauty, and rustic charm. It has an elegance and beauty that you will definitely fall in love with. So, whether you are planning a dreamy winter wedding or a picturesque summer wedding, Aspen will turn a simple wedding into a dream-come-true event that will wow you as well as your guests.
Final Words
And here we come to an end. We hope you liked this sneak peek at some of our favorite destination wedding ideas in the United States. All the destinations mentioned above are not just unique and gorgeous but also perfect for spending time with your friends and family. We believe that by now, you might have a few destinations in your mind. But trust us, wherever you end up getting married, it will be perfect.
The beauty of planning a wedding is that you have a plethora of options to turn your dreams into reality. If you want assistance in making your big day your own, get in touch with bridalfusion.com. It is the ultimate platform that will guide you through hosting the wedding of your dreams. We will help you choose every detail for your big day.