Top 14 Awe-Inspiring Wedding Pantsuits For Brides In 2022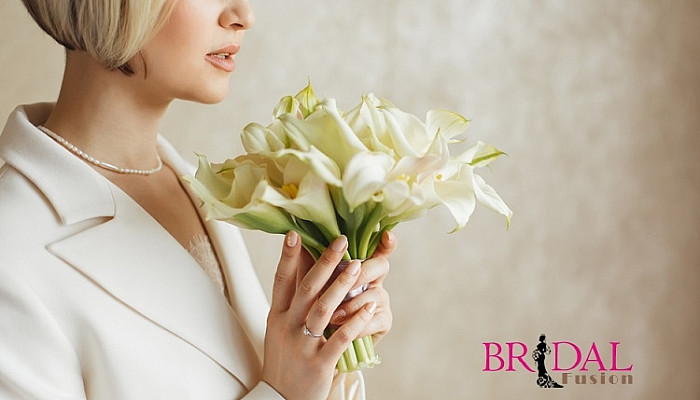 The cliché saying, "Dresses are not for everyone," stays true even when it comes to brides. If you place yourself in the same category, you should consider purchasing a stunning wedding pantsuit. In addition to being an effortlessly cool option for ceremonies and festivities, it also manages to attain modernism and elegance. Many women opt to wear pantsuits, fitted rompers, and two-piece sets instead of gowns during their wedding ceremonies. The fashion world has made it simpler than ever to locate a beautiful pantsuit that speaks to your style while still ensuring that it looks just as stunning as your traditional wedding dress.
Here are the fantastic fourteen wedding pantsuit styles to look out for the bride-to-be in 2022.
1. Stunning White Wedding Pantsuits
The white pantsuits include styles with traditional wedding elements like lace or satin trim and more modern looks like oversized tuxedos. In addition to your wedding day, these bridal pantsuits are ideal for your engagement party, reception, a bachelorette party, rehearsal dinner, or any other event on your calendar (plus, you can repurpose them as closet staples long after the party is over).
If you believe lace is too stuffy for you, this bridal pantsuit will change your mind. The jacket's sheer lace sleeves and modest peplum waist add just enough pizzazz without being excessively flowery. A solid back panel, white lapels, and structured shoulders complete the look. Matching bridal slacks with lace trim along the sides of the legs will work wonders.
2. Wedding Pantsuit with flared pants
Go for a classy retro look with this white pantsuit for your wedding day. A classic jacket is teamed with flared high-rise slacks for a flawlessly' 70s-inspired look. It's a terrific choice for warmer weather because it's made of a cotton mix in brilliant white color.
3. Slit blazers and Wide trousers
For plus-size brides, pantsuits can be worn in various ways thanks to an adjustable waist belt and double-breasted buttons. If you're attending an informal gathering or getting married in the summer, wear the blazer unbuttoned with a crop top, or close it with the sash for more excellent coverage. The style is completed with simple white wide-leg trousers.
4. Short-sleeve bridal Pantsuit
Suppose you do not want to wear a pantsuit as the main wedding attire. In that case, you may use a short-sleeved bridal pantsuit as a change of clothes for the rehearsal dinner, the reception, or even for your honeymoon. It can be a low V-neckline and notched lapels on the cropped blazer and a high waist and straight-leg cut on the ankle-length slacks.
5. Silk Wedding Pantsuits
Thanks to its soft white silk lining, an all silk pantsuit is a luxury investment item. Pair it with a doubled jacket with a boxy long-sleeve cut, giving a modern feel. You can also add some pearl buttons, flap pockets, and peak lapels to provide it with a more traditional sense. Your style will be complete with matching high-waist pants.
6. A short-wedding pantsuit
A short bridal suit is an adorable and playful alternative to long pants or a wedding dress when planning a spring or summer wedding. A low-cut blazer with padded shoulders, wide waistband, and adjustable sash makes this ensemble sassy. Loose-fitting and glistening, the gold lurex cotton blend has a delicate metallic shimmer.
7. J. Crew Designer Wedding Pantsuit
This designer lightweight off-white pantsuit looks sophisticated right away while still being quite comfy. It's constructed from J.Crew's eco-pro fabric, a recycled cotton weave that feels like silk but isn't as delicate (perfect if you're prone to snags or spills). The blazer has a longer shape, which gives it a more modern look when worn with wide-leg pants. It's available in three lengths and sizes 00–24, making it an excellent choice for petite or plus-size bridal pantsuits.
8. A Bridal Tuxedo
This two-piece wedding suit is designed to assist you in discovering the right fit by providing you with a choice of three lengths and the ability to switch sizes between the jacket and the pants. With jewelry and other accessories, depending on your personal choice, you may dress up or down the traditional all-white ensemble.
9. Formal Wedding Pantsuit from the Banana Republic
We're captivated by this shiny gloss. The Tencel and linen fabric's unusual blend was brought to us by the Banana Republic (an American fashion and clothing brand). It is an amazing dress choice for a black-tie wedding in the warmer months. You don't have to forgo a white dress for an autumn or winter wedding. Still, an off-white or beige alternative is also acceptable. If you're looking for an outfit that's both fashionable and versatile, this tan wedding suit is great.
10. Red Wedding Pantsuit by Gucci
Gucci (a world-famous fashion brand) designed a perfect pantsuit if you are deciding on a Christmas wedding. This eye-catching red velvet suit is an exceedingly stylish and unforgettable appearance for holiday-themed marriages. The stunning color and rich fabric will combine with sparkling lights, gold tones, and an evergreen or garland backdrop.
11. Velvet wedding pantsuit
This velvet jacquard pantsuit roars with effortless elegance. The outfit was designed by Veronica Beard (a luxury women's clothing brand). This outfit is great for winter weddings, whether formal dinner parties or black-tie celebrations.
12. Colored Wedding Pantsuits
A colorful pantsuit is an excellent option for women who want to show off their personality and flair on their big day. Because not everyone likes to wear white down the aisle, this superb choice will let you wear your chosen color instead. You should play to your strengths and choose a color that will genuinely emphasize your distinct attractiveness, such as forest green if it brings out the golden tones in your hair or aqua if it does so in your eyes.
Choosing a single hue for your attire is the most incredible way to ensure that everyone knows you're the bride. It's okay to experiment with color blocking occasionally, but don't do it for this event. Selecting only one stunning hue for your wedding attire will stand out as the bride-to-be. Dreamy blush pinks, eggshell blues, and magical forbidden forest greens are all the rage this season. If you like bolder hues, a sexy cherry red or a brilliant oceanic blue are excellent choices.
13. Sequin Wedding Pantsuits
Who says the wedding ring is the only thing that can sparkle on your big day! With a glittering, sequin pantsuit, you'll look and feel like royalty at any event. As a disco-loving bride, this is the wedding outfit you've been looking for all your adult life.
Wear an outfit that will have you grooving into the wee hours of the morning with your closest friends and family. Instead of blinding your guests, use sequins in deeper hues or traditional golds or silvers to stay on trend and enchant them. Pare down your accessories, hair, and make-up for the final touch, and allow your dress to do all the talking.
14. Palazzo Wedding Pantsuits
These wide-legged pants have a charming flair from the waist to the ankles to stand out. Summer weddings benefit significantly from the flouncing style since they will allow you to glide down the aisle without feeling constrained effortlessly. A well-tailored, structured jacket will accentuate your body because the pants are all about flair. Other than that, the options for colors and materials are virtually limitless. Generally, light, flowing fabrics like silk are simpler to wear.

Conclusion
Pantsuits, which are becoming an increasingly popular alternative for brides this year, can never go out of style. They are a classy ensemble for any wedding since they are easy to wear and don't need a lot of effort to put together. The most critical element to consider when purchasing a pantsuit is the fitting. Are you looking for a sleek, structured, and architectural figure? Do you want a looser and more comfortable fit? Once you have decided on the pantsuits that speak your style, things like adornments, materials, and colors come to play—thinking of a black-tie event? A black and blue suit with a crystal-lined jacket and a pearl-embellished slack is a perfect choice. Suits in pastels and light materials, linen and cotton, are ideal for a summer wedding.
BridalFusion.com brings you the latest trends in wedding pantsuits for the year 2022. Try them on and make the most of your special day.