Wedding Tips For Brides - Is Airbrush Makeup Worth It?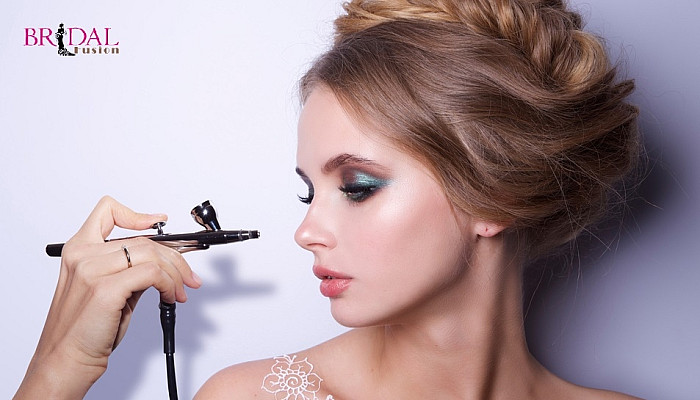 Whether you are opting for a dramatic and glamorous look for your wedding or opting for more natural and glowy hues in your makeup, you just want it to look fresh till the end of your reception, as it did when you put it on in the morning. While everyone loves putting on that perfect shade of their high-definition makeup foundation to conceal all of their imperfections for their special day, BridalFusion's expert wedding tips for brides suggest opting for airbrush makeup. Airbrush makeup guarantees you the perfect base, beautiful coverage, and long wear.
What is Airbrush Makeup?
Airbrush makeup is a professional technique and formula involving spraying some foundation directly onto one's skin with an airbrush gun. A specially-formulated airbrush makeup liquid is loaded into a small handheld device that sprays out like fine mist on a person's skin with the help of forced air.
As per wedding planning and makeup experts, airbrush makeup is the perfect choice for modern-day brides. It is lightweight, durable, and offers a long-lasting finish. BridalFusion experts are in complete awe of the technique since it offers coverage that will not budge, no matter what you do. The benefit of airbrush makeup is that not only is it long-lasting, but it also refines and smoothens your skin out. It is applied with precision and intricacy, as a buildable layer of extremely lightweight makeup, like foundation, contouring, blush, highlighting, and more.
Airbrush Makeup v/s Regular Makeup
Airbrush makeup is not just a technique of spraying on layers and layers of makeup on one's face with an airbrush gun. Rather, it is also a formula of makeup in itself. Airbrush makeup is extremely thin, which is how it is allowed to pass through the small nozzle on the airbrush gun, and spray like fine, misty particles on our faces. Although the formula of airbrush makeup is runny and thin, airbrush makeup is much more concentrated than regular makeup in terms of coverage and color.
Apart from the application process, the primary difference between airbrush makeup and regular makeup also comes down to longevity. Since airbrush makeup is not applied with the help of conventional makeup techniques, like a brush or a sponge, you are guaranteed the spread around your face evenly and stay put! The makeup will not smear or show any gaps that are usually caused by the bristle of brushes or absorption of a beauty blender.
How does airbrush makeup look on your face?
If done right, airbrush makeup is a game-changer in the industry! It is flawless, semi-matte makeup, which looks absolutely phenomenal. On different wedding forums, you might find a bride or two complaining about patches or flakes from the airbrush formula. So, our wedding tips for brides include selecting the right formula for your skin type, just as one would select the right shade for themselves. There are many bases for airbrush makeup - water-based, silicone-based, and oil-based.
So, if someone is on the dry skin side, silicon or oil formulas would look great on them. If your wedding makeup artist only has a water-based formula, just use a moisturizing beauty elixir spray all over your face before the makeup for that perfect boost of moisture.
Will it cost more?
The overall airbrush makeup services are more costly than regular makeup. The additional costs are, however, pretty understandable. It will take a lot of time for an artist to perfect the art of airbrush makeup, using the tools, and getting the techniques right.
Prices also vary from city to city, depending on the makeup artists you select for your wedding. The range can go up to $25 to $150 or more.
Pros and Cons of Airbrush Makeup
Since airbrush makeup is applied in a very thin layer, it will not sit on top of your skin like other regular foundations do. This is what sets airbrush makeup apart from other makeup techniques. Airbrush makeup is extremely lightweight, which is its signature. It has buildable coverage, which will last all night long, and if applied consistently, in even layers, this makeup will not budge! It will legit, not transfer. It will stay put, no matter what you do, and will continue to look great and natural on the skin.
Some brides have even stated that airbrush makeup feels like they are not wearing any makeup at all! Airbrush makeup is a great choice for brides who want a more natural, earthy bridal makeup look. It is also suitable for mature skin, so the mother of the bride, you have our approval!
In comparison to regular makeup, airbrush makeup tends to look less cakey.
For most brides, lightweight makeup is always a plus! However, for brides who love wearing heavy, full-coverage makeup on a daily basis and want that glam look for their special day, airbrush makeup might not provide enough coverage.
Our expert wedding tips for brides add that it is somewhat difficult to touch the airbrush makeup once it is done. The long-lasting formula of this makeup will set instantly. Another caution of this makeup technique is that it might look a little flaky or dry if your skin is extremely dry. This makeup has a tendency to attach itself to the dry spots on your skin. So, spritzing yourself with primer water and using a good moisturizer along with hyaluronic serums is your best bet in such cases!
Airbrush Makeup Tips
If you are going to hire an airbrush makeup artist for your special day, make sure that you are going to ask them the right questions first. Also, ask for their portfolio that showcases airbrush makeup done before. When looking at their portfolio, ensure you notice the precise finish. If it is something you think looks great, hire them.
However, for those DIY brides opting to do their own wedding makeup, do a few test runs before your big day. You should be used to the application process. You must also ensure that the airbrush formulation applied to your face, either yourself or your artist, is in the right shade. Also, don't forget to test its longevity.
In the opinion of professional wedding tips for brides, experts suggest upgrading to airbrush makeup if the pros for you outweigh the cons. Just because it looks amazing in the videos does not mean it will look the same on you. Ensure you are getting a professional trial first with your potential wedding makeup artist, who is perfectly trained in airbrush makeup application.
Final Words
Overall, if the airbrush makeup services are within your budget, it is totally worth getting it done for your wedding. But, of course, after you have received a trial for the same before. Getting a trial is a key factor here, as per expert wedding tips for brides.
The only risk you should be taking on your special day is with the dance floor, not your face!