Top Wedding Lanterns To Amp Up Your Wedding Décor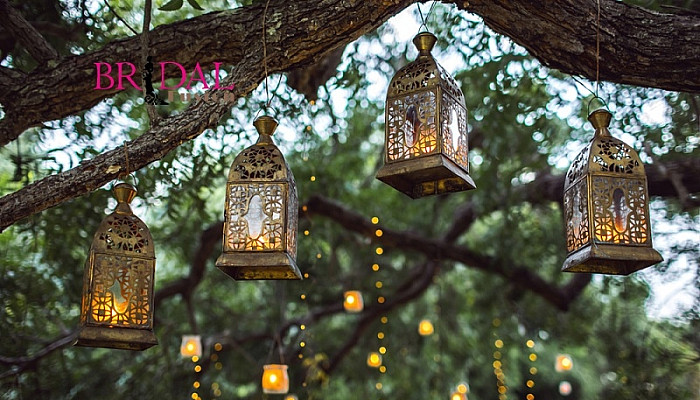 Lanterns come in various forms, sizes, textures, and colors, allowing you to select the ideal solution for your wedding theme. Wedding lanterns look great at any time of day or night for any wedding. They can be hung from trees, ceilings, or shepherd's hooks. They may be used on windowsills, steps, walls, entranceways, and centerpieces. They look beautiful when illuminated at night or when filled with flowers throughout the day.
Allow lanterns to speak for themselves or use them to give little flashes of color among the lush flora. Here are many ways you can use lanterns in your décor:
Lanterns as centerpieces
Consider integrating lantern centerpieces into your decor. Lanterns for a wedding may be a terrific alternative for table decoration, venue décor, or ceremony adornment. Great candle, lamp, and flower ideas can assist you in creating gorgeous and opulent compositions. Continue reading the below ideas for lanterns as centerpieces that you're likely to adore.
A monochromatic palette
You can keep your color pallet basic by going all-white. High-top cocktail tables can be covered with white lamps and little vases of blossoms for a bright and airy aesthetic. It is one of the most popular décor trends of the year.
A rustic appearance
Maintain a basic, natural look by infusing interest with a rustic gold lamp. We adore it when it's combined with tiny sprigs of foliage.
Conventional
If you are thinking of having a farm or barn wedding, there are so many textures to experiment with, from burlap to lace. Set the tone with a vintage-inspired lantern, various materials, and a splash of color from flowers.
Work with Wood
It's all about warm color palettes in the fall. Enhance your tables with a few simple wooden lanterns coupled with leaves and greenery.
Pine cone Lanterns
Do you believe you can't pull off a woodsy-meets-elegant look? Consider again. This combination pulls it off wonderfully with lots of pine boughs, baby's breath, and sleek black lanterns.
Romantic
There's no need to fill every lantern with a massive candle. This style perfectly captures a romantic feeling with a distinctive geometric design surrounded by rich flowers.
Experiment with lighting
While candles are a traditional lantern choice, you may experiment with other materials. Instead, display lanterns loaded with fairy lights to make your centerpieces even more lovely.
Commemorate the sea
Are you planning a nautical-themed reception? Choose sea-inspired lanterns with solid ropes, a light, and sand in the bottoms.
Go for tall candle-lit lanterns
Do you want to include a hint of a vintage atmosphere with lanterns without using too many? Instead of the traditional short and heavy contour, try something tall. These slim lanterns look great with tapered candles.
Disco style
Incorporating lanterns is a fantastic way to add a touch of gold. Line a table with gold lanterns, and then consider amplifying the enjoyment with sparkling silver disco balls.
Other unique and entertaining wedding lantern ideas
Lanterns for the floor
Giant wedding lanterns are terrific for wedding ceremony décor. They can be set near an arch or on a wedding aisle's floor. Such a unique decor piece will add romanticism to the time of exchanging wedding vows, making it even more memorable.
They can also be used to décor the aisle. Nothing compares to a bride's grand entrance. As you go down the aisle to say "I do," all eyes are on you. Candle-lit lanterns, flower-filled lanterns, and a bed of flower petals bordering the aisle will add a wonderful and dreamy touch to the most important day of your life.
Hanging wedding lanterns
Many wedding designers like to use hanging wedding decorations. It appears to be elegant and unique. Interesting flower arrangements, masses of foliage, and materials make excellent hanging décor compositions. Small hanging lanterns will not only contribute to the beauty of your wedding but will also provide extra illumination.
Moroccan-themed lanterns
Create an Arabic theme for your visitors by using these Moroccan-style lanterns. They'll draw attention whether you hang them from the ceiling or set them on a table. We adore the delicate filigreed design and the charming appeal of these Moroccan lanterns!
Lanterns made of paper
There's something nice about breezy outdoor weddings. They bring a required fresh atmosphere to your gatherings while also expanding the frontiers of decoration. Everything works nicely with an outdoor wedding, whether it's candles, fairy lights, or cascading flower decor. But we discovered popularly the whimsical paper lanterns that perfectly compliment outdoor weddings and add a lively atmosphere to your wedding extravaganza.
Perhaps it's the airy vibe of the dangling diamonds or the ability to bring a splash of color to otherwise beige weddings, but we like them. The lanterns may be used in various ways to boost your wedding décor game, whether the ceilings or the dining table design. These paper lanterns will provide a magical feel to your beautiful outdoor wedding ceremonies and serve the dual purpose of creative decor and dazzling illumination!
Lantern cake
A royal wedding necessitates a regal cake! Why not incorporate lanterns as well? These might be magnificent two and three-tier wedding cakes. You may match them or have them clash with your decor. In any case, it will be a delicious, great treat.
Romantic nooks with lanterns
You only need one antique lamp and flowers to create a cozy romantic zone among multiple illuminated mason jars. After all the commotion at your wedding, retire here for some alone time. You can set up a selfie station or keep it private for two people to take some sentimental candid images with your future husband.
Sky Lanterns
Sky lanterns are easy, joyful, and lovely but may also be hazardous. After multiple fires were blamed on the floating lights, authorities in several nations prohibited their usage. Nonetheless, lanterns are becoming a popular tradition for many worldwide occasions, including weddings, birthdays, music performances, national holidays, etc.
Lanterns are often composed of paper and supported by a wire or bamboo frame, with a holding for the heat source at the bottom. However, we have no control over the flight path and destination of balloons and sky lanterns, so they might wind up anywhere - on land, in a river, on the beach, or straight into the ocean. And it is only the beginning of the issues.
Concerns Regarding Sky Lanterns and Weather Conditions
Wind rates of less than 5 miles per hour are ideal for launching your sky lanterns. It is recommended that they be released on a clear, quiet night. When wind speeds exceed five mph, do not launch sky lanterns because the sky lantern may fly off course into an unforeseen place.
When it is pouring, do not use sky lanterns. The rain will make the sky lantern exceedingly heavy, impeding its flight path. Heavy rain will ultimately rip through the biodegradable material, forcing the skylight to extinguish and crash to the ground
The following are some FAQs on sky lanterns
Is permission required to launch a sky lantern?
This is one of the most often asked topics concerning sky lanterns, and with good reason. Typically, you do not need permission or specific permissions to launch novelties as long as state or municipal regulations do not forbid their usage. It has always been the case with sky lanterns. However, if you reside on or near the shore, you should contact the coast guard to notify them of your launch. You should also avoid using them near major thoroughfares. Finally, do not use them in areas where they may be misunderstood as any form of distress signal.
Please remember that using sky lanterns in your location is subject to state and municipal regulations. Users are responsible for ensuring that they comply with all local laws and ordinances.
What is the best place to launch Sky Lanterns?
To ensure their safety, they should always be released outside in a vast open place free of overhead objects. Power lines, trees, buildings, and other structures are examples of these impediments. Launching on a clear night is best to enhance visibility and overall fun. Keep them away from other flammable items and liquids at all times.
What should I write on my Sky Lanterns?
Before installation, adorn your sky lantern with a felt-tip marker or pen on a hard, flat surface for the best effects. When writing or embellishing, use as little pressure as possible to avoid damaging or tearing the paper.
How high do they go, and how long do they stay there?
This is another of the most often asked questions concerning sky lanterns. Each sky lantern's fuel source will burn for around eight to ten minutes. Sky lanterns may easily reach over 1000 feet when utilized under optimum weather conditions. It is usually between 700 and 1600 feet. They often travel between two and five kilometers from the initial launch point before exploding. After that, they drift back to Earth and biodegrade. It is crucial to remember that the trajectory of sky lanterns is affected by weather, location, and environmental elements so that each flight will be unique.
What happens When the fuel Is depleted?
There is no flame or fuel material to burn once the fuel cell has expired. As a result, it will finally extinguish and drift back to Earth to biodegrade. The lantern and fuel cell must not be changed or altered for this technique to operate correctly.
You most likely have many questions regarding sky lanterns. One of them, however, should never be about how environmentally green they are! Our sky lanterns are constructed entirely of biodegradable rice paper with a bamboo frame. It enables our sky lanterns to degrade as rapidly and securely as possible while having little influence on the surrounding environment.
Conclusion
For some years, wedding lanterns have been the most popular decorating feature. They may be used to embellish a ceremony, steps, a wedding aisle, table décor, and various other creative applications. Because of their versatility, they complement a wide range of wedding themes. They are all lovely, classic, modern, vast, and petite, with or without candles. Every year, decorators employ the shine of lanterns to create that unique mood that is crucial on a wedding day! We hope BridalFusion.com has given you some inspiration for choosing the right type of wedding lantern for your wedding décor. Continue reading our blog for more inspiration on weddings, wedding attire, wedding planning, and more.