Eco-Friendly Wedding Reception Ideas To Pick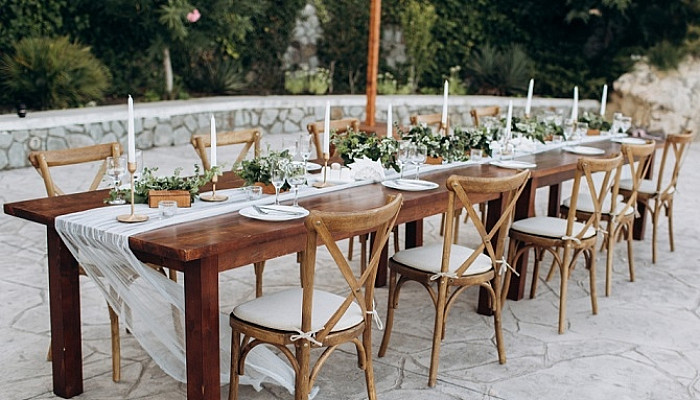 Wedding reception ornamentation is essentially indispensable for bringing your wedding theme to the high spirit and keeping your guest enthusiastic & entertained. The answer to an eco-friendly wedding that's still rage-alert is to remove the complexities. Reusing materials doesn't just save money, it saves resources. You will need to be smart to save the planet by avoiding the plastic use and choose eco-friendly options. Small changes make a major impact. Here are some ideas that will help you go green on your wedding day.
HIRE RECEPTION DÉCOR INGREDIENTS
Wedding reception décor item can be borrowed, taken on rent instead of buying new. Avoid using helium balloons and choose to hire lanterns. Lanterns will look exquisitely beautiful in the reception décor ornamentation. Ask the decorators to use bio-degradable balloons if you have your heart set on using them. You can also hire tablecloths and display stands. The purpose is to reduce the use of one-use plastic items.
ADOPT & MAKE USE OF NEW TECHNOLOGY
Printing out table plan and placing the paper name tags in the reception is boring and old. Project them on the wall and ask the staff to use electronic pads to direct the guest to their seats. Hire a projector to use it as a centerpiece to montage family photos. Your guest will be speechless with the impactful projector centerpiece idea. Send e-invitations to the wedding guest and save the paper.
MAKE USE OF CANDLES & LANTERNS
To give a romantic vibe and to save electricity light up the reception venue with candles and oil-lanterns. Candle centerpiece looks majestically beautiful and adds volume to the reception decoration. You can use these candles as favors to give the guest for all their love and time. It will reduce the cost of decoration as well as of favors. Your guest will surely love the idea of takeaways.
TAKE HELP FROM FRIENDS & NEIGHBOURS
Ask your friends and neighbors to lend you any decoration they have. Most of the people have something you can utilize. We guarantee, your bride brigade will have old glitter stuff or something similar in storage you can reuse and utilize. It will help in the reduction of buying of new non-degradable décor stuff and will save huge on the money. Request your guest to come ahead of time and organize some games and activity for adults or bring along their board game with them for kids.
RE-USE CEREMONY FLOWERS
Reusing flowers from your ceremony is a great way to aid mother nature and cut the cost. Use bridesmaid bouquets as centerpieces with some candles around to give depth to the table top. Ask your decorator to use wooden boxes and succulents arrangement as aisle marker, which later you can give them as favors. The ceremony backdrop can become a dessert display backdrop. Send your guests home with a unique wedding favor by turning your ceremony flower arrangements into individually wrapped beautiful bouquets Make use of ceremony chair flowers as reception chair flowers. You can press the individual petals inside of a book and place them in a wooden frame, stick them to your wedding album, or glue them to the back of a phone case and coat with resin to create a one-of-a-kind accessory.
GIVE ECO-FRIENDLY FAVORS
Eco-favors are all in trend especially those who are planning to have a sustainable event. Reduce the carbon footprint by adding to nature instead of taking from it. One great idea is to give the potted plant to the guest. The guest will recall your wedding day every time they will water the plant. Choose a seasonal local flower that has a special meaning, or in a shade that you adore, and gift them to your guests to prettify their green space. Gift your guest's tree saplings that need repotting when they're large. Give your friends and family plantable paper that will grow into herbs. Some other eco-friendly favors are- homemade preserves, bird food, the recipe of your secret herb and spice mixture, organic tea bags, organic coffee, eco-friendly tote bags, bath soaps, essential oils and many more. Your guest will be awe-struck by the selection of your eco-favor ideas.
Go green! Hope our efforts will help you to organize an eco-friendly event.