Top 12 Destinations For A Perfect Beach Wedding In The US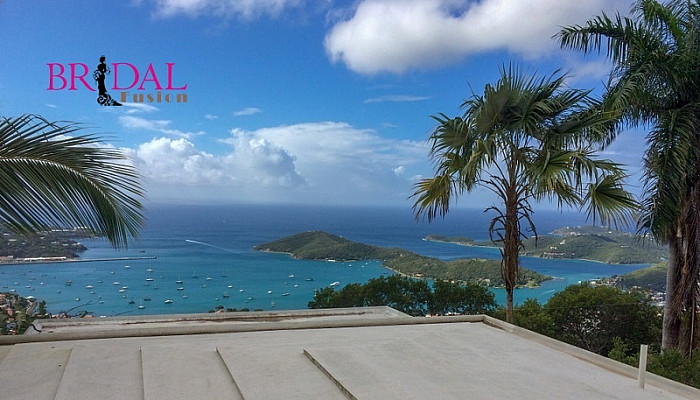 Beach weddings are appealing for various reasons, one of which is the opportunity to be out in the open in a beautiful beachside location. At the same time, the wind and waves scream their praises over your union. A beach wedding is not your conventional wedding, usually held in a church or similar expensive indoor venue. While other outdoor weddings, such as garden weddings, are also lovely, there is no denying that beach weddings are a cut above the rest. A beach wedding does not entail the use of ornate décor. The stunning scenery allows nature's beauty to do the work for free! You can create the ideal romantic ambiance on the beach with the quiet air and the sound of the waves.
Here are twelve of the best beach wedding destinations to say "I DO" and savor this once-in-a-lifetime experience!
1 Pink sand beach in the Bahamas
This resort is unquestionably at the top of the list due to its stunning environment and terrain and its famous pink sand beach. A wedding on a pink sand beach is one of the most romantic ideas you can come up with. Sink your toes into powdery pink beaches at the edge of a crystal clear, blue sea on Harbour Island in the Bahamas while exchanging your wedding vows. This three-mile stretch of sand contains several gorgeous honeymoon homes on the adjacent Harbour Island, making it an excellent location for couples and its world-class reputation as one of the most incredible pink beaches.
2 Makena Cove Beach in Hawaii
Makena Cove's beautiful sand, turquoise oceans, swinging palms, and stunning sunsets have put it on the list of one of the most beautiful places in the world. It's one of the most fabulous venues for a fantasy wedding because it's in Maui, a place that does not experience much rain compared to the other islands and has fewer guests on the beach. Due to space constraints, the small, walled-in cove offers a dramatic combination of sand, waves, and rocks that make for some beautiful wedding images.
3 Baker's Cay Resort in Florida
This resort is set on a 15-acre natural preserve in the far north-western part of the Florida Keys. With a magnificent blue of the Florida Bay as your backdrop, exchange vows directly under the waterfront pergola or the "Love Tree" arch on Hammock Beach. Your reception can be held on the beach or in one of the resort's magnificent ballrooms. And the best part? All of your visitors may stay in one of the beach resort's 200 rooms, which all have open-air balconies. It is a great location for your big day, either a private wedding or if you are planning a grand celebration with an elaborated guest list.
4. Water's Edge Resort in Connecticut
Look no further if you're looking for a classic east coast beach wedding site. This beach resort is positioned on the Connecticut waterfront, with stunning views of Long Island Sound as the background for your wedding ceremony and celebration. There are no poor options for this beach wedding location, whether you say "I do" on the spacious coastal lawn or in one of the vast ballrooms with sweeping ocean views.
Take advantage of the in-house wedding planner who will arrange your big day and the onsite wedding caterer who will feed you and your guests a great dinner to make your wedding day a breeze. Make it an entire wedding weekend by inviting your guests to stay in one of the resort's 150 hotel rooms, suites, or villas.
5. Alila Marea Beach Resort in California
Breath-taking ocean vistas and luxury merge at this affluent beach resort on California's southern coast. This gorgeous seaside resort lets you say "I do" in a 300-person ballroom with stunning chandeliers while feeling the ocean air in your face when sliding walls open up onto an outdoor patio, ideal for an indoor-outdoor cocktail hour.
We've got you covered if you're stuck between something opulent and a seaside setting for your wedding. When you stay at the Alila Mare Beach Resort, which is right on the beach, you get the best of both worlds. Seaside views and sea air come with the sparkle and glamor of royal event space.
6 Monterey Beach House, California
Soak in the rays as you exchange vows against the backdrop of the Monterey Peninsula. While the sun sets, enjoy beverages and canapés on the beachfront patio and capture great photographs of the sandy beach.
Inside, enjoy a reception with views of the Santa Lucia Mountains and the Pacific Ocean. Not only do you receive a beautiful event room with breath-taking views, but the wedding packages also include full-service cuisine and bar service. Your wedding weekend is complete with event organizing and, if desired, premium decor rental choices. Prepare to say "I do" at your dream seaside wedding destination, the Monterey Beach House.
7 California's Lover's Point Beach
Lover's Point Beach is a lovely Central California coast resort that provides a magnificent shoreline and the option to marry with the sounds of pounding waves at your back and the fun barking of sea lions in the distance. It is routinely selected as the most romantic wedding destination on the Monterey Peninsula. Pacific Grove was previously named "the most romantic city in the United States" by Life Magazine. This seaside wedding venue suits everything from a tiny elopement to a grand extravaganza. With a comprehensive view of the beautiful Pacific as a background, it's not surprising that it's one of the most famous locations to tie the knot.
8 United States Virgin Islands
Trunk Bay Beach, a new crescent of fine, white powdery sands with a backdrop of swaying palms and shaded sea-grape trees, is one of the most photographed beaches in the US Virgin Islands. The sea boasts incredible clarity and is home to an underwater national park with vibrantly colored coral and tropical species. This beach is incredibly stunning at sunset, glistening with a beautiful golden hue.
9 Cannon Beach, Oregon
The northern Oregon coast has the most extended uninterrupted sections of beach along the state's rough and wild coastline. In the picturesque town of the same name, Cannon Beach is one of the greatest sites to exchange vows by the ocean, with the sound of the surf as your wedding music. Even at sunset, this is a place that can't be beaten. It has stunning views of the ocean and coastal mountains and the famous Haystack Rock in the background.
10 The Tennis and Surf Club in Bridgehampton, New York
Long Island's nearly 1,200 feet of the oceanfront property offers solitude and serenity. Tie the knot while listening to the waves and feeling the ocean wind blow across your hair. Following your vows on the sand, head to the one-of-a-kind wrap-around terrace with magnificent coastal views for cocktails and canapés.
Move inside the reception location for supper and dancing, but don't worry about losing the view. The floor-to-ceiling windows allow visitors to take in the grandeur of the Long Island Sound without getting too cold—and there's a 2,000-square-foot dance floor to keep your guests rocking all night. Remember that the Bridgehampton Tennis & Surf Club is only open from May to October.
11 North Carolina's Jennette's Pier
Tie the knot on an Outer Banks pier overlooking the beautiful Atlantic Ocean. This spectacular view of Nags Head beach is the ideal setting for your wedding ceremony. The covered balcony connected to Oceanview Hall provides panoramic views of the sandy beaches and is a lovely setting for cocktail hour. The private reception room with cathedral ceilings, hardwood flooring, and a fireplace is a great event location for your wedding reception. It is completely furnished with tables and chairs and a full-service catering kitchen. Jennette's Pier is a one-of-a-kind seaside wedding location that will leave you with lasting memories.
12 Grand Cayman's Seven Mile Beach
Seven Mile Beach is located in Grand Cayman. This long stretch of champagne-colored sand is flanked by palms and casuarina trees and a variety of lodgings overlooking the stunning blue sea. It was named one of the "Ultimate Beaches" by Caribbean Travel + Life and the No. 1 beach by U.S. News Travel, and it has a sophisticated vibe and a lot of fun things to do, like parasailing, windsurfing, and even snorkeling with friendly southern stingrays at Stingray City, where you can meet them.
Conclusion
We indeed visualize our wedding day many times before it happens. Are you picturing a blue sky, a salty wind, and sand between your toes? These are the locations waiting to be explored by you. "Water provides the most stunning background," says Claire Durán, a renowned destination wedding planner. If you don't want to spend a lot of money on decorations, simply put the sea behind you, and you're done.
Beach weddings also bring together a lot of fun-packed activities for the couple and their guests. You can go water biking, swimming, or surfing; select one of the destinations and make your beach wedding dream come true!