The Top 10 Trending Wedding Menu Cards Of 2022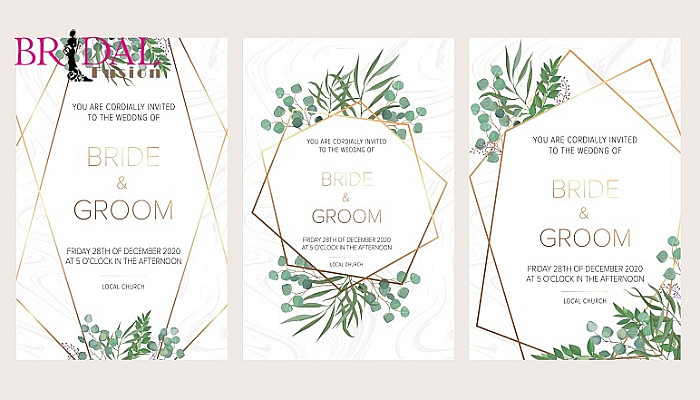 The wedding business had a tough time in 2020 and 2021. The wedding arrangements shifted from the traditional to the customized planning with ever-changing Covid guidelines, and wedding meals were no exception. Many couples excited to ditch the conventional seated meal in favor of novel buffet-style food bars had to change their dining customs and guest counts. In 2022, we'll still need to make some adjustments; this is where the experts have taken the liberty of creativity, and voila! The results are humongous. Scroll down to explore the wedding menu cards trending this year.
1. Formal Dinners
First and foremost, a formal seated dinner will be evergreen. This vintage pattern began to resurface in 2021 and is undoubtedly continuing. "Family style was once a significant trend, but it's becoming less popular due to COVID-19 and the implications that everyone needs to share bowls," explains Andrea Correale, founder, and president of Elegant Affairs. "People prefer seated meals over cocktail gatherings to avoid excessive mixing and mingling." We'll still see more sophisticated seated and served dinners rather than passing food bowls or walking through the buffet line.
It curtails an entire course (a four-course or seven-course meal) meal from appetizers and salads to the main course, followed by a dessert depending on the choice of the hosts. It is one of the most elaborated forms of a wedding menu card.
2. Nostalgic Delights
With so much ongoing change, we're all grasping for a sliver of the past. That nostalgic desire is making its way into the food industry as well. "In 2022, uncomplicated, nutritious cuisine that invokes childhood memories is a welcome trend," says Constellation Culinary Group Chef Aaron Janus. We predict a general shift toward good comfort meals rather than vague notions and obvious fusions for which people may not have a natural need. Is anyone up for some fried chicken and mac & cheese?
3. Food Service Stations
People often look back at their family's history and remember their favorite childhood dishes. Experts say that home-cooked desserts and home-cooked delicacies will make a statement this year. Couples will wave goodbye to extravagant dining experiences in favor of reconnecting with their origins as chefs spotlight family recipes passed down from generations before them.
4. Enjoying local cuisine
This has been a focus for years, as couples prepare delicious meals using local ingredients. However, the emphasis will be significantly greater in 2022. "Going local will be emphasized even more, with couples focusing on the freshest local produce, even down to cider and wines offered during happy hour and seasonal berry pies and local-made ice cream for dessert," said Aleah and Nick Valley, proprietors of Valley & Company Events, USA.
According to Christopher Albrecht, head chef at The Ryland Inn, procuring from an on-site garden or collaborating with local producers is more vital than ever. "Supply chain interruptions and production bottlenecks have delivered everyone a reality check and been a significant time drain in 2021," he adds. "Consequently, strategic collaborations with producers in the commodities market ensure that we have access to the finest quality products with the least amount of disturbance. Ingredients for recipes will taste better if they are seasonal, not just with fruit but also with fish and meat."

5 Vegan Wedding Menu Card
Vegan diets are becoming increasingly popular, and there is a high chance that a large percentage of your guests may follow the same. "More vegan meals will be a huge trend in the approaching season." "People are beginning to eat for the environment," adds Correale. But that doesn't simply apply to tofu and steamed vegetables. According to Correale, burgers are being substituted by Impossible or Beyond meats and other vegan or vegetarian alternatives that everyone on the guest list will enjoy.
6. Exciting Mocktails
While a beautiful trademark cocktail from the bar is timeless, couples search for healthier choices for all their visitors. According to Correale, providing mocktails created with natural, fresh juices, herbs, and flowers is a growing trend. It keeps the guests hydrated and is a beautiful and indispensable option for an open venue or a summer wedding.
7. Storytelling Menus
While many couples serve crowd-pleasing meals or even their favorite cuisine, one significant 2022 trend will be presenting a meal that tells a story. "We view 2022 as the year of ultimate culinary themes," said Aleah and Nick Valley (founder of Valley & Company Events, Seattle), "with couples leaning strongly into an overall atmosphere for their welcome parties, rehearsal dinners, wedding receptions, and post-wedding eventsall inspired by a variety of cuisines." It entails a favorite dish, restaurant, or drink which sets the theme of the entire wedding. The Kentucky Derby or Mardi Gras may influence wedding menu cards or an event where a couple had their first date.
8. Individual Dishes
This trend first appeared on the wedding food scene around the start of the epidemic, and it's still going strong. Large, intricate charcuterie platters or other starter buffets aren't making the same impact they used to. Couples are instead becoming inventive with unique possibilities. Wedding experts recommend individual snack plates for each guest or a grazing platter for each table as one option.
9. Prolonged Family Dinners
These days, the betrothed couple likes to spend more time at the dinner table with their guests. There are a lot of four to six-course tasting and progressive menu cards so that people can spend more time with each other and get to know the new couple. Additionally, everyone wants to remain seated at the table for as long as possible while enjoying exceptional cuisine and a conversation with their loved ones.
10. Wedding Bar Menu Cards
Keep the spirits of your wedding guests high by providing signature drink choices with delicious cocktail snacks. It is good to have the bar menu open throughout the night at their tables for a prolonged happy hour.
Conclusion
The wedding guests indeed look most forward to your event for the variety of cuisine served during the event. Planning your wedding menu card allows you to taste all the dishes months before the big day. BridalFusion.com offers you delectable and unusual selections for your guests' plates. The right choice of menu will keep you and your guests delighted throughout the event and make your wedding a memorable one.