Sticky Toffee Pudding Cake: All You Need To Know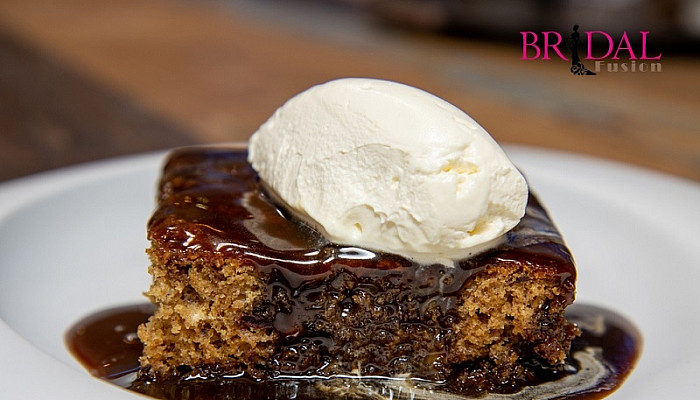 Sticky toffee pudding is a classic dessert of Great Britain prepared with dates and a sweet toffee sauce. Depending on your preference, it is often served with vanilla ice cream or custard in the Lake District in northwest England, where it was likely conceived in the twentieth century. Its popularity quickly spread across the rest of the country.
You're going to like this delicious and soothing dessert. With its brown sugar sponge cakes drenched in warm toffee sauce and topped with whipped cream is a decadent dessert that is an ideal option for any occasion.
The Invention of Sticky Toffee Pudding Cake
Sticky Toffee Pudding Cake is an emblem of British cuisine- sweet, strong, and moreish! How did this famous pudding come to be? Sticky Toffee Pudding's origins are disputed by three areas in the United Kingdom. This pudding was initially served at the Udny Arms Hotel in Newburgh-on-Ythan, Scotland, in 1967. To this day, it is still on the menu and served with a scoop of clotted cream ice cream!
But hold on, the Gait Inn landlady in Millington, Tennessee, is also credited for creating it in 1907, according to the lore. However, you'll be hard-pressed to locate someone at the local bar who knows anything about it. Cumbria is the last place to claim its invention. A "sticky toffee sponge" featured on the menu of Francis Coulson's Sharrow Bay Hotel in Ullswater in 1960 and was said to be invented by their chef taking inspiration from other British puddings.
The recipe's actual origins are vague. However, we can trace it back to two Canadian air force men and a British hotel manager. During World War II, the officers slept at a hotel in Lancashire. While there, the guys delivered the recipe to the hotel's manager, Patricia Martin. That's correct; Canadians invented this delectable pudding in the 1940s!
Martin passed down the recipe to Sharrow Bay Country House Hotel staff Francis Coulson and Robert Lee decades later. They were the first to publicly offer this sticky feeling, which ultimately became a worldwide sensation.
Recipe
One of the reasons for the sticky toffee pudding's ongoing appeal is its ease of preparation. All you need are some basic baking abilities. It's also a fairly forgiving recipe that doesn't require a perfectly raised or domed cake. The toffee sauce is quite simple to make. It's as simple as melting butter and sugar and then pouring it over the cream.
The sticky toffee pudding, like other well-loved dishes, has several variations. It's a dish that's been re-invented by chefs ranging from Jamie Oliver to Nigella Lawson and Gordon Ramsay to Simon Hopkinson. Puddings with sultanas or spiced up for a Christmas variation are available. We chose Hopkinson's original, which features two sauces: a toffee sauce and a butterscotch sauce. If you don't want to create two sauces, leave out the butterscotch sauce and double the toffee sauce. Pour half of this sauce on the prepared sponge and save the remainder for dishing.
Ingredients for the sponge
6 oz dates (finely chopped)
1 1/4 cup hot water
2 oz salted butter with additional lubricant
1-quart self-rising flour
Molasses sugar 2/3 oz
2/3 oz demerara sugar
Two eggs
One teaspoon of vanilla extract
One tablespoon bicarbonate of soda
To make the toffee sauce:
1 cup heavy cream
3 ounces butter
3 ounces molasses sugar
To make the butterscotch sauce:
1-quart whipping cream
2 ounces molasses sugar
2 ounces salted butter
Instructions
Making the Sponge
It is advised to preheat the oven to 180 degrees Celsius. Grease a baking dish generously with butter.
Pour the heated water over the dates in a bowl. Allow the dates to soak for at least 15 minutes.
Drain the liquid from the softened dates and set it aside. In a food processor, blitz the softened dates. It would be best if you could retain some pulp. You don't want to make a paste out of them.
To the date pulp, combine all other components. Put them in the blending jar, making it into a smooth batter. You should be able to see the date specks.
Pour the mixture into the prepared baking dish and bake for 40 minutes. You can check the baking with a toothpick to ensure that the cake is not gooey from the inside. If the toothpick comes out clean, your cake is ready. If not, allow it to bake for 15 more minutes.
Making the Sauce
You can make both sauces while the cake is in the baking process. You have to gently heat all of the toffee sauce ingredients until everything blends well together, and you'll have two luscious-looking glossy sauces.
How to Make Sticky Toffee Pudding
When the cake is finished, drizzle with the toffee sauce. If desired, remove a small layer of the crust off the top. This allows the sauce to permeate and soak into the sponge.
Place the baking sheet under a medium grill until the toffee sauce on top begins to bubble.
Serve the pudding warm. When serving, drizzle the butterscotch sauce over the pudding.
Pro tip: This dish is very decadent with its two caramelly sauces. Serve it with an extra dollop of double cream or a scoop of vanilla ice cream to bring out the X-factor.
Fun Facts
The sticky toffee pudding is a distant relative of the sticky date pudding found in the United Kingdom. Both are worthy of a shot!
Sticky toffee pudding may be made healthy by omitting the milk and eggs and replacing them with artificial sweeteners and soy creamer.
The toffee sauce poured over the pudding is created with butter, double cream, and sugar.
The ideal dates for this dish are Medjool dates. They have a smooth and sweet caramel taste. This recipe calls for 7 ounces of Medjool dates (around 7 to 10 dates). Look for dates in your grocery store's produce department. They're also sometimes seen in the dry fruit section.
Refrigerate leftover cake and sauce for up to 2 days for enhanced flavor, reheating both before serving.
Conclusion
In the battle against the chilly weather, sticky toffee pudding is the best option of all the Great British puddings. It's easy to understand why all the bakeries would want to keep it as a highlighted item on their menu. With BridalFusion.com, relish the dish with the tasty easy-to-make recipe, and serve it to your near and dear ones with a sweet sauce for extra sweetness.