Latest Trends In Wedding Dress Hangers For Brides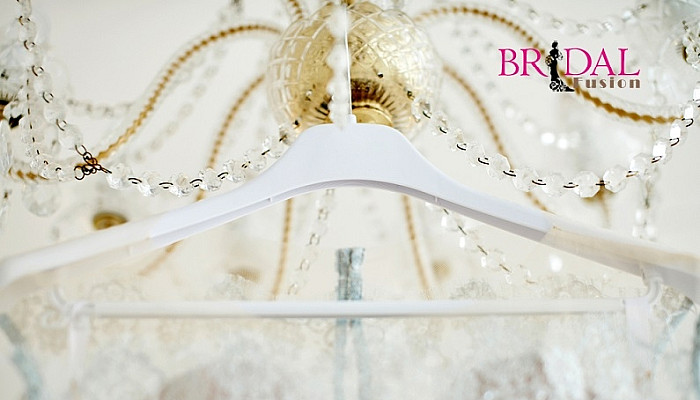 The demand for special hangers to store wedding gowns has skyrocketed recently. Your photographer may want to shoot some shots of your outfit hanging up as you get ready. Hence, a nice souvenir hanger is a perfect accessory to have on hand. You can either inscribe or put your name, wedding date, and the title "bride" or "groom" on the hanger.
Hangers for the big day can also serve as thoughtful gifts for the bridesmaids, flower girls, and groomsmen (or even the bride herself, if you're throwing a bridal shower). You could make your own wedding dress hanger, but these will save you time and look great in your pictures. These are the best hangers that we've found for bridal gowns.
1. Macrame wedding dress hangers
Macrame hangers are a wonderful keepsake for someone looking for an artistic way to hang your clothes. It is one of a kind hanger, thanks to the smooth and uncomplicated material; it will also keep your dress in place without snagging or pulling.
A similar ribbon is wrapped around the notched metal hanger that holds recycled cotton strings to complete the look. Macrame in three different colors and a mix of natural and gold lurex hang from a bar of yellow gold or rose gold wire.
2. Whimsical wire wedding dress hanger
Nobody will be able to forget whose hanger it is, thanks to the wire initials spelling out their name. These robust and notched wood hangers are available in white, dark walnut brown, natural brown, and black and are appropriate for every kind of wedding, from the most casual to the most formal.
You may make an entirely unique hanger with the option to make the wire bar in gold, rose gold, black, or silver. Put your name and "Bride" (or whatever you like) at the top of the wire.
3. Vintage-classic wedding dress hangers
The bride who appreciates delicate flower details and clean, contemporary design would adore this one-of-a-kind hanger. Baltic birch plywood with a matte white finish is used to make these hangers. Adding artificial flowers and foliage to each hanger is another way to personalize them to your decor.
Notches in the hanger prevent the dress from falling off. Select up to 10 characters to create a one-of-a-kind present for the bride or bridal party.
4. Stuffed Bunny Hanger with a crest or initials
A classic hanger embroidered with the bride's monogram is an heirloom that will be appreciated long after the wedding. This beautiful dress hanger is padded for comfort and protection and covered in crisp white linen.
Attached to the hanger is a broad silk ribbon in four colors (pink, blue, ivory, or white) that can be personalized with your initials and wedding date.
5. Flower-adorned rustic cheek hanging
This hanger, crafted from reclaimed wood and wire, is ideal for the rustic spring bride. Every part, from the hook to the wire to the flower, may be painted to match your decor. The hanger is made of solid wood and has a notched design that comes in various colors.
Your chosen name will be fashioned from the wire into a unique souvenir. A wide variety of artificial flowers is available, so you may select the one that best captures your springtime spirit.
6. Groomsmen's wedding dress hangers
If you've already located the perfect hanger but want one for your groom and his groomsmen, these classic wood hangers have you covered. Each hanger can be customized with a name and title or name and date engraved on the center of the hanger, with a choice of two different fonts and design embellishments.
These personalized hangers are also a terrific option for the bridal party due to their robust construction, classic appeal, and personalization.
7. Minimalist wedding dress hanger
The simplest solution is often the one that works best. Clear acrylic hangers are an option for the bride who values simplicity and does not want anything to detract from her dress in photographs. Personalize your hanger by selecting from the available options (such as bride and maid of honor) or by choosing a name to be laser etched from handwritten lowercase modern calligraphy. Both gold and silver hook are included in each hanger. These hangers are notched to keep clothes from falling off and have a smooth surface to protect delicate fabrics.
8. A personalized wedding hanger with the time and place
You may personalize this traditional hanger by engraving it with your name, position, and date. In addition to being beautifully crafted, it comes in various distinctive fonts that will make your pictures pop.
9. Hanging David's wedding dress on a hanger made of white wood
The word "bride" is cut out in bold at the bottom of this traditional white wedding hanger. This alternative is perfect for the bride and groom who prefer a more minimalist, contemporary look on their wedding day.
10. Griffin Nest Co. velvet hanger
Velvet's plush, pliant texture is ideal for supporting your best formalwear on the big day. Your something blue may be one of the many colors available in this velvet hanger.
Things to Search for When Purchasing a Hanger for a Wedding Gown
A bridal hanger is a lovely accessory to your getting-ready photographs and a practical method to hang your wedding gown. Well selecting a wedding dress hanger, it's essential to find one that fits in with your personal style and that goes well with the overall look of the event.
Simple raw wood hangers with painted floral accents are a classic, charming option for rustic wedding brides. Perhaps you're more of a conventional bride? Choose plush hangers upholstered in silky satin, textured toile, or luxurious velvet. Or, if you'd prefer something more unique, you can get hangers engraved with your new initials or surname.
It's also clever to remember that the form and function of your bridal hangers should be equally prioritized, so pick a design that can hold your dress without bending or breaking.
FAQs
Which wedding dress hanger is ideal?
Gifting the bride or bridal party with customized wedding dress hangers is a thoughtful way to commemorate the special occasion. Keep your wedding's overall style in mind. At the same time, you browse for hangers so you can discover the appropriate accessory for your dress. Simplicity in a lovely satin fabric is the way to go for a beach or garden wedding.
Making preparations for a black-tie event? The most luxurious and timeless choices are custom-made items in velvet or ivory. The usefulness and quality of a hanger are additional factors to think about. Try to choose alternatives that are strong enough to hold your dress.
Can I get my wedding dress hanger engraved?
Absolutely! The above-mentioned Bridal Party Hangers Custom Name Hanger is just one example of the many products available from retailers and Etsy sellers that may be personalized to showcase your new initials or nickname. As an additional token of your appreciation for your wedding party, you may like to have their hangers engraved.
How should bulky wedding gowns be hung?
A reliable hanger is a must if you don't want your dress to end on the floor. Heavy wedding dresses benefit from thick wooden hangers, padded hangers, and fashions with fabrics that have some traction, like velvet.
Should I provide hangers for my wedding party?
Even though they aren't required, hangers for the bridesmaids' gowns and other attire are a terrific way to show them off before the big day. They will look beautiful displayed in the bridal suite for all the images taken while the bride and her attendants are getting ready for the big day.
Conclusion
While checking things off your wedding preparing to-do list, restocking the bridal suite with essentials may not be a high priority. But you shouldn't skip it because it can help establish the mood for your big day. A wedding dress hanger is an item that should not be forgotten when preparing for the big day.
The morning of champagne, cosmetics, and celebration with the bridal party is elevated by adding a beautiful hanger worthy of your dress (and all those getting ready shots). The team here at BridalFusion.com hopes you found our guide to finding the ideal wedding hanger useful. If you want more fashion guidance, keep reading our site.