The Wedding Accessories To Buy Based On Your Zodiac Sign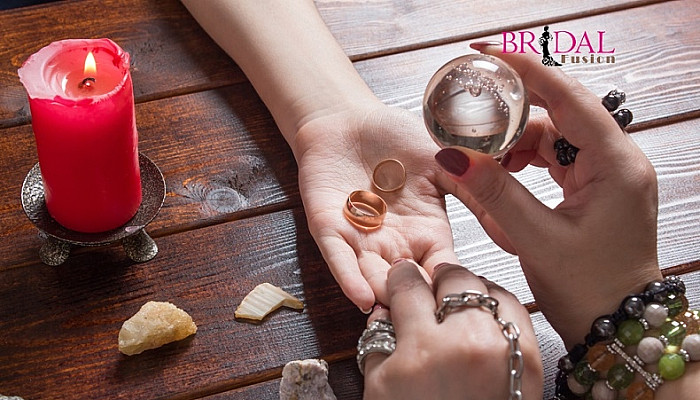 Every aspect of the wedding must be carefully deliberated about. The tiniest detail can make a huge difference on your special day. Whether you're the kind to plan ahead or prefer to roll with the punches, there is a lot to think about while making decisions about the finer points. Your zodiac sign can give insight into your natural sense of style and what might be most appealing to you.
Not only that, but your zodiac also influences how your ideal partner will see you and how they may react to certain aspects of your personality. If you're still trying to figure out precisely what kind of partner is right for you, don't worry! There are plenty of things about astrology that aren't quite set in stone yet. And even if it doesn't directly determine who is romantically suitable for you, it can still give insight into which wedding accessories would suit you best during this exciting time. Let's dive deeper into each sign and its corresponding accessories!
Aries: Accessories for confidence
First up, we have the Aries sign. Confidence is vital for the Aries person. The best part about this is that confidence can be expressed in many different ways. As far as accessories go, Aries can make almost any jewelry look great. A simple pendant necklace with a gemstone representing your sign is a great place to start. A ring with a big gemstone or a bold band will also help to boost your confidence. A bold bracelet or anklet is an accessory that Aries can wear with pride.
Another option for you is a bold statement piece that will draw attention to your outfit. You can even choose a bold color for your flowers for an added boost. Aries loves attention and confidence, so you can't go wrong with bold choices.
Taurus: Accessories for comfort
Comfort is key for this sign, and one of the most important things to think about for a Taurus bride or groom to be are their wedding shoes. Taurus women are the ones who really cherish their shoes.
If you're planning on wearing heels, choose a sturdy, comfortable pair that fits your personality. They need not be extravagant, but they should represent you and your style as a Taurus. Another great way to show your comfort side would be to choose a Taurus-friendly color for your accessories. You could select something bold like purple or orange to show off your style or go for something a bit more subtle with rich, earthy colors like tan or brown.
Gemini: Accessories that communicate
Gemini, as an air sign, loves to be surrounded by other people and loves to celebrate their relationships, both romantic and platonic. A great way to do this with your wedding accessories is to choose colors representing you and your partner. If your partner's zodiac sign differs from yours, you could also pick colors representing both of you. Gemini also loves to celebrate communication.
Choose accessories that will add a splash of color to your big day or help you create a theme that celebrates your relationship with your partner. An added bonus is that colorful accessories will make your wedding photos pop, so you can cherish that communication and celebration for years to come!
Cancer: Accessories for security
When choosing wedding accessories, you can't go wrong with something that gives off a sense of security. When we think of a Cancerian, the first thing that springs to mind is a string of pearls. They're a classic piece of jewelry that is associated with this sign.
You could also choose a piece of jewelry that has a special meaning for you and your partner. A charm bracelet is a great place to start if you're unsure where to begin.
Leo: Accessories to show off your pride
Leos are confident, passionate people who love to be the center of attention. Leo is the only sign that fits this description, so there are a few different things to consider when choosing wedding accessories for this sign. Leo loves to be the center of attention and celebrate, so choosing something that shows off your pride is an absolute must.
This could be accomplished with a statement ring or bracelet. Or it could just be one striking color or pattern that unifies everything you're wearing. You can display your patriotism and make this day even more memorable by accessorizing.
Virgo: Accessories for practicality & control
Virgos love to be in control and focus on the little details. This means that they aren't really ones to go all out with outrageous accessories or anything. Virgo is more about practicality and comfort. You can show off your Virgo side by choosing a color that represents you or that you and your partner agree on.
Or, you could choose materials representing your partner's interests and what they love to do in their free time. Another option would be to select a pattern or print that represents your personality or something important to you both. For example, a pattern with stars and galaxies could represent the stars in your eyes, or it could mean the space between you and your partner.
Libra: Accessories to celebrate romance
Next up, we have the Libra sign. Libras are all about romance, so choosing accessories that celebrate this is the best way. A bouquet of flowers is one of the most classic accessories for anyone's wedding day. There are so many different types you could choose from.
For a Libra, you could choose a classic type of flower like a rose or a flower associated with your zodiac sign, like a sunflower. If you're not into flowers or you want to celebrate your partner as well, you could choose something like a ring or a pendant necklace that is specially made for the both of you. You could also choose a charm bracelet that celebrates your relationship with your partner and special memories.
Scorpio: Accessories that match your intensity
This is a sign that they love to be in control, plan ahead, and put as much effort into their relationships as possible. This means that for you, accessories are a great way to express your intensity and personality.
Choose materials that represent your interests or unique connections with your partner. Another option for you would be to choose an accessory that shows off your intensity. For example, you could choose a bold bracelet or ring made from a particular type of metal representing your passion or strength.
Sagittarius: Wedding accessory essentials for adventurers
Sagittarius loves adventure and new experiences, so it makes sense that they would want their accessories to reflect that. Pick a bold color for your wedding or groom's attire.
You could choose a color that represents you or your partner, and you both agree. Another option would be to select a pattern or print that represents you and your interests. For example, a pattern with stars and galaxies could represent the stars in your eyes or the space between you and your partner.
Capricorns: Wedding accessories for joy and peace
Capricorns are often seen with a watch, rings, or a bracelet with a charm or a symbol that means something to them personally. A Capricorn might also be seen with a lovely scarf around its neck to keep it warm. Scarves are a very functional accessory that Capricorns love because they are also a very stylish way to accessorize any outfit.
You can choose a scarf with a pattern or a solid color that matches your outfit to make sure it looks stylish, but it still has the practical purpose of keeping you warm. Choose a scarf with a functional purpose, like a scarf with a button on the end, so it's easier to grab and adjust while keeping your neck cozy and warm.
Pisces: Wedding accessory for varied emotion
Pisces is a compassionate sign, so for your wedding day, you may want to consider a piece of jewelry or a wedding accessory that helps you embrace your natural Pisces vibes. A piece of jewelry with significant meaning to you, such as a birthstone, a family heirloom, or a meaningful symbol, will be an excellent option.
Pisces love water and have an affinity for the ocean; a piece of turquoise or other blue-tinted stones can be a meaningful option for you.
Aquarius: Wedding accessory for creativity and imagination
Aquarians are creative and imaginative people, as shown in their accessories choices. They love to accessorize with fairy lights, stars, and moons. These are all symbols of creativity. They also love wearing statement necklaces that have a creative feel. These might be an arrow, a heart, or something else entirely. They love to accessorize with fairy lights, stars, and moons. These are all symbols of creativity.
Conclusion
Find the accessories that suit your zodiac sign and use them throughout the wedding planning process. Follow your zodiac sign as a guide to you and your spouse's future. We trust that you found this article on BridalFusion.com entertaining and informative. Continue reading our blog for more inspiration on weddings, wedding planning, wedding décor, and more.