The Complete Guide To Wedding Purse For 2022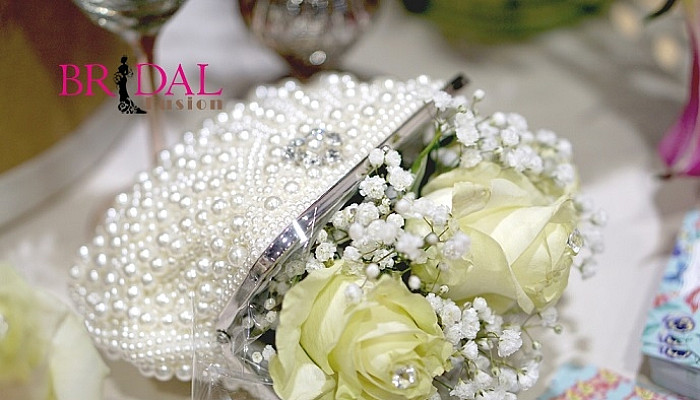 Planning a bridal look is a complex undertaking for a lady who has a lot on her plate. It's no secret that all ladies like to make a statement on their wedding day, from selecting the perfect accessories for the D-Day gown to ensuring the costume color complements the decor theme. While their staff is always available to help, there are a few necessities that only an essential item like a wedding clutch purse can manage. A wedding purse has it all and is an absolute requirement, whether it is a spontaneous emotional moment when tissue is needed to dab a tear-away or a fast touch-up before the cameras start shooting.
With designer selections that straddle the line between wedding-day elegance and daily sophistication, this is one purchase that will pay dividends long after the wedding. So, our clutch edit has you covered whether your style is elegant, classic, romantic, eclectic, or something else entirely; we've edited the most lust-worthy, covetable wedding clutches that you'll want to carry down the aisle—and into married life—from the wedding day to the rehearsal dinner and all the bridal celebrations in between. These compliment-worthy purses are ideal for any style of wedding outfit, and they will spice up any gown you decide to wear at your wedding.
What features should a wedding purse have?
When it comes to wedding purses for the bride or wedding purses for guests, it's essential to choose a design that symbolizes your bridal aesthetic or matches your wedding gown. Sleek and straightforward envelope clutches or architectural hardshell handbags are the ideal complements to any minimalist ensemble. Once you've selected your perfect wedding purse, ensure you can hold all your wedding day requirements and is comfortable to carry.
1. Alexander McQueen
Alexander McQueen, a luxury British fashion house, created this black suede box clutch sprinkled with Swarovski crystals and finished with a silvery knuckle ring as a wearable handle. The brand is known for its unconventional fashion shows and rebellious creations. Having this wedding clutch purse will give your entire ensemble a luxe look.
2. Floral Minaud Clutch
This acrylic clutch is ideal for adding a little glitter to your ensemble without committing to anything more significant. It's tiny enough to fit everything you need, and the rhinestone fringe will catch the light beautifully for your picture shots.
3. Lulu's Mirror Purse
Lulu's is a luxury brand based in California. With its beautiful hues, silver embroidery, and affordable pricing, this Lulu's bridal favorite is on the top. The mirror details hint at the glitz, and the retractable silver chain swiftly transforms it into a crossbody bag.
4. BHLDN Poolside Purse
BHLDN is a wedding clothing retailer brand in Pennsylvania. These ones are for destination wedding lovers. If you're being married in a tropical area, this pearl-studded basket wristlet from Poolside is a must-have. It also functions as the loveliest honeymoon purse if you plan a tropical getaway after saying "I do."
5. Rayne Pleated Frame Clutch by Loeffler Randall
Say hi to your new best friend. Loeffler Randall is an NYC-based brand famous for women's accessories, made by women and run by women. The Rayne pleated clutch's sassy plissé fabric and massive, dramatic bow look great with a sleek dress, or a rose gold bridal color scheme.
6. Petit Kouraj Ecru Mini Fringe Bag
This purse brand specializes in wedding clutches and bags. The mini fringe bag has an individually woven fringe and a netted construction that are awesome for boho brides looking for a purse that fits their aesthetic. Plus, because the Ecru mini has a changeable crossbody strap, you can switch up your style after the party.
7. Joanna Vanderpuije's New Wave Envelope Clutch
Joanna Vanderpuije (a London-based designer) created the New Wave Envelope Clutch, a hand screen printed with sparkling foil. It is then manually cut and sewn by hand using natural linen thread. It is made of medium-weight vegetable tanned leather from Belgium that is robust, light, and will age wonderfully over time. Because the leather is not chemically treated, the primary base color will become a rich, warm caramel color with time and usage.
Because each clutch is handcrafted, each print is unique to you. In the shadow, this foiled handbag shimmers with subtle silver tones, but in bright sunshine, it glows with a rainbow of colors. It is small and has one compartment for everyday necessities like your phone, wallet, and keys. A removable wristlet strap allows you to carry it while on the run.
8. Shell Clutches
While you may not have thought of carrying your things in a shell, we can't get over how lovely this Scully & Scully (designer brand) clutch is. This is now officially a beach wedding must-have!
9. Ellie's Purse with Crystal Mesh
It is a David Jones's design (a luxurious bag brand). With this ring handle beauty, you can light up the room with crystals and start the party. Ellie's non-stop sparkle and modern design will flow from the formal ceremony to the post-reception party at the club.
10. Santi Gamelli Clutch
This clutch-type wedding purse is from BHLDN. Because pearls are the essence of beauty and romance for many brides, a notable bag reflecting that idea is a sumptuous wedding treat. We guarantee you'll find more reasons to flaunt this stunning purse on your wedding day.
11. Jimmy Choo sparkle clutch
Jimmy Choo's Sweetie bag is elegant and practical if you're searching for a sleek purse to keep your wedding day things safe. The coarse glitter increases the aesthetic, and the hardshell exterior guarantees your goods arrive safely.
12. Personalized clutches
This is one accessory you can't get enough of right now. In that case, it's personalized clutches, and we've recently observed an increase in the number of brides wearing them. A fashionable wedding clutch is just as vital to us as a gorgeous wedding gown. What could be better than one emblazoned with your new surname? Additionally, personalized clutches are a friendly and attractive bridal party present. You and your bridal party can coordinate clutches with your names on them. Custom clutches typically enable you to choose the clutch colors, so you may wear a white clutch and give your bridesmaids a clutch that matches their outfits. It's a beautiful approach to bring some cohesion to all of your appearances.
FAQs:
Q. Why is a wedding purse required?
While an oversized tote isn't necessary, a little bag containing your basics (phone, keys, credit cards, and ID) can be helpful for selfies and post-reception beverages at the bar.
Q. Is it necessary for my wedding handbag to be white?
While tradition dictates that a bride must wear white, nowadays it's about displaying your style. Choose a purse that complements your outfit so that your entire appearance flows seamlessly in any movement images your photographer takes.
Q. Are wedding purses very expensive?
Some brides prefer to spend on a designer purse, while others choose something less expensive. There are many lovely alternatives under fifty dollars, so don't feel obligated to spend a fortune on something swoon-worthy to contain your basics.
Conclusion
While the bridal gown gets the most attention, a wedding purse or a clutch, like the rest of a bride's wardrobe, is equally important and must be unique. This beautiful wedding purse will come in handy during the reception or other activities surrounding the main event. Consider storing lipstick, a compact for touch-ups, or even mints on hand.
In this blog, we also cover wedding purses for guests. You've chosen the perfect clothing to wear to that wedding. While you don't want to overshadow the bride, you'd like to locate the appropriate clutch or purse to accessorize with. Whether you desire a bejeweled clutch bag or a sparkly handbag, it's necessary to bring a tiny accessory to the big event to store all your belongings. Whether your style is sophisticated, classic, romantic, or something completely different, if you are a bride or even a wedding guest, BridalFusion.com has a purse for everyone and every style of the wedding.