Garden Wedding Decor: The Perfect Blend Of Form And Function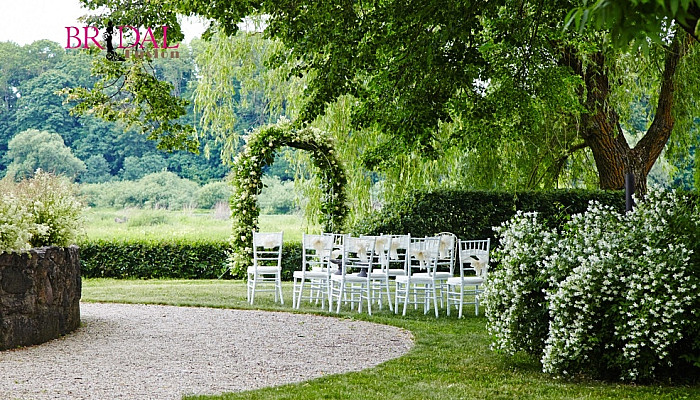 Planning a garden wedding can have challenges, but it's also one of the most beautiful and picturesque settings for your special day. Because gardens are such small spaces and require careful planning to ensure everything fits in place perfectly, having an idea of what you want from the beginning is essential. Even more so, because a garden wedding requires more attention to detail than any other type of wedding, the greenery will serve as the main decor element and therefore needs to be considered from the very first steps in planning your wedding.
Let's take a look at some ideas you can use when planning your garden-themed wedding:
Decorations
For starters, you need to decide which decorations you will use. There are several ways to incorporate decorations into your wedding, and some of the most common ones are as follows
– Bouquets: One of the easiest ways to bring in seasonal decorations is through bouquets. Use flowers in season so they look their most vibrant and fresh, and bring that freshness to your wedding.
- Table centerpieces: Using small floral arrangements as table decorations is a great way to incorporate the wedding theme into your table setting.
- Hanging decorations: Hanging decorations such as small potted plants and vines can be used to create a beautiful and natural look.
- Wall decorations: Wall decorations make a great addition to your garden wedding and can be used to create beautiful focal points.
Make a Statement Entrance
Make a stunning entrance to a backyard reception under a tent by having the curtains pulled back elegantly by foliage and decorated with topiaries and candles. Even if you decide to host your reception under a tent, you can easily attach drapes and pull them back to create a grand entrance.
Add lawn games as a part of the decor
Having lawn games available makes cocktail hour much more entertaining. Add your own flair by stamping your initials on croquet balls or getting cornhole sets personalized with the wedding date. Polish off a large Jenga set, repaint it in your wedding colors and set it up on a side table.
Bring out the bar!
Having iced drinks available for self-service is a surefire way to put guests in a good mood. Get a bar cart and fill it with bottles of champagne for a stylish and convenient pick-me-up. Take it to the next level- Put the ice basins in the trunk of a classic car or truck.
Leaf escort cards
DIY escort cards made from real leaves are a lovely addition to a wedding in the garden and easy on the wallet. The leaves you collect in your backyard can become escort cards with just a little calligraphy.
Flowers and foliage
These can be used as table decorations, hung from trees, or to create arches and walkways. Foliage can also add a natural backdrop to your wedding photos. There are wide varieties of flowers that are in season during the summer months. Summer flowers are typically bright and vibrant and come in various colors. Here are some flowers that you could use in your summer garden wedding
- Ceremonial flowers: Lilies, Orchids, and Roses.
-Seasonal flowers: Daisies, Hydrangeas, and Hibiscus Greens: Succulents, Ferns, and Moss
Colour Schemes
The colors of your wedding will reflect your personality and the season you are holding your wedding. The following are some color themes you can use for your garden wedding.
- Pastel: The pastel color palette is soft and gentle and is perfect for a garden wedding. This palette is best suited to spring and summer weddings.
-Monochromatic: If you want your color palette to be subtle and elegant, try using a monochromatic color palette. Choose a color and vary the intensity of that color throughout your wedding.
Muted: If your garden wedding is in the fall or winter, muted colors are perfect for creating a warm and cozy atmosphere.
Bright and bold: They are ideal for a garden wedding during the summer.
Lighting
One of the best ways to transform your garden into a wedding space is with lighting. Amp up your garden decor with colored lighting, or add some drama by incorporating dramatic lighting. Ground lights are perfect for illuminating walkways and decorative gardens around the space. You can also use them to create a beautiful ambiance around your seating areas.
Wedding lights: String up lights to create a stunning overhead effect, or put them on trees to add some uniqueness to your garden wedding.
Chandeliers: Aged chandeliers are a great addition to any garden wedding. Hang them from a tree branch or place them on a table as a beautiful table decoration.
Lanterns: If you're thinking about doing an outdoor wedding, you might consider purchasing some lanterns for your wedding venue. Lanterns can be a great decoration for an outdoor wedding, and they can also help to set the mood. If you're having a garden wedding, you might want to have some lanterns hanging in trees.
Lanterns might seem silly, but they can be very romantic. Plus, they're very affordable. If you want to purchase some lanterns, you can find them at any department store or online.
Food and desserts
Food is a must at any wedding, particularly at a garden wedding. When you're outdoors, you won't have the option to serve indoors, so you need to factor that in when planning your menu. When choosing food for your outdoor wedding, you'll want to choose something easy to transport that won't spoil in warm temperatures.
Hot and cold buffet: This is an excellent option for an outdoor wedding. You can keep your hot dishes warm on portable stoves and keep your cold dishes on ice in coolers.
Picnic-style menu: If your garden wedding is in the summer, a picnic-style wedding is a great option. You can provide basic wooden plates and utensils and use large blankets as picnic tables.
Guest accommodation
When planning a garden wedding, you'll likely want to ensure that your guests are comfortable. Try to get in touch with your local hotels and see if they have any deals on room rates for your guests. You can also offer to put guests up in air BnBs, hostels, or even on couches and air mattresses if you don't have the funds to pay for hotel rooms. Tents are another option to consider if your garden is large enough to accommodate them.
It is an excellent plan for a summertime outdoor wedding. Another idea is to check with your local parks and recreation departments to see if they have any open spaces where you could put up tents.
Wedding officiant's reading area
If you're having a garden wedding, finding an indoor space that's quiet enough for an officiant to be heard can be challenging. A calm garden space would be perfect for this, so guests are not disturbed. Find a shaded area, and ensure it's large enough to seat your guests comfortably.
You may add a few chairs so guests can sit while the officiant reads the ceremony. If a fountain or stream is nearby, you can use that sound to create a soothing ambiance. A spot near a bird feeder or a flower garden would also make a quiet and lovely backdrop for the ceremony.
Conclusion
Garden weddings are a beautiful and unique way to celebrate your love, and there are several ways to bring that theme into your special day. Start by choosing the right time of year for your wedding, and then incorporate decorations, flowers, and colors into your wedding day. A garden wedding can be a personalized, intimate, and well-organized affair with careful preparation. Use these tips from BridalFusion.com to make it more memorable for you and all your guests.