Top 9 Things to Consider When Buying Wedding Reception Plate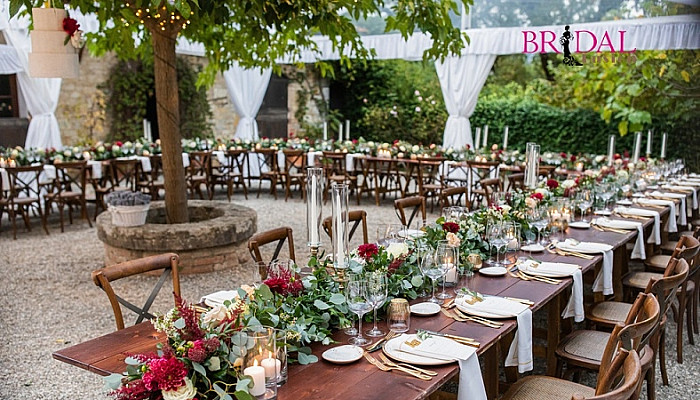 When it comes to wedding etiquette, table settings are a detail that can often be overlooked. It's common to see reception tables filled with other accessories such as flowers and candles, but what about the actual plates? You'll want these details ironed out well before your big day so you can plan accordingly.
Here are some tips when buying your wedding reception plates that will ensure you have everything covered before your big day.
1. Pick your theme first
Choosing a color scheme for your wedding plates should be one of your initial considerations. Think about your theme and wedding colors, and find a plate style that matches. You may wish to go for a specific pattern or design or simply a color or material you like, such as linen, porcelain, or natural wood. You may also wish to factor in the number of people you invite and how many courses you'll offer (covered ahead).
Some styles are better suited to specific numbers of guests than others. For example, if you're having a small wedding with just two courses. In that case, you can choose a larger plate to accommodate a more significant portion. If you're having a large wedding and want to offer more courses, you'll want smaller plates that are easy to navigate.
Incorporating the dinnerware into the overall design is crucial in making a stunning tablescape. Choose plates that complement your table linens, flower arrangements, lighting, and decorative shapes. Remember that plates provide an excellent opportunity to showcase a stunning design feature that might be too much elsewhere. Embrace bold hues and exciting shapes when choosing dinnerware for your wedding.
2. Working out the presentation
Think about how the food will look on the plates you choose to use for a presentation. Some people prefer a plain plate without any design or color to draw attention away from their meals. The most fantastic way to showcase a colorful salad or main dish with attractive accompaniments and garnishes is to let the food take center stage.
If you want your plate arrangement to blend in with the rest of the table setting, start with the chargers. Since chargers are placed on the tables before the meal is served, Cousins (Michelle Leo Cousins is the boss at Michelle Leo Events, a Utah-based wedding and event planning company that specializes in both regional and international events) claims they are a simple way to add design, color, and texture to the dining experience.
After that, you can choose a neutral plate color to focus on the incredible meal or layer with the chosen China to incorporate other colors and patterns. Naturally, additional components atop the plates, including linens, place cards, and stunning food menus, can assist in completing the look.
Choosing dishes that complement the food and are the right size for the dinner you intend to prepare is of the utmost importance. Then think of ways to give it your style while maintaining cohesion.
3. Assign a guest to each place setting
Ask your wedding decorator which pieces of cutlery and place settings are assigned to the guests. For example, the steak knife may be placed on the top right side of the plate, while the salad fork is on the bottom left. This will ensure that your guests use the correct utensils for their dishes and reduce the risk of mix-ups.
If you plan on writing your table numbers on place cards, this is also a good time to assign the correct cutlery set to each place setting.
4. How many plates will you need?
Multiple plates are commonly used in a tablescape, along with other staples like napkins, place cards, glassware, silverware, and different accents. The proprietor of Régine Danielle Events, Regina Brooks, says that a charger, a dinner plate, and a salad plate are standard props for wedding photos. It is customary only to place the charger at each setting just before supper is served to guests at the table. Once diners have taken their seats, a salad course will be brought to their table.
A typical three-course dinner consists of an appetizer, a main course, and a dessert, with a plate of bread and butter. The appetizers and entrees are served on the charger plates set out on the table; they are removed and set aside until dessert is served.
Of course, if you're having a buffet or serving dinner to the whole family, each person would likely use a separate dessert plate. Before choosing forms, patterns, and designs, it's vital to figure out how many dishes will be needed for service and the sizes and types.
If you have a traditional wedding dessert, you'll want to go for smaller plates that can easily be handled with one hand. Dessert is typically served on a smaller dish, such as a tea plate. At the same time, the entrée and main course are usually presented on bigger plates. When it comes to dessert cutlery, if it's a simple affair like cake and ice cream, you can go for a single-use fork. If you're serving something more complicated, like pie, you'll want to provide two forks.
5. Buying tips for dinnerware
If you require a certain quantity of plates for service, where do you get them? That's a lot of dinnerware if you're hosting a big wedding. In the words of wedding planner Michelle Leo Cousins: "I usually advocate renting if the couple prefers not to utilize China supplied in their venue contract." Renting is convenient since it allows couples to create unique table settings without buying dinnerware. Many convenient and affordable alternatives can be obtained through rental services.
Even if you're having a smaller wedding, you might want to consider buying plates. You might not need as many if you have a small wedding with a fancy banquet. After the wedding, you can put them to good use around the house. Don't forget to plan for storage if you have more than your kitchen can handle.
6. Think about durability
Suppose you're serving anything messy or sticky. In this scenario, a more robust material, such as porcelain or stoneware, is preferable since it can resist the abuse of a wedding feast. Suppose you're serving dessert or worried about sticky fingers. In that case, you could also go for a more lightweight and disposable option like melamine.
7. Check for lead in your chosen plates
You don't want to put your guests or yourself at risk of lead poisoning, so it's recommended that you avoid using antique plates or plates with lead in the glaze, especially with small children and pregnant women in attendance. Instead, choose a more modern and safe option like melamine or porcelain.
8. Consider the number of courses you'll serve
Depending on the number of courses you'll be serving, you may want to go for a larger or smaller plate. For example, if you're serving a five-course meal, you'll want to go for smaller plates that can be easily maneuvered. A larger plate will allow for more significant portions if you only serve two courses.
9. Check for dishwasher safety
You can throw the plates away after the wedding if you plan on going for melamine or other disposable plates. However, if you prefer stoneware or porcelain plates, you'll want to check that these can be placed in the dishwasher. Some manufacturers will mark their wares as dishwasher safe, while others will not.
Wrapping up
Wedding etiquette may differ in different parts of the world, but there are some rules of thumb regarding table settings that are pretty standard across the globe. You'll want to ensure your guests can eat at the table quickly. The table settings are allocated to guests correctly. Beyond that, there's not much else to consider when buying wedding reception plates. With the tips in this article from BirdalFusion.com, you'll be able to find the perfect tableware for your big day.