Say 'I Do' to Darkness: 20 Captivating Gothic Wedding Ideas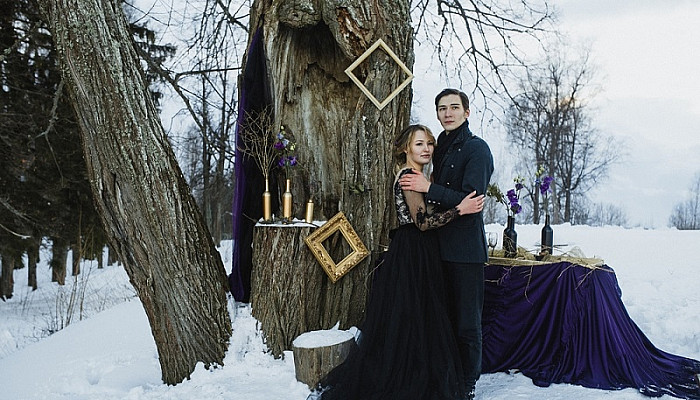 Weddings are a time to celebrate love, and for some, that love is deeply intertwined with a passion for the mysterious and the macabre. Gothic weddings offer a unique opportunity to blend the elegance of a traditional wedding with the allure of dark, moody aesthetics. In this blog post, we will explore 20 captivating gothic wedding inspirations that will inspire couples looking to embrace the darker side of their love story.
1. Selection
One of the first choices to make when planning a gothic wedding is the venue. Opt for a location with rich, historical architecture, like a castle, cathedral, or a haunted mansion. The grandeur of such settings will create an enchanting atmosphere that is perfect for your darkly romantic celebration.
2. Dark and Dramatic Color Palette
Gothic weddings are characterized by their dark and dramatic color palettes. Deep blacks, rich burgundies, velvety purples, and dark, forest greens are excellent choices to create a brooding ambiance. Accentuate with silver or gold for added elegance.
3. Elegant Invitations
Your wedding invitations are the first glimpse your guests will have into the theme of your wedding. Opt for elegant invitations featuring ornate calligraphy and dark, intricate designs that set the tone for your gothic affair.
4. Bridal Attire
The bride's gown should be the epitome of Gothic elegance. Consider a black or deep red gown with lace detailing or intricate embroidery. A black veil or a deep crimson bouquet can add a touch of drama to the bridal look.
5. Dramatic Bridal Accessories
To complete the bridal look, consider bold accessories like a choker necklace, Victorian-inspired gloves, or a vintage-style tiara. These accessories will enhance the gothic theme and make the bride feel like a true gothic queen.
6. Groom's Attire
The groom can embrace the gothic style with a black or dark gray suit. Incorporate dark, ornate accessories, such as a skull-topped cane or a black velvet bowtie, to add a dash of dark glamour.
7. Gothic Bridal Party
Your bridal party can also embrace the gothic theme. Bridesmaids can wear dark gowns with dramatic makeup, while groomsmen can don black suits and dark accessories. Together, they'll create a visually stunning contrast with the wedding's rich color palette.
You may also like to read: 15 Unique Bridesmaid Dress Ideas That Will Wow Your Guests
8. Mysterious Decor
Gothic weddings are all about the details. Incorporate dark and mysterious decor elements such as candelabras, antique mirrors, wrought iron gates, and velvet drapes. These elements will transform your venue into an otherworldly space.
9. Haunting Floral Arrangements
Opt for deep, moody floral arrangements that complement the color scheme. Dark roses, calla lilies, and black dahlias are perfect choices. For added drama, incorporate feathers, thorns, or cascading ivy into your arrangements.
10. Candlelit Ceremony
Lighting plays a pivotal role in setting the mood at a gothic wedding. Exchange your vows in a softly candlelit ceremony. Candle sconces, chandeliers, and candelabras can add an air of enchantment and mystique to your special day.
11. Gothic Cake
The wedding cake is a great opportunity to infuse the gothic theme. A black wedding cake adorned with intricate lace or dark florals is both striking and on-theme. Alternatively, opt for a deep red velvet cake to keep the theme alive.
12. Haunting Music
The choice of music can greatly impact the atmosphere of your wedding. Select haunting melodies and gothic anthems that create a darkly romantic ambiance. Whether it's a live string quartet or a playlist of your favorite gothic rock songs, the music should reflect your unique style.
13. Vintage Decor
Vintage and antique decor items can add depth and character to your gothic wedding. Consider incorporating vintage candelabras, ornate frames, and Victorian furniture to create an atmosphere reminiscent of an old-world gothic romance.
14. Gothic Wedding Favors
Send your guests home with unique and gothic-inspired wedding favors. Think black lace fans, miniature vials of dark perfume, or even personalized tarot cards. These little mementos will remind your guests of your hauntingly beautiful celebration.
15. Gothic Photo Booth
Set up a gothic-themed photo booth for your guests to capture their own memories of your special day. Provide props like masks, capes, and dark feathered boas to add an extra layer of fun and drama to your wedding.
16. Cemetery Photoshoot
For the truly adventurous couple, consider a post-wedding photoshoot in a historic cemetery or at a location with dark and gothic aesthetics. These photos can be a unique and striking addition to your wedding album.
17. Gothic Stationery
Incorporate gothic-inspired stationery throughout your wedding, from the programs to the seating cards. Dark parchment paper, ornate typefaces, and vintage motifs can add a touch of eerie elegance to your event.
18. Gothic Unity Ceremony
Instead of a traditional sand or candle unity ceremony, consider a gothic twist. Use black and red sand or dark-colored candles to symbolize the merging of two souls, and make it a unique and symbolic moment in your wedding.
19. Dark and Sensuous Food
Carry the theme into your reception meal. Consider a menu that features rich, decadent, and sensuous foods. Black truffle pasta, blood orange cocktails, and dark chocolate desserts can all contribute to the darkly romantic atmosphere.
20. Gothic Exit
End your gothic wedding on a dramatic note with a grand exit. Whether it's a shower of black rose petals or a sparkler send-off, your exit should be a captivating conclusion to your darkly romantic celebration.
Conclusion
Gothic weddings offer a unique opportunity to express your love in a way that is mysterious, dramatic, and deeply personal. By incorporating these 20 captivating gothic wedding inspirations into your big day, you can create an unforgettable celebration that reflects your love for the dark and enchanting. Embrace the allure of the mysterious, and say 'I Do' to darkness.