15 Unique Bridesmaid Dress Ideas That Will Wow Your Guests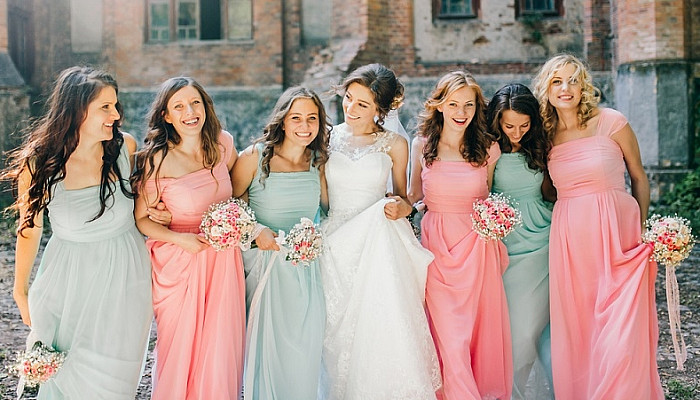 When it comes to weddings, the bride's dress often takes center stage. However, bridesmaids play a crucial role in the wedding party and deserve to look and feel amazing too. Gone are the days of matchy-matchy bridesmaid dresses. Modern brides are embracing unique and stylish options for their bridal party. In this article, we will explore 15 bridesmaid dress ideas that will wow your guests and make your wedding truly memorable.
1. Mismatched Dresses
Gone are the days when bridesmaids were expected to wear identical dresses. Embrace the trend of mismatched bridesmaid dresses, allowing each member of your bridal party to express their individual style. You can choose a specific color palette or let your bridesmaids pick dresses in complementary hues. Mismatched dresses add depth and visual interest to your wedding photos.
2. Convertible Dresses
Convertible dresses are versatile options that can be worn in various ways. These dresses typically have adjustable straps or removable sleeves, allowing each bridesmaid to style the dress to suit her body shape and preference. With a convertible dress, your bridesmaids can have different looks while maintaining a cohesive overall aesthetic.
3. Printed Dresses
Make a bold statement with printed dresses. Floral prints, geometric patterns, or abstract designs can add a touch of whimsy and personality to your bridal party. Coordinate the prints or allow your bridesmaids to choose their favorite patterns within a specific color scheme.
4. Sequined Dresses
For a glamorous and eye-catching look, consider sequined dresses. Sequins reflect light and add a touch of sparkle to the wedding celebration. Opt for full sequined dresses or choose dresses with sequined bodices and flowing skirts for a dazzling effect.
5. Two-Piece Dresses
Break away from tradition with two-piece dresses. These outfits consist of a separate top and skirt, allowing your bridesmaids to mix and match to create unique combinations. Two-piece dresses provide a modern and fashion-forward look for your bridal party.
6. Pastel Dresses
Soft pastel colors are always a popular choice for bridesmaid dresses. Delicate shades of blush pink, lavender, mint green, or powder blue exude elegance and create a romantic atmosphere. Pastel dresses are versatile and can complement various wedding themes and color schemes.
7. Lace Dresses
Lace is a timeless fabric that adds a touch of femininity and elegance to any dress. Consider lace bridesmaid dresses for a classic and sophisticated look. Whether you opt for full lace dresses or dresses with lace accents, your bridesmaids will look graceful and stylish.
8. Floral Dresses
Floral bridesmaid dresses are perfect for spring and summer weddings. Embrace the beauty of nature with dresses adorned with floral patterns. Opt for delicate, dainty flowers or go bold with oversized blooms. Floral dresses will add a fresh and vibrant touch to your wedding party.
9. Bohemian-Inspired Dresses
If you're planning a bohemian or outdoor wedding, bohemian-inspired dresses are a wonderful choice. Flowy silhouettes, ethereal fabrics, and earthy tones capture the boho spirit. These dresses create a laid-back and effortless look for your bridesmaids.
10. Vintage Dresses
Transport your bridal party to another era with vintage-inspired dresses. Choose dresses with retro silhouettes, such as A-line skirts or tea-length hemlines. Incorporate vintage elements like lace, pearls, or cap sleeves to achieve a nostalgic and elegant vibe.
11. Jumpsuits
For a contemporary and fashion-forward bridal party, consider jumpsuits instead of dresses. Jumpsuits offer a chic and sophisticated alternative, allowing your bridesmaids to move freely and comfortably. Choose jumpsuits in various colors or opt for a uniform look.
12. High-Low Dresses
High-low dresses feature a shorter front hemline and a longer back hemline, creating an asymmetrical and dynamic look. These dresses are perfect for bridesmaids who want to show off their legs while still having an elegant and formal style.
13. Tulle Dresses
Tulle is a delicate and romantic fabric that adds volume and softness to any dress. Tulle dresses create a dreamy and ethereal atmosphere. Whether in subtle layers or as a full skirt, tulle dresses will make your bridesmaids feel like they're walking on clouds.
14. Velvet Dresses
Velvet is a luxurious and rich fabric that adds texture and depth to bridesmaid dresses. Perfect for fall and winter weddings, velvet dresses exude elegance and warmth. Choose jewel tones like emerald, ruby, or sapphire for a regal and opulent feel.
15. Metallic Dresses
For a glamorous and modern look, metallic bridesmaid dresses are an excellent choice. Silver, gold, or rose gold dresses will catch the light and create a stunning effect. Metallic dresses are perfect for evening weddings or formal celebrations.
Conclusion
Your bridesmaids deserve to look and feel their best on your wedding day. By opting for unique bridesmaid dress ideas, you can create a visually stunning and personalized experience for your bridal party. From mismatched dresses to metallic gowns, there are endless options to wow your guests and make your wedding truly memorable.