Discover the Best Time Frame to Send The Wedding Invitations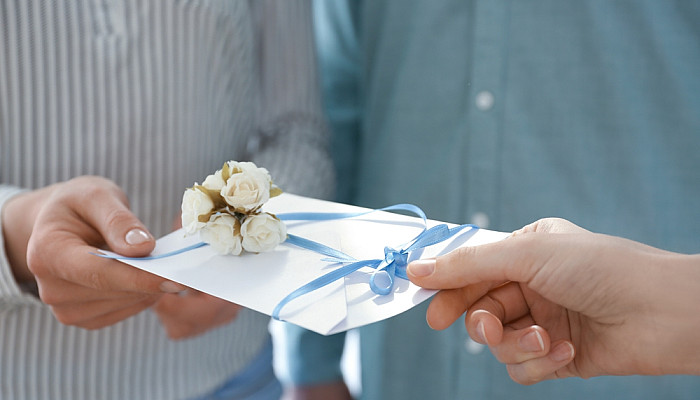 Planning a wedding is a thrilling journey filled with numerous details to consider, from choosing the perfect venue to deciding on the menu and dcor. However, one crucial aspect often overlooked in the excitement of wedding planning is the timing of sending out wedding invitations. Your wedding invitations set the tone for your special day and provide essential information to your guests, so getting the timing right is essential. In this guide, we'll explore the best time to send wedding invitations, ensuring that your guests have ample notice and that your wedding day goes off without a hitch.
6-8 Months Before the Wedding: Set the Date and Create a Guest List
Before you can even think about sending out wedding invitations, you need to have a clear idea of your wedding date and a preliminary guest list. Setting your wedding date is the first step in planning your big day, and it's crucial for determining when you should send out invitations. Aim to have your wedding date locked in at least 6-8 months before the big day. This provides you with ample time to make other important decisions, like choosing a venue and selecting your wedding party.
Additionally, during this time, start creating your guest list. The number of guests you plan to invite will influence everything from your venue choice to your catering budget. Be sure to consult with your partner and any other key decision-makers to create a comprehensive list.
5-6 Months Before the Wedding: Design Your Invitations
Now that you have a date and a guest list, it's time to think about the design of your wedding invitations. Your invitations should reflect the overall theme and style of your wedding, whether it's rustic and casual or elegant and formal. If you're working with a wedding stationer or graphic designer, allow about 5-6 months before your wedding date to work on the design and production of your invitations.
Remember that your invitations should not only be visually appealing but also convey all the necessary information. Ensure that they include the date, time, location (including the address and any relevant maps or directions), dress code if applicable, RSVP details, and any other pertinent information.
4-5 Months Before the Wedding: Finalize Your Guest List
With your invitations designed, it's time to finalize your guest list. This step is crucial because it determines the quantity of invitations you'll need to order.
Make sure you have accurate and up-to-date addresses for all your guests, as well as any specific dietary restrictions or preferences for your catering team.
3 Months Before the Wedding: Order Your Invitations
Now that your guest list is finalized, order your wedding invitations. This timeline ensures that you have enough time for the invitations to be printed, assembled, and delivered to you.
It's always a good idea to order a few extra invitations in case you need them for last-minute additions or in case of mistakes.
2-3 Months Before the Wedding: Assemble and Address Your Invitations
Once your invitations arrive, start assembling them. This might involve attaching RSVP cards, maps, or additional inserts. Make sure everything is neatly organized inside each envelope.
Addressing your invitations can be a time-consuming task, so it's best to start early. If you're handwriting the addresses, enlist the help of friends or family members to make the process more efficient. Alternatively, consider hiring a calligrapher for an elegant touch.
2 Months Before the Wedding: Send Save-the-Dates
While not strictly part of sending wedding invitations, sending save-the-date cards is an important step in ensuring that your guests have ample notice. Typically, save-the-dates are sent out around 2-3 months before the wedding. This gives your guests a heads-up, allowing them to make any necessary travel arrangements and mark the date on their calendars.
Save-the-dates are particularly important if you're planning a destination wedding or getting married during a busy season when accommodations may fill up quickly.
6-8 Weeks Before the Wedding: Mail Your Invitations
The ideal time to send out your wedding invitations is 6-8 weeks before your wedding date. This timeframe strikes a balance between giving your guests enough time to plan for your event and ensuring that they don't forget about it.
For destination weddings or weddings during peak travel seasons, consider sending your invitations on the earlier side of this timeframe, closer to the 8-week mark. This allows your guests to secure travel arrangements and accommodations.
When mailing your invitations, be sure to use proper postage and consider sending them with tracking to ensure they reach their destinations. If you have guests from overseas, send their invitations even earlier to account for longer delivery times.
4-6 Weeks Before the Wedding: Set Your RSVP Deadline
Include an RSVP deadline on your wedding invitations, typically 4-6 weeks before your wedding date. This gives you ample time to finalize the catering and seating arrangements.
Make it clear how guests should RSVP, whether by mail, email or through a wedding website.
2-3 Weeks Before the Wedding: Follow Up with Non-Responders
After the RSVP deadline passes, follow up with any guests who haven't responded. This is essential for finalizing your guest count and seating arrangements.
Politely remind them of the deadline and ask for their response as soon as possible.
1 Week Before the Wedding: Double-Check Details
As your wedding day approaches, double-check all the details with your vendors and ensure that your guest list is complete. Make any necessary adjustments to your seating chart and notify your caterer of any dietary restrictions or last-minute changes.
The Day of the Wedding: Enjoy Your Big Day
Finally, on your wedding day, focus on enjoying the moment and celebrating with your loved ones. Trust that you've done all you can to ensure a smooth and memorable event.
Your careful planning, including sending out invitations at the right time, will help ensure that your big day is everything you've dreamed of.
Conclusion
In conclusion, planning a wedding involves many moving parts, and sending out wedding invitations at the appropriate time is a crucial part of the process. By following this timeline and staying organized, you can ensure that your guests have ample notice and that your wedding day runs smoothly, allowing you to savor every moment of this special occasion.