Discover The Perfect Industrial Wedding Venue Ideas In 2023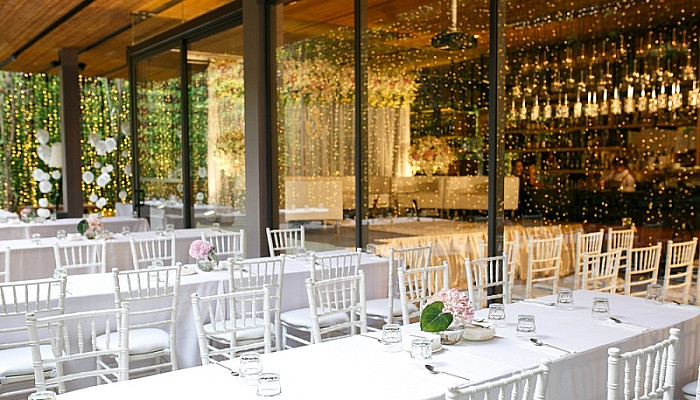 Are you planning your dream wedding and looking for a unique and unforgettable venue? Look no further! In this article, we will explore the perfect industrial wedding venue ideas that will make your special day truly one-of-a-kind. From charming warehouses to trendy lofts, these industrial spaces offer a captivating ambiance that is sure to impress your guests. So, let's dive in and discover the top industrial wedding venue ideas for 2023!
1. Embracing Industrial Charm
One of the key elements of an industrial wedding venue is the unique charm it exudes. The exposed brick walls, high ceilings, and raw architectural details create an enchanting atmosphere that is both rustic and modern. Embrace the industrial charm by opting for a venue that highlights these elements, such as a renovated factory or an old industrial building. The juxtaposition of elegance and ruggedness will set the perfect backdrop for your wedding.
2. Warehouse Wonder
A warehouse wedding venue is an excellent choice for couples seeking a spacious and versatile setting. With its vast open floor plan, you have the freedom to customize the space according to your preferences. From elegant draperies to dramatic lighting installations, you can transform the warehouse into a magical wonderland. Consider renting stylish furniture and adding lush greenery to soften the industrial aesthetics and create a cozy atmosphere.
3. Loft Love
Loft venues have been gaining popularity in recent years, and they continue to be a top choice for industrial weddings in 2023. These trendy spaces offer an urban chic ambiance with their exposed beams, large windows, open layouts, arrangement of lights, and lanterns to fill the space with contemporary dcors, such as minimalist furniture and metallic accents, to complement the industrial vibe. With a loft venue, you can achieve a modern and sophisticated wedding atmosphere that is sure to impress your guests.
4. Repurposed Elegance
Repurposed industrial spaces, such as old mills or distilleries, provide a unique and historic backdrop for your wedding. These venues often feature architectural elements that have been preserved from their original purpose, adding a touch of nostalgia and charm. Imagine exchanging vows under a magnificent towering chimney or dancing the night away in a rustic barrel room. The juxtaposition of old-world elegance and industrial aesthetics creates a captivating atmosphere that will leave a lasting impression on your guests.
5. Rooftop Romance
For couples who want an industrial wedding venue with a breathtaking view, a rooftop space is the perfect choice. Picture saying "I do" against the backdrop of a stunning city skyline or enjoying a romantic dinner under the stars. Rooftop venues often offer a modern and sleek ambiance, with their open-air layouts and contemporary designs. Enhance the industrial feel with metal accents, string lights, and minimalist dcor, creating an unforgettable experience for you and your guests.
6. Garden Industrial Fusion
Why choose between an industrial and natural setting when you can have both? Consider a garden or an outdoor wedding venue that incorporates industrial elements, such as metal arches, wire trellises, and salvaged metal sculptures. These venues offer a harmonious fusion of organic beauty and industrial charm. Set amidst lush greenery and blooming flowers, your wedding will have a whimsical and romantic atmosphere with a touch of industrial elegance.
7. Unique Lighting Installations
Lighting plays a crucial role in creating the perfect ambiance for your industrial wedding. Explore unique lighting installations, such as Edison bulbs, fairy lights, and geometric fixtures, to add a touch of enchantment to your venue. Consider suspending lights from exposed beams or draping them across the ceiling for a mesmerizing effect. The right lighting can transform an industrial space into a magical wonderland, casting a romantic glow over your celebration.
8. Industrial-Inspired Tablescapes
When it comes to tablescapes, embrace the industrial theme with creative and unique decor elements. Incorporate metal accents, such as copper or wrought iron, into your table settings. Add industrial-inspired centerpieces, such as geometric terrariums or concrete planters filled with succulents. Combine industrial textures with soft linens and delicate floral arrangements to create a captivating contrast that is visually stunning.
9. Mix and Match Seating
Ditch the traditional seating arrangements and opt for a mix-and-match approach to create an eclectic and modern atmosphere. Choose a combination of different seating styles, such as industrial-style chairs, sleek benches, and plush lounge furniture. This blend of seating options adds visual interest and allows your guests to mingle and relax in a comfortable and stylish environment.
10. Industrial-Chic Bar Setup
Create a stylish and inviting bar area that reflects the industrial theme. Use reclaimed wood or metal for the bar counter and shelving, adding a touch of rustic charm. Display an assortment of craft cocktails and locally sourced beverages to impress your guests. Consider adding personalized signage or custom cocktail menus and chic wine glasses that complement the industrial aesthetic, ensuring a memorable experience for everyone.
Conclusion
Choosing the perfect industrial wedding venue for your special day in 2023 is an exciting journey. From warehouse wonders to repurposed elegance, there are endless possibilities to create a unique and memorable wedding experience. Embrace the industrial charm, get creative with dcor and lighting, and let your personal style shine through. With these industrial wedding venue ideas, you're sure to create an unforgettable celebration that will leave a lasting impression on your guests.