5 Reasons Why Destination Weddings are Awesome!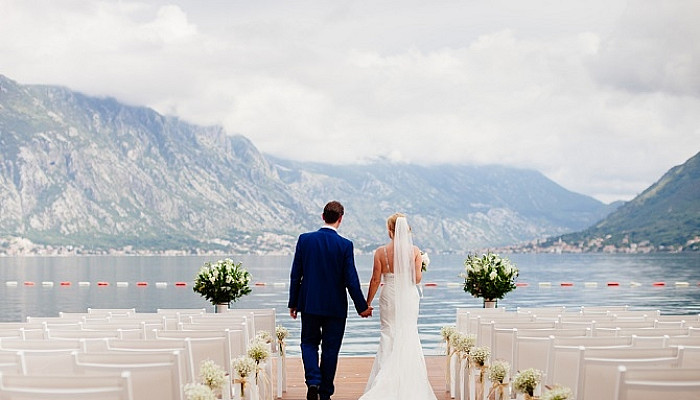 At one point or the other in the planning stage, every engaged couple is definitely excited by the prospect of a destination wedding. Naturally so, going off to someplace romantic, gorgeous and far off, certainly sounds more adventurous than exchanging vows at the community church. Therefore, couples from all different demographics, both young and old are choosing to have a destination wedding. But at the same time, there is one question that looms over the couples' minds - can they actually pull it off? In case, you too are finding yourselves unable to convince your families to get onboard on the idea of a destination do, we're here to help. Here are 5 reasons why destination weddings are awesome.
1. They're Virtually Stress-Free
Destination weddings are far more easily arranged and are simpler to execute than traditional weddings. There are a number of cruise lines, stateside wedding planners, and honeymoon-happy resorts across the world that have a full-time team of wedding coordinators on staff, to help you plan your dream wedding. These coordinators are not only well-versed with that country's marriage license requirements but also have the required logistics to take care of everything, from photographer, cake, to the minister. All you have to do is step off the plane, dress up and sign the papers.
2. Your Guests can Save on a Vacation
You can ask your host resort for reduced room rates for your guests; most hotels and resorts are more than willing to heed in exchange for consolidated business. Even some aviation services providers such as the United and American offer discounted airfares for passenger groups of 10 or more (even if the guests are departing from different gateways, the discounts are valid.) subsequently, your friends and loved ones will have an opportune moment to kick back, connect and celebrate your special day and also have a downtime to enjoy a long-awaiting holiday.
3. They're are Affordable, yet Unique
Destinations such as Hawaii, Jamaica, or Cyprus are more affordable than you might think. For instance, destination weddings at all-inclusive resorts in Jamaica, usually cost about $35,000 for a guest list of 150 guests, inclusive of lodging, meals, drinks, and even airfare. Weddings of such size can easily touch the $100,000 mark in big metropolitans. That said, you can also be sure that there won't be any dearth of picturesque backdrops and stunning themes, from the castle fairytale to the sea-inspired soiree. Choose from a variety of pristine beaches, blooming gardens or historic plantation houses, and you will be more than covered with a few modest florals and other accents.
4. You're in the Driver's Seat
While traditional weddings hold meaning for many engaged couples, reminding them of their lineage and culture, others wish their marriage day to be unique, with a ceremony that is just off the charts. Maybe a snowy mountain-peak ceremony or an exotic tropical paradise experience: it's all up to you to decide. You can arrive earlier at your destination, and therefore, can work with the service providers and wedding planners to oversee the proceedings. That said, once everyone is there, you can get married on a Thursday, a Sunday, or even a Tuesday. Everything you do and every arrangement that is there will be completely your choice. So, there's virtually no chance that anything goes south.
5. They're a Once-in-a-Lifetime Reunion Opportunity
At a typical wedding, you'd be always on the run, meeting and greeting with planners, caterers, and relatives. On the other hand, destination weddings are simply an extended vacation. You would have to arrive just a few days early, fill out the paperwork, and after that, you have a couple of days to have fun with family and friends. How often do you get the opportunity to spend some no-rush, quality playtime with dear ones and far-flung friends? Well, here's your chance!
Wrapping Up
With destination wedding on the cards, the entire world is your playground and literally, you can say "I do" anywhere! That said, you can have a destination wedding that involves just the two of you; a select handful of your loved ones; or curate an expansive guest list to resemble a bona fide week-long reunion - it's all your choice.