Explore 30 Naked and Semi-Naked Wedding Cakes That Take the Cake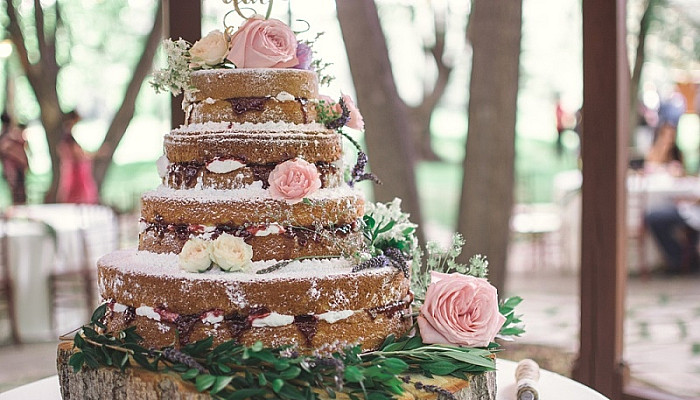 Weddings are celebrations of love, and what better way to symbolize the layers of affection, support, and commitment in a marriage than through a wedding cake? Over the years, wedding cakes have evolved from simple confections to elaborate works of art, showcasing the couple's unique personalities and styles. One of the latest trends that have taken the wedding world by storm is the naked-semi wedding cake. In this blog, we'll delve into the irresistible allure of these delectable delights, exploring 30 stunning naked-semi wedding cakes that undoubtedly "take the cake."
The Naked and Semi-Naked Wedding Cake Trend
Naked and semi-naked wedding cakes combine the best of both worlds. They maintain the tradition of a multi-tiered wedding cake while leaving some layers partially exposed. The semi-naked exterior offers a glimpse of the cake layers underneath, emphasizing the beauty of the cake's natural ingredients and the luscious flavors within.
Why Naked and Semi-Naked Wedding Cakes Are a Hit
Naked-semi wedding cakes exude natural beauty. With minimal frosting, they allow the cake layers to shine through, creating an elegant and rustic look that's perfect for various wedding themes. The focus on the cake itself means that the flavors are paramount.
Couples can choose from a wide array of flavor combinations, from classic vanilla and chocolate to exotic options like lavender and honey. These cakes provide a canvas for creativity. Couples can personalize their cakes with fresh fruits, flowers, or other decorations that match the wedding's color palette and theme.
You may also like to read: Top 3 Wedding Cake Tips & Advices
30 Naked and Semi-Naked Wedding Cakes That Will Steal Your Heart:
Rustic Elegance: A simple yet sophisticated three-tiered cake adorned with fresh berries and delicate flowers.
Woodland Charm: A semi-naked cake with a forest-inspired topper featuring edible moss and tiny mushrooms.
Garden Romance: Layers of love showcased in cascading edible flowers and vibrant greenery.
Whimsical Wonderland: A cake adorned with macarons, edible gold flakes, and colorful sprinkles for a fun and playful twist.
Boho Bliss: A naked-semi cake crowned with succulents, perfect for a bohemian wedding.
Beachy Keen: Sandy-hued layers with seashells and aqua accents for a seaside celebration.
Vintage Charm: Delicate lace patterns on a semi-naked cake for a vintage-inspired wedding.
Citrus Zest: Fresh citrus slices and edible flowers on a lemon-flavored delight.
Tropical Paradise: A tropical infusion of coconut and pineapple with palm leaves and orchids.
Classic Elegance: Timeless blackberries and white roses on a vanilla beauty.
Berry Bliss: Lush, ruby-red raspberries complementing a chocolate ganache-filled cake.
Red Velvet Dream: Layers of red velvet adorned with cream cheese frosting and roses.
Romantic Ruffles: Soft and elegant ruffle detailing on a semi-naked vanilla cake.
Blueberry Heaven: The richness of blueberries atop a sumptuous cheesecake.
Buttercream Blooms: Buttercream-frosted layers with vibrant, hand-piped flowers.
Minty Fresh: Fresh mint leaves and chocolate ganache for a refreshing treat.
Lavender Love: Layers infused with lavender and drizzled with honey.
Gold and Glam: Edible gold leaf embellishing a semi-naked chocolate wedding cake.
Earthy Elegance: Earth-toned layers with edible terrariums for a nature-inspired theme.
Citrus Delight: Zesty lemon and orange cake with candied citrus slices.
Marbled Masterpiece: A marbled effect created by the skillful blending of different flavors.
Elegant Simplicity: A two-tier cake with edible pearls and minimalistic decor.
Raspberry Rhapsody: Raspberry coulis and fresh berries for a burst of flavor.
Artistic Flair: Watercolor-style decorations with pastel hues and intricate detailing.
Eucalyptus Elegance: Silver-dollar eucalyptus leaves complement a semi-naked cake.
Peachy Perfection: Sweet peach slices and whipped cream on a peach-infused cake.
Pistachio Paradise: Layers of pistachio cake adorned with crushed pistachios and fresh figs.
Country Chic: Sunflowers, burlap, and a naked cake for a rustic wedding.
Chocolate Overload: Layers of intense chocolate, featuring cocoa nibs and ganache.
Burgundy Beauty: Deep burgundy florals and berries on a semi-naked cake.
Each of these naked-semi wedding cakes is a masterpiece, representing the couple's unique love story. Whether you opt for a classic and elegant design or embrace a whimsical, colorful creation, the naked-semi wedding cake trend offers a delightful fusion of taste and aesthetics.
Conclusion
In the world of wedding cakes, these creations not only "take the cake" but also take the heart. They are a sweet symbol of the layers of love that build a strong foundation for a lifelong journey. So, when it's time to choose a wedding cake that resonates with your love story, consider the allure of a naked-semi wedding cake, and let it be a delectable centerpiece that leaves a lasting impression on your special day.