Find the Trendy Bridal Gowns for the Fashion-Obsessed Bride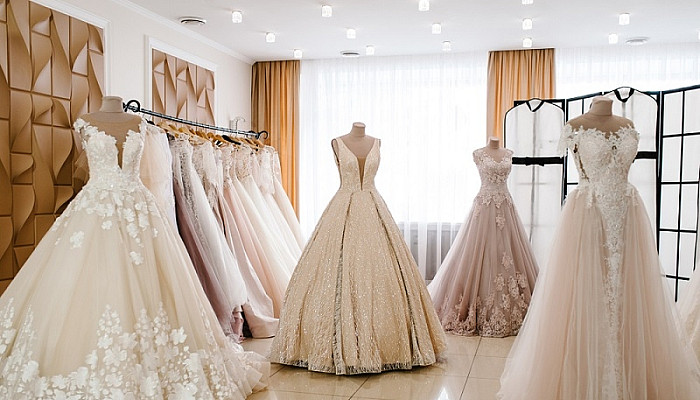 Every bride envisions herself as the epitome of beauty and grace on her wedding day. For the fashion-obsessed bride, the bridal gown is not just a piece of clothing but a statement of her personal style and individuality. Modern bridal fashion has evolved to cater to diverse tastes, offering a plethora of choices inspired by haute couture and runway trends. This article delves into the exciting world of bridal gowns for the fashion-obsessed bride, exploring the latest trends, styles, and how to select the perfect gown for your special day.
Bridal Gown Trends for the Fashion-Obsessed Bride
Minimalism and Elegance: Minimalistic wedding dresses and gowns have gained popularity among fashion-forward brides. These gowns feature clean lines, sleek silhouettes, and subtle embellishments. They exude sophistication and allow the bride's natural beauty to shine through.
Dramatic Ball Gowns: For brides who want to make a statement, ball gowns with voluminous skirts and dramatic trains are a top choice. These gowns create a fairytale-like appearance, perfect for a grand entrance.
Sheer and Illusion Details: Sheer fabrics, lace, and illusion panels add a touch of sensuality and intrigue to bridal gowns. These elements can be strategically placed to create stunning visual effects without sacrificing modesty.
Bridal Pant Suits: Modern brides are breaking tradition by opting for bridal pantsuits. These are perfect for women who want comfort, ease of movement, and a touch of androgynous style on their wedding day.
Colorful Gowns: White and ivory are no longer the only options for wedding gowns. Fashion-obsessed brides are experimenting with pastels, blush, champagne, and even bold colors like red and black to reflect their personality and style.
Sustainable and Eco-Friendly Gowns: With a growing focus on sustainability, eco-conscious brides are turning to gowns made from eco-friendly fabrics, such as organic cotton, hemp, and recycled materials. Sustainable bridal fashion is both chic and environmentally responsible.
Finding the Perfect Bridal Gown
Begin your gown search well in advance of your wedding day. Bridal gowns can take several months to be made or altered, so allow ample time for the selection process. Explore bridal magazines, websites, and social media platforms for inspiration. Create a mood board or Pinterest page to gather your favorite gown styles and details. Consider your body shape when choosing a gown. Different silhouettes flatter different figures. Consult with bridal consultants who can guide you in selecting the best fit.
Determine your budget early in the process. This will help you narrow down your options and prevent you from falling in love with a gown that is out of your price range. Visit bridal boutiques for a personalized shopping experience. Online shopping can offer convenience, but it's essential to be cautious and purchase from reputable sources.
Choose a few trusted friends or family members to accompany you during gown shopping. Their feedback and emotional support can be invaluable. Consider the practical aspects of your gown. Ensure it allows you to move comfortably, especially if you plan to dance or have an active wedding day.
You may also like to read: Avoid These Wedding Attire Blunders: The Guest's Style Guide
Brands to check out for Trendy Bridal Gowns
If you're looking for trendy wedding gowns that reflect current fashion and style trends, there are several brands and designers known for their contemporary and fashionable bridal collections. Here are some brands that offer trendy wedding gowns:
Pronovias: Pronovias is a renowned bridal brand that offers a wide range of trendy wedding gowns, from minimalist styles to boho-chic and fashion-forward designs.
Hayley Paige: Hayley Paige's wedding gowns are known for their modern and playful designs, often featuring unique silhouettes, colorful accents, and unexpected details.
Berta: Berta is a high-fashion bridal designer famous for sexy and contemporary wedding gowns that embrace bold and stylish trends.
Rime Arodaky: Rime Arodaky's wedding gowns are both modern and edgy, often featuring unconventional silhouettes and details for fashion-forward brides.
Galia Lahav: Galia Lahav offers romantic and trendy bridal collections with intricate lacework, embellishments, and unique design elements.
Watters: Watters is known for its trendy and affordable wedding gowns, with a range of styles that cater to modern brides.
Mira Zwillinger: Mira Zwillinger's bridal collections feature trendy gowns with intricate detailing and a fashion-forward approach.
Viktor & Rolf Mariage: Viktor & Rolf's bridal line offers unique, avant-garde gowns with a contemporary and fashion-focused aesthetic.
Vera Wang: Vera Wang is an iconic bridal designer known for her fashion-forward wedding gowns that often feature bold silhouettes and artistic details.
Lela Rose: Lela Rose's bridal collections combine classic elegance with modern elements, offering trendy gowns for the fashion-conscious bride.
Ines Di Santo: Ines Di Santo designs bridal gowns with a contemporary flair, featuring luxurious fabrics and bold design choices.
Sachin & Babi: Sachin & Babi create wedding gowns with a fashion-forward edge, often incorporating unique textures, embellishments, and color accents.
Customization and Personalization
For the fashion-obsessed bride, a custom-made gown is a dream come true. It allows you to work closely with a designer to create a gown that reflects your unique style and personality. Even if you choose an off-the-rack gown, alterations can make it fit you like a glove. Seek a skilled seamstress or tailor to ensure the gown is tailored to perfection.
Personalize your bridal look with carefully chosen accessories, such as veils, headpieces, belts, or statement jewelry. These details can transform your gown into a one-of-a-kind masterpiece.
The Benefits of Being a Fashion-Forward Bride
Authentic Expression: Being a fashion-obsessed bride allows you to authentically express your style and individuality on your wedding day. Your gown becomes a canvas on which you paint your unique story.
Confidence and Comfort: When you feel confident in your gown, it shows. You can enjoy your day with confidence and comfort, knowing that you look and feel your best.
Memories and Photos: Your wedding day will be a lasting memory, and your bridal gown plays a central role in that memory. Fashion-forward brides create stunning visual memories and photographs that will be cherished for a lifetime.
Inspiration for Others: Your bold fashion choices can inspire other brides to break away from tradition and embrace their individuality. You become a trendsetter in the world of bridal fashion.
The Joy of Creativity: For brides who love fashion, the process of selecting, customizing, and wearing a unique gown is a creative and joyful experience that adds to the overall wedding journey.
Conclusion
For the fashion-obsessed bride, the journey from the runway to the wedding day is an exciting and fulfilling one. Bridal fashion has evolved to cater to diverse tastes, allowing brides to choose gowns that reflect their style, whether that's minimalistic, dramatic, colorful, or sustainable. Finding the perfect gown involves research, consideration of body shape, and careful budgeting. Customization and personalization further enhance the uniqueness of the gown.
The benefits of being a fashion-forward bride are immense, from authentic self-expression to the creation of lasting memories and inspiration for others. Ultimately, your wedding day is a celebration of love, and your bridal gown should be a reflection of the love story you're about to embark on.